Starbucks to Close 23 La Boulange Cafes by End of September
Published on Jun 18 2015 7:16 AM in Restaurant tagged: Starbucks / La Boulange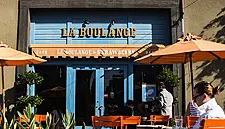 Starbucks will close all 23 of its La Boulange bakery cafes by the end of September, even as the company keeps using the brand to sell food at its coffee shops.
"Starbucks has determined La Boulange stores are not sustainable for the company's long-term growth," the Seattle-based chain said in a statement on Tuesday. "The La Boulange brand will continue to play a significant role in the future of Starbucks food in stores."
Starbucks bought the San Francisco-based Bay Bread and its La Boulange brand in 2012 for $100 million, an attempt to make the company's food offerings more upscale. The French-themed bakery sold homemade granola, flank steak sandwiches and organic bread.
Though Starbucks' food sales rose 16 per cent in the most recent quarter, helping fuel growth, the company determined it didn't make sense to operate a separate bakery chain. Starbucks also is closing two manufacturing plants that support La Boulange.
For the past year, Starbucks also has operated a fast-casual restaurant in Los Angeles that bears La Boulange's name. It served dinner and added croissant burgers, beer and wine to the bakery's menu of sandwiches and salads.
In addition to shuttering La Boulange, Starbucks is closing the Evolution Fresh retail store in San Francisco. The coffee chain acquired the juice brand in 2011 for $30 million as part of a push by chief executive officer Howard Schultz to offer healthier products. As it sought to expand the brand, Starbucks opened three Evolution fresh retail locations in Washington state and another in San Francisco. It also sells bottled juice at grocery stores and its cafes.
Getting coffee customers to order more items off the menu hasn't always been an easy task, though. When Starbucks was initially bringing La Boulange-branded food to its cafe locations, some people complained the new fare was smaller and overpriced. Last year, the company restored some of its old favourites, such as banana, pumpkin and iced-lemon loaf cake, to placate customers.
Bloomberg News, edited by ESM