Passenger Numbers At Dublin And Cork Airports May Not Return To Pre-Pandemic Levels Until 2025, Says DAA Chairman Designate
Published on Oct 22 2021 9:57 AM in General Industry tagged: Trending Posts / Dublin Airport / Cork Airport / DAA / Belfast City Airport / Avolon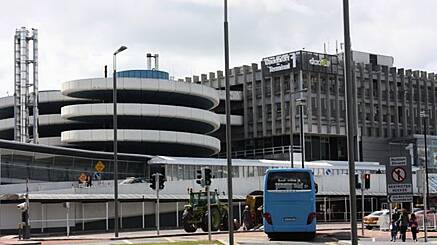 ---
DAA chairman designate Basil Geoghegan has said that it could be 2025 before the number of passengers using Dublin and Cork airports, which DAA operates, returns to pre-COVID-19 pandemic levels.
As reported by rte.ie, Geoghegan said while speaking at the Joint Oireachtas Committee on Transport and Communications that optimists have predicted that the recovery could happen quicker, returning to 2019 levels in 2023, but that he thinks that it will take longer.
Geoghegan reportedly said that Dublin and Cork airports are currently back to approximately 50% of 2019 passenger numbers, although some days, he reportedly added, this figure is higher.
Geoghegan reportedly said that other European airports are back to higher levels already, but that this is because international travel opened there earlier than it did in Ireland.
Dublin and Cork airports reportedly handled approximately 36 million passengers during the year before COVID-19 emerged, however, Geoghegan reportedly said that this figure fell to 7.9 million last year.
Geoghehan reportedly said that despite the damage caused by the pandemic, he still believes that the proposition at Dublin and Cork airports is as strong as it ever was and that DAA will get back to pre-pandemic passenger levels and beyond in due course, and reportedly added that there will be a higher number of airlines than before the pandemic operating at Cork Airport in 2022.
Geoghegan reportedly said that the reopening of travel between Ireland and the US is very important for Dublin Airport, and that DAA has taken steps through taking out costs that leaves it confident it can be close to break even again, but reportedly added that passenger numbers need to be back in the high twenty millions in order to have a proper positive profit contribution.
Geoghegan reportedly said that the ability to increase passenger charges would allow DAA to be more profitable and that that would help maintain the company's credit rating and allow it to build for the future and do it in a way that is sustainable.
Geoghegan reportedly said that DAA will take on more employees as the industry grows in Dublin, Cork or overseas where it also has operations.
Geoghegan reportedly said that meanwhile DAA urgently needs a regulatory decision on passenger charges that addresses the "unsustainably low level" that currently pertains.
Geoghegan reportedly said in his opening statement to the committee that the Commission for Aviation Regulation's 2019 decision on pricing has effectively been rendered void by the pandemic, and, "As a result, Dublin Airport found itself facing into the crisis with a fundamentally flawed pricing structure, resulting in airport charges that were disproportionally low when compared with its European peers.
"What started pre COVID as an unfortunate mis-pricing, transferring value from the Irish taxpayer to airlines, has, in light of the devastation caused by the pandemic, become a fundamental issue for the future provision of critical airport infrastructure and for the stakeholders that depend on it."
DAA reportedly lost €284 million across its operations last year as a result of the impact that the COVID-19 pandemic had on the sector, but despite this, it reportedly had to contend with reducing passenger charges that was set by the CAR a year earlier.
Geoghegan reportedly said that it is incomprehensible to him that following the greatest and most prolonged plunge in air travel in history that DAA's already reduced charges per passenger are still based on air traffic forecasts from 2019 when Dublin Airport welcomed 32.9 million passengers, and, "Despite repeated requests, the now departing regulator, has not taken any decisive action whatsoever to address the situation.
"This is a grossly unsustainable position given our financial circumstances. It puts at risk our ability to deliver the high-quality day-to-day service expected at our airports.
"It puts at risk our ability to deliver critical airport infrastructure to support connectivity and it makes it almost impossible to deliver our sustainability ambitions and meet Government targets for our sector."
Geoghegan reportedly continued that although airlines and airports have moved decisively and quickly to respond to the challenges of the pandemic, 20 months after the crisis started there has been no change to the charges that are based on five times the passenger volumes delivered so far this year.
Geoghegan, who has reportedly been nominated by the Minister for Transport to serve a second term as chairman of DAA, reportedly said that it is critical that when the responsibilities of the CAR transfer shortly to the Irish Aviation Authority (IAA) that it immediately establishes a "fit for purpose" price cap for next year, and, "Our business simply cannot countenance a third year of enforced below cost prices and regulatory inaction."
Geoghegan reportedly called for a "full and considered regulatory review process" for subsequent years to cushion the sector from the peaks, troughs, cycles and shocks, and reportedly said, "Investment in such an environment is critically reliant on regulatory certainty and agility, facilitating very long-term decision making.
"This is not simply a matter concerning Dublin Airport, it must be linked to Government policy and the needs of Ireland as an economy and place to live."
Geoghegan reportedly also expressed concern that progress on complementary infrastructure, such as MetroLink, seem to be "stalling", and reportedly stated, "In summary, if Ireland wants a full-service, passenger focused and fully sustainable capital city airport that complies with Government targets, then the regulatory regime needs to adapt immediately.
"The procrastination needs to stop now, so that Dublin Airport can continue to be a sustainable and passenger focused international gateway for Ireland's foreign direct investment, tourism and trade."
As reported by The Irish Times, Geoghegan said, "Some airlines have been very much on the front foot because they have lower costs; we've seen that in Dublin with Ryanair,", but that higher-cost carriers were more reluctant to risk putting on flights without being sure of a return.
Geoghegan reportedly said, "And some airlines do not exist in the way that they did before. Some airlines are in chapter 11; many of them have very high levels of debt."
Geoghegan reportedly stressed that planning delays should not curtail Dublin's operations as it bids to recover, and reprotedly noted that DAA Dublin Airport is seeking to change planning conditions attached to its new runway that could limit night-time flights.
Geoghegan reportedly said, "It's now important that the statutory process reaches a speedy conclusion and that we do not see unintended curtailment of operations at Dublin Airport as a result of procedural delays, even as we seek to rebuild connectivity post-COVID."
An Bord Pleanála reportedly limited night-time flights across Dublin Airport as a condition of granting permission for its new north runway, which is reportedly due to open next August, and DAA is appealing this to Dublin Airport's noise regulator, Fingal County Council.
Aircraft manufacturers have reportedly made significant progress with noise-reduction technology since planners imposed the conditions in 2007, and this is reportedly one of several factors that Fingal County Council will have to weigh when it is considering DAA's case.
As reported by The Irish Independent, Geoghegan told the committee, "Our airline customers are incredibly mobile with their aircraft.
"You saw Aer Lingus moving to Manchester because they believe they can fly full planes out of there."
Geoghegan reportedly said, "We haven't really seen evidence that if you reduce passenger charges that you immediately boost airline activity,", and reportedly told the committee that Dublin Airport has found itself "facing into the crisis with a fundamentally flawed pricing structure, resulting in airport charges that were disproportionally low when compared with its European peers".
Geoghegan reportedly told the committee, "We had airport charges at around the €9.50 mark [per passenger, before the pandemic],", and reportedly said, "That has been reduced to somewhere around €7.75. That's a significant amount of millions of euro that effectively is a value transfer for the taxpayer of Ireland to the airlines. We would like to see charges calculated on the basis of the current reality as opposed to the very optimistic outlook in 2019."
Belfast City Airport Boss Says NI Is Facing "An Indeterminate Lag In Aviation Recovery"
Meanwhile, as reported by The Irish News, Belfast City Airport boss Matthew Hall has said that Northern Ireland is facing "an indeterminate lag in aviation recovery" unless a Stormont grant scheme to support flights between Britain and the Northern Ireland's three main airports is extended beyond its Halloween cut-off.
Hall reportedly said, "Without further intervention, the recovery of this region's aviation sector will fall significantly behind other countries which have received additional support,", and is reportedly demanding an urgent extension to the £4.5 million Northern Ireland Domestic Aviation Kickstart Scheme (NIDAKS), which was reportedly launched at the start of the summer and is reportedly due to end on October 31.
The scheme, which is reportedly administered on behalf of the Department for the Economy by Invest NI, reportedly has three broad pillars - maintaining a minimum route frequency on a number of core routes; incentivising enhanced frequency; and encouraging new routes.
The vision was reportedly that it would lead to improved connectivity, which in turn would stimulate inbound tourism, as well as both inward and outward business travel, leading to a positive impact on struggling hotels, restaurants and other hospitality and tourism businesses.
But NIDAKS reportedly has not delivered as expected, with Loganair reportedly being the only airline to draw down from the scheme, having been financially backed to fly to Aberdeen, Dundee, Inverness and Teesside from Belfast City.
Hall reportedly insists the £4.5 million government cash pot is insufficient when compared with interventions to help airlines in other regions, and reportedly said, "The NIDAKS scheme has assisted in securing some new routes, but aviation recovery here is much slower than anticipated.
"Aviation was one of the first sectors to feel the wrath of the COVID-19 pandemic and will be the last to recover.
"And without further intervention, the recovery of Northern Ireland aviation sector will lag significantly behind other countries which have received additional support."
Hall reportedly added, "Our three local airports recently gave evidence to the Stormont economy committee and look forward to working closely with minister Gordon Lyons and the Executive to ensure that the importance of air connectivity as an economic driver for the region's recovery is prioritised.
"But we are now calling for an extension of NIDAKS beyond October 31 and further aviation support to ensure Northern Ireland is an attractive destination for airlines reviewing their networks."
Pressure On Some Irish Aircraft Lessors
In other Ireland-related aviation news, as reported by The Irish Times, EU foreign ministers are discussing new economic sanctions on Belarus amid pressure on some Irish aircraft lessors over aircraft they lease to state airline Belavia. At issue is reportedly the alleged use of aircraft to traffic migrants from the Middle East to the EU's external borders by the authorities in Minsk.
Minister for Foreign Affairs Simon Coveney has reportedly indicated that Ireland will back new sanctions against Alexander Lukashenko's regime, although he reportedly said that breaking existing contracts would be legally complex.
Data from specialist Swiss consultancy CH Aviation reportedly suggests that several lessors with Irish links have an exposure to Belavia.
The biggest is reportedly Danish-headquartered Nordic Aviation Capital (NAC), which reportedly uses special purpose vehicles based in Ireland to carry out some of its trade, and reportedly leases a total of seven planes in Belarus: four Embraer 175s and three Embraer 195s. Like other lessors in business with Belavia, there was reportedly no comment from NAC on the political discussions among foreign ministers.
Dublin-based Aercap, which is reportedly the world's biggest lessor, reportedly has six planes with the country, according to CH Aviation: three Boeing 737s and three Embraer 195-E2s. A spokesperson reportedly said, "We have no comment to make."
It was reportedly the same story as SMBC, which reportedly leases one 737 to Belarus. There was reportedly no reply from US-based Altavair, which reportedly uses an Irish special purpose vehicle to lease two 737s to Belarus, according to data, and reportedly no reply either from Thunderbolt, which reportedly leases one 737 to the country.
Although CH Aviation data reportedly suggests WNG leases one 737 in Belarus, a spokesperson reportedly said that the company does "not have any aircraft on lease in that jurisdiction".
Avolon Earns Profits Of Over €5m In Q3 2021
Additionally, as also reported by The Irish Times, Irish aircraft lessor Avolon earned profits over €5 million during the three month period that ended on September 30, the latest figures reveal.
Avolon reportedly combines its own cash with debty to buy aircraft from manufacturers including Airbus and Boeing, which it reportedly leases to airlines around the world.
The Dublin-headquartered company reportedly said on Thursday October 21 that it earned profits of $5.9 million (€5.15 million) during the three month period that ended on September 30, which was its third quarter.
The profit reportedly marks a turnaround from a $4 million loss that Avolon reportedly incurred during the third quarter of last year, when world aviation was still struggling with COVID-19 pandemic-related restrictions.
Lease revenue was reportedly level with the same period in 2019 at $518 million, and Avolon reportedly said that it generated $237 million cash from its business.
Total assets, mainly its fleet of aircraft, reportedly stood at $30.36 billion on September 30, reportedly against $30.84 billion at the end of 2020.
The group reportedly had $6.6 billion available to it at the end of September including $706 million in cash and $5.9 billion of debt it had not drawn down.
Avolon reportedly owned or managed a total of 585 aircraft on September 30, with total orders for a further 245.
The Irish company reportedly completed 54 leases during the quarter including new agreements, follow-on leases and extensions.
Avolon chief executive Dómhnal Slattery reportedly said that the company met airline chiefs on five continents over the past three months, and reportedly added, "The clear message is that our customers are positioning themselves for a robust recovery."
As reported by The Irish Independent, Slattery said that airlines around the world are positioning themselves for "robust recovery", and, "Over the past three months we have met with airline CEOs on every continent."
© 2021 Hospitality Ireland – your source for the latest industry news. Article by Dave Simpson. Click subscribe to sign up for the Hospitality Ireland print edition.
Advertisement