All's Well At Franciscan Well
Published on Jun 10 2015 4:28 PM in Features tagged: craft beer / Molson coors / Franciscan Well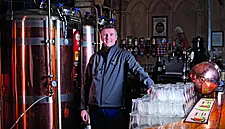 Two years on from Molson Coors UK & Ireland Group taking over the reins, the Franciscan Well is booming. Franciscan Well founder Shane Long admits to Hospitality Ireland that it wasn't an e...
Two years on from Molson Coors UK & Ireland Group taking over the reins, the Franciscan Well is booming.
---
Franciscan Well founder Shane Long admits to Hospitality Ireland that it wasn't an easy decision to sell the craft beer brewery he started in 1998 on the North Mall in Cork City, on the site of an old Franciscan Monastery, but he has few regrets about the decision.
"Yes, it was tough, absolutely. The brewery is like a first child to me," says Long, adding that he's always had big ambitions for the business and Molson Coors proved the perfect fit.
"I had to look at my own skillset and asked myself 'could I bring my brand to a global market?' The reality was that no, I couldn't. Thankfully, we were in a fortunate position where there was few big companies looking to purchase the business. I settled on Molson Coors because I thought they could grow the brand organically, the way it should be, and be able to nurture it."
Long recalls that back in 2012 he knew all his customers on a first name basis. Now, with the continued increase in sales, Long is trying his best to continue this tradition.
He's says the partnership with Molson Coors has opened up new avenues for the Franciscan Well brand.
"It has increased the quality of the hops. What we're getting now is far superior to what we used to get. Also, as an independent [brewery], the technical help from sister breweries like Sharp's Brewery in Cornwall has been great.
"Marketing of the brand was something that was previously weakness for us, so to have Molson Coors marketing department to work with has been hugely beneficial.
"It's something that I would have paid little attention to beforehand. When I see our brands in bars now, it stands out, you can certainly visually pick out our brand now."
Hands On
Franciscan Well is currently putting the finishing touches to developing a new 35,000 HL craft brewery at its base in Cork.
This is seen as a major development from Molson Coors' Emerging Markets & Craft Beer unit, set up to oversee its interests in craft beer in both Ireland and the UK.
"The new development is going very well," says Long. "We're finalising equipment and we hope the new facility will be up and running by September."
Despite Molson Coors taking charge of the business, Long still has a very hands on approach to looking after Franciscan Well, and its popular brands such as Chieften, Rebel Red and Shandon Stout. Ireland's new thirst for craft beer has seen the industry put a dent in market share of the big brewery's major brands. Long believes there's several reasons why Irish drinker's tastes have changed in the last few years.
"I have to say it's really a combination of things," says Long. "I remember talking to my biggest craft customer back in 2012, when he said people are going out less and less, and when they do go out, they're going out for an event. They don't want to be paying five euro for something they can pay one euro for in the off-licence for.
"Regarding the explosion of new breweries in Ireland, I guess there was a lot of people put out of work through the recession, so people were brewing as a hobby more than ever before.
"These people could see there was a lot of help out there, from government agencies and people like ourselves. It's a community and a fun environment to be working in."
With the likes of drinks giant Diageo recently tapping into the craft beer market with new stout brands, Long says, "the nature of brewers is that they will adapt and produce good quality products."
"The good thing now is everything is being led by the consumer. And if you can produce what they're looking for then you're going to succeed," he says.