American Whiskeys Close the Gap on Johnnie Walker
Published on Jun 11 2015 2:18 PM in Drinks tagged: Whiskey / Diageo / Jack Daniel's / Johnnie Walker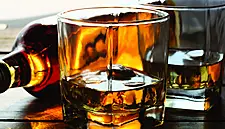 Johnnie Walker is still the world's leading alcohol brand, but its American counterparts are gaining ground.
The Scotch whisky retained the top spot of the 'Power 100' - a global drinks ranking by brand strategy agency Intangible Business. Johnnie Walker edged out its fellow Diageo product Smirnoff to the top spot, however its score, based on criteria by Intangible Business, fell 11 per cent since last year.
Tennessee whiskey Jack Daniel's, owned by Brown-Forman, remain in fourth spot but saw a seven per cent increase in its score. Bacardi took third spot with Hennessy rounding out the top five.
The slide in Johnnie Walker's score is, according to Harpers.co.uk, attributed to the falling sales of Scotch in China, where a clampdown on luxury gift-giving has hit the Scotch market.
Also, according to Intangible Business, other whiskey categories such as Bourbon, Japanese and Irish are becoming more viable options in the premium segments, creating competition for Scotch.
The Power 100 is based on criteria such as market share, projected growth, price positioning and world reach. Drinks giant Diageo has three brands (Johnnie Walker, Smirnoff and Captain Morgan) in the top ten and 15 brands in the Top 100.