Molson Poised To Take Control Of MillerCoors If Giants Unite
Published on Sep 17 2015 9:21 AM in Drinks tagged: Featured Post / SAB Miller / Molson coors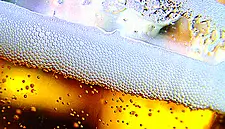 As the world's two largest brewers contemplate a merger, one of the biggest beneficiaries could be Molson Coors Brewing Co., which will have an opportunity take full control of the MillerCoors venture.
If Anheuser-Busch InBev makes good on its pledge to buy SABMiller, the combined entity will probably offload its stake in MillerCoors to pass muster with regulators.
The obvious buyer is Molson Coors, which already owns a 42-per-cent economic interest in the company with a roster of popular brands including Miller Lite, Coors Light and Blue Moon, and has the right of first and last offer.
Investors are betting on this scenario, pushing up shares of the Denver- and Montreal-based brewer 14 per cent to $82.98, an all-time closing high.
"It's a real opportunity for Molson Coors," Philip Gorham, an Amsterdam-based analyst at Morningstar, said in a phone interview. "It's pretty obvious that Molson Coors is the only buyer in town. Generally, that means they acquire the assets at a good price."
Gorham said that it's highly unlikely that AB InBev would have approached SABMiller without getting a nod to divest MillerCoors.
"We are aware of the news, but have no comment," Molson Coors spokesman Colin Wheeler said.
AB InBev has sold assets to get deals done before. To buy Grupo Modelo in 2013, AB InBev sold Grupo Modelo's US operations to Constellation Brands, Inc.
"That was a situation where ABI had to sell," Gorham said. "We've got the same thing here. Depending on what they pay, on the cost and things they can take out of the deal, it's probably still worth doing for Anheuser-Busch."
Molson's so-called change-of-control provision gives it an option to take the stake up to 50 per cent. Once it reaches that level of ownership, buying the rest makes business sense. According to Ian Shackleton, an analyst at Nomura Holdings Inc., owning all of MillerCoors would add 20 per cent or more to earnings per share. The company also could cut costs by streamlining operations.
"There are tonnes of cost savings if they can own it because the inherent structure creates a lot of extra overhead," said Edward Jones, an analyst at Brittany Weissman. "Not everything is streamlined the way they hoped it would be, so they could close some of that margin gap with AB in the US."
While gains and operational cost savings would be bigger if Molson buys all of SABMiller's 58-per-cent stake in the joint venture, the family-controlled company could prefer to continue working in a partnership, in a scenario where Heineken NV and Molson buy the brand.
Heineken is three times the size of Molson and would be better equipped for financing a deal. Heineken gained 3.3 per cent at the close in Amsterdam.
News by Bloomberg, edited by ESM. To subscribe to ESM: The European Supermarket Magazine, click here.