O'Regan's Flagship Pub Sees Profits Decline
Published on Jun 4 2015 4:00 PM in Pub/Bar/Nightclub tagged: Dublin / pubs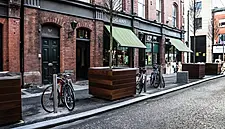 Hogans, the flagship pub of well-known publican Declan O'Regan, has seen pre-tax profits fall by 22 per cent compared to the previous year.
Hogans and neighbouring restaurant L'Gueuleton, located on Dublin's busy South Great George's Street, saw pre-tax profits fall from €1.18 million to €919,507 in the year ending May 2014.
O'Regan's company Telfer Ltd. filed the report, which also showed that gross profits remained static at €5.2 million. Telfer Ltd. also operates Kelly's boutique hotel, also on South Great George's Street in Dublin 2.
In the previous year, profits almost doubled for O'Regan as Hogans and L'Gueuleton saw profits jump from €642,113 to €1.18 million, allowing O'Regan to expand the business and hire more staff.
Despite the decline, the Evening Herald reports that the company is satisfied with the results, according to the directors' report, stating they "are confident that turnover can be increased during the coming year and anticipate that profitability can be maintained".