Red Cow Hotel Set for Major Upgrade
Published on Jun 11 2015 11:40 AM in Hotel tagged: Dublin / Dalata / Red Cow Hotel / Tom Moran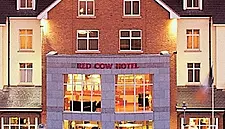 The Red Cow Moran Hotel on the Naas Road in Dublin will undergo a major revamp as 100 rooms will be added to the property.
Owner Tom Moran, who was recently involved in the €455 million sale of the nine Moran & Bewley's Hotels to hotel group Dalata, will transform the popular hotel, which remained under his control.
According to the Irish Independent, Moran is planning to extend the hotel and develop a new five-storey wing; a multi-million euro investment. The renovations will see some parts of the building demolished, with a new banqueting suite, meeting room, restaurant and bar to be added.
Moran took control of six Bewleys properties in 2008 for a cost of €580 million. In 2013, €490 million worth of debts attached to the group were wiped off in a financial re-structuring. Moran paid an estimated €8 million to hold on to the Red Cow property after the sale to Dalata earlier this year.
The Red Cow Moran Hotel was opened in 1996, 12 years after Moran paid €1 million to buy the adjacent Red Cow Inn. It is believed that hotel has acted as an inn since the 18th century.