Irish Pubs Vital to Country's Recovery: VFI
Published on May 14 2015 10:14 AM in Pub/Bar/Nightclub tagged: Featured Post / tourism / VFI / excise duty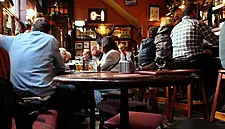 The President of the Vintners' Federation of Ireland has said that pubs play a key role in the recovery of the tourism industry, as well as the country's economy.
According to Noreen O'Sullivan, pubs will be at the centre of of the tourism trade and the rising figures will promote more employment and return visitors.
"The pub is a central offering to tourists who come to our shores every year and who come back to visit the Irish pub," said. O'Sullivan.
"In a recent Fáilte Ireland survey of more than 1,500 visitors to Ireland, 83 per cent of those surveyed said they had listened to live Irish music in a pub. It is the pub which attracts visitors back to our shores time and time again," she added
According to the Irish Examiner, Irish pubs create around 12,000 seasonal jobs during the summer months, while there's 30,000 people are employed in venues outside of Dublin. In total, some 90,000 people are employed by the drinks industry in Ireland.
THE VFI, a representative body for pubs outside Dublin, has had a long-running campaign to reduce excise duty to make prices more attractive for tourists. Excise duty in Ireland is one of the highest in the EU and, according to O'Sullivan, is "ten times what it is in Spain and Portugal."