National Hospitality Awards 2015: ENTRIES OPEN
Published on May 5 2015 10:55 AM in General Industry tagged: Featured Post / Trending Posts / awards / National Hospitality Ireland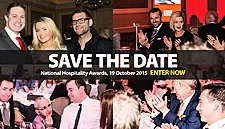 The National Hospitality Awards (NHA) returns in October to once again recognise the cream of the crop in Irish hospitality and honour their outstanding and innovative work within the industry.
Celebrating its 10th birthday this year, the NHA will again run alongside the NATIONAL HOSPITALITY CONFERENCE, where some of the most prominent global names in hospitality will speak.
Entries for the NHA are taken online via the awards ENTRY FORM.
ENTRY DEADLINE: 31 July 2015.
Once the deadline for entries has been reached the judging process will begin. Every entry will be visited and assessed by our team of judges, and a short-list drawn up. From that short-list, three winners in each category will be chosen. These winners will all notified and must be available to attend the Awards lunch in the InterContinental Dublin on Monday 19 October.
THE CATEGORIES:
- Best New Establishment
- Best Value Hotel
- Best Overall Hotel
- Best Resort Hotel
- Best Boutique Hotel
- Best Pub with Food
- Best Cocktail Bar
- Best Hotel Bar
- Best Traditional Pub
- Best Sporting Pub
- Best Nightclub
- Best Wine List
- Best Casual Dining
- Best Dining Experience
- Best Hotel Restaurant
- Best Catering Supplier (General)*
- Best Catering Supplier (Specialist)*
- Best Drinks Supplier
- Best Customer Service
- Best City Hotel
- Best Destination Hotel
- Best Seafood Restaurant
- Best Brand Hotel
- Best Catering Job
- Best Overall Restaurant
- Best Pub
- Best Business Hotel
(* See ENTRY FORM for details of General/Specialist Catering Supplier Awards)
For any Event or Award Enquiries please Colette call on 01-2365836 or email [email protected]
For any Sponsorship Enquiries please contact one of the following by phone or email:

Karl McCorry      +353 (0)1 236 5829 or [email protected]ty-ireland.com
Niall Doyle           +353 (0)1 236 5840 or [email protected]
Mark Kelly           +353 (0)1 236 5826 or [email protected]
Adrian Murphy  +353 (0)1 236 5830 or [email protected]
The 2015 National Hospitality Awards will be announced on Monday 19 October at the InterContinental Dublin, Simmonscourt Road, Dublin 4.
For TICKET details for the event please click here.