Ryanair Profit Rises as Softer Approach Widens Customer Base
Published on May 26 2015 7:01 AM in General Industry tagged: Featured Post / Trending Posts / Ryanair / airlines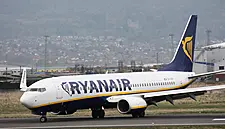 Ryanair Holdings said full-year earnings jumped 66 per cent as Europe's biggest discount carrier ramped up winter capacity and sought to lure a new generation of passengers with a softer approach to customer service.
Profit after tax in the year through March rose to €867 million ($948 million), Ryanair said in a statement on Tuesday. That's €247 million higher than the top end of predictions made the previous year. For fiscal 2016, the airline predicted profit of €940 million to €970 million.
Ryanair, which raised its guidance for 2015 earnings five times, is targeting major European airports and looking to tempt passengers away from network airlines such as Deutsche Lufthansa and Air France-KLM Group. With low-cost carriers approaching the end of a what chief executive officer Michael O'Leary has described as a "land grab" for market share, the Irish airline is extending efforts to broaden its customer appeal into a third year.
"We've rolled out a lot of initiatives that the customers have clearly liked," chief financial officer Neil Sorahan said in an interview. Allocated seating, an extra carry-on luggage and more business-friendly schedules all helped drive passengers numbers, he said.
Average load factors in the first four months of 2015 were up 10 per cent and forward bookings are 4 per cent higher on average compared to a year earlier, Ryanair said. Falling oil prices have prompted un-hedged rivals to cut fares, forcing Ryanair to follow suit, the carrier said.
"It would be foolish not to expect some irrational pricing response from competitors," the carrier said. "Even with the benefit of lower oil, aircraft and financing costs, we may suffer periods of fare and yield weakness especially during the second-half winter season."
Ryanair boosted full-year passenger numbers 11 per cent to 90.6 million people, with load factors climbing to 88 per cent from 83 per cent, a measure that will rise to 90 per cent next year. Unit costs excluding fuel were flat, the airline said.
The carrier, which is targeting 100 million passengers through March 2016, said it will lease six aircraft over the peak summer period to help meet demand. About 50 per cent percent of passenger growth will occur at primary airports such as Brussels, Lisbon, Berlin and Rome, Ryanair said.
Bloomberg News, edited by Hospitality Ireland