Budget 2022: Hospitality And Tourism Sector Announcements
Published on Oct 12 2021 4:00 PM in Features tagged: Featured Post / 9% VAT Rate / Employment Wage Subsidy Scheme / EWSS / Budget 2022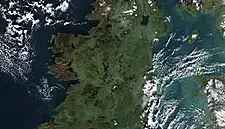 Hospitality Ireland presents a rundown of all of the announcements made during Budget 2022 that are relevant to the hospitality and tourism sectors.
9% VAT Rate
As reported by rte.ie, it has been announced that the reduced 9% VAT rate for the hospitality and tourism sector will remain in place until the end of August of 2022.
EWSS
The Employment Wage Subsidy Scheme (EWSS) will remain in place in a graduated format until April 30, 2022, and will close to new employers on January 1, 2022.
There will be no change to the EWSS for the months of October and November. Businesses availing of the EWSS on the December 31, 2021, will continue to be supported until April 30, 2022.
In December, January and February, a two-rate structure of €151.50 and €203 will apply, and in March and April of 2022, a flat rate subsidy of €100 will be put in place.
Transport And Tourism
€25 million has been allocated for a new youth travel card that will offer a 50% discount to individuals who are between the ages of 19 and 23 across the transport network.
€360 million has been allocated to boost active travel and greenways.
€40 million has been allocated to market Ireland overseas as a tourist destination.
€25 million has been allocated to establish a basic income scheme for artists.
More than €60 million has been allocated to extend the commercial rates waiver for quarter four targeted at the hospitality, arts and certain tourism related sectors.
€90 million has been allocated for an aviation package to help Ireland rebuild connectivity.
€50 million will be provided for further business continuity supports and €39 million for enhanced tourism marketing and product development.
A pilot Basic Income Guarantee Scheme for artists will be launched and €25 million will be provided for the continuation of live entertainment supports.
An additional €4 million of funding is being provided for TG4 and €5.5 million toward the establishment of the new Media Commission, and additional funding will be provided for the Sports Capital Grants Programme.
According to The Irish Times, the government is seeking EU approval for plans to give airports €90 million to aid them in cutting charges to lure airlines back as the impact of the COVID-19 pandemic lessens, after Budget 2022 pledged an extra €90 million to airports to discount and rebate airline passenger charges to encourage airlines to start restoring routes in and out of Ireland.
Minister of State at the Department of Transport Hildegarde Naughton reportedly confirmed that the government has started seeking European Commission approval for the airport aid, and explained that the EU gave the green light to the government to provide €20 million to airports earlier this year to offer airlines route incentives.
Naughton reportedly said, "We have started to engage with the European Commission to expand that to €90 million,", and that the extra funds would permit airports to "do what they do best" and negotiate deals with airlines to restore key routes, particularly those linking Ireland with North America.
The government will reportedly give €36 million to regional airports next year, including Cork and Shannon for the first time, to spend on safety, security and sustainability projects.
The €90 million earmarked for air travel is reportedly part of €286 million that Minister for Public Expenditure and Reform Michael McGrath is making available immediately to back recovery from pandemic measures, and the government reportedly maintains that between pandemic payments, wage supports and grants to airports, it has given €300 million to aviation since March of 2020.
Minister for Transport Eamon Ryan reportedly said that much of the government's commitment to public transport is long-term, and that he knows that "people are frustrated by timelines" but that it is "important to get it right".
However, he reportedly pointed out that many steps will be taken in 2022, including purchasing 41 extra rail carriages, 81 buses for regional and rural services, and 24 hybrid buses for urban fleets.
The money allocated will reportedly also cover the appointment of contractors to the first phase of the Cork commuter rail programme, while planning will reportedly continue on Dublin's Bus Connects, the extension of the city's Dart light rail system and the Metro line between the city centre and Dublin Airport.
Independent Brewers
As reported by rte.ie, for independent brewers, Minister for Finance Paschal Donohoe said that he has asked his department to engage with the sector to allow for the implementation of 50c excise relief for independent small producers of cider and other fermented drinks products.
Donohoe reportedly said, "I see this relief as having a similar positive effect as that provided for small independent producers of beer and have asked my officials to engage with the sector to allow for the implementation of this relief in next year's Finance Bill."
© 2021 Hospitality Ireland – your source for the latest industry news. Article by Dave Simpson. Click subscribe to sign up for the Hospitality Ireland print edition.