Budget 2022: Hospitality, Tourism And Travel Organisations React
Published on Oct 13 2021 8:00 AM in Features tagged: Featured Post / ITIC / IHF / Restaurants Association of Ireland / VFI / Tourism Ireland / LVA / RAI / Small Firms Association / Irish hotels federation / BDO / Unite / Vintners' Federation of Ireland / Licensed Vintners Association / ICTU / Irish Congress of Trade Unions / Connacht Hospitality Group / Irish Tourism Industry Confederation / The Irish Tourism Industry Confederation / Drinks Ireland|Cider / Family Business Network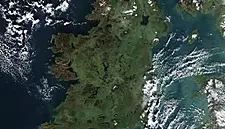 Hospitality Ireland presents a rundown of the reactions of various hospitality, tourism and travel organisations and representatives to the hospitality, tourism and travel related announcements that were made during the reveal of Budget 2022 on Tuesday October 12.
You can read our rundown of the Budget 2022 hospitality, tourism and travel related announcements by clicking here.
IHF Response
The Irish Hotels Federation (IHF) stated in response to the Budget 2022 announcements, "Hotels and guesthouses across the country have cautiously welcomed the range of measures and supports announced today by Ministers Paschal Donohoe and Michael McGrath. Irish Hotels Federation (IHF) Chief Executive, Tim Fenn, said the extension of employment supports and the rates waiver scheme are a welcome recognition of the challenges still being faced by tourism and hospitality businesses.
"Mr Fenn however expressed serious concerns about the December cliff edge in the EWSS employment support scheme which would impact on hospitality businesses that may experience a seasonal Christmas uplift, thereby excluding them from further support during the bleak months of January to April when business levels fall off dramatically. He urged the Government to provide a sector specific exemption for hospitality businesses. Additionally, he said that the lack of commitment to a rates waiver beyond December 2021, when the industry enters its quietest business period, is also a source of significant concern and must be reconsidered by government as part of tourism recovery measures.
"Mr Fenn also welcomed the additional targeted supports announced for the wider tourism, culture and arts sectors including €39m in enhanced tourism marketing and product development, €90 million to rebuild air connectivity and €50m in business continuity supports.
"Calling on the Government to reconsider its position on the 9% VAT rate, he said this vital measure should be extended until after 2025 in order to safeguard overseas tourism recovery and competitiveness. He said, 'Failure to commit to an extension of the 9% VAT in this Budget is deeply regrettable and does not take account of the scale of decimation experienced by our industry. The Government is failing to recognise the importance of this measure as a contributor to international competitiveness and to the Irish tourism business model. In the aftermath of the last recession, the 9% VAT rate was an important enabler in job growth and created 90,000 tourism jobs - one of the most successful job support measures introduced in the history of the State.'
"'Our competitiveness is also being seriously hampered because of the high cost of doing business here in terms of insurance, local authority rates and energy costs amongst other factors. This lack of competitiveness has been compounded by the decision not to retain the 9% rate putting Ireland in a situation where we will have the second highest rate of tourism VAT in Europe. This must be reviewed at the earliest opportunity,' stated Mr Fenn.
"The IHF Chief Executive added, 'Tourism is Ireland's largest indigenous industry, accounting for one in ten of all jobs, 70% of which are outside of Dublin. Government supports have been important to restoring employment and will continue to be going forward, helping to support the viability of individual businesses and the wider sector until business levels recover. In the summer months, the hotel sector alone recovered almost 30,000 jobs - bringing the total number of livelihoods supported by the sector to 57,000. While that is still some bit short of the 65,000 it supported in 2019 it is still a remarkable achievement.
"'While tourism performed well during the summer months in some regions, hotels and guesthouses now face an uncertain period until the 2022 summer season. Booking levels have fallen sharply in the absence of overseas visitors. Meetings and events which would normally sustain the sector during the off-peak season are also below expectation. Under the most optimistic scenario for the remainder of 2021, average occupancy is projected to reach 32% for the year as whole - a significant collapse in activity compared with 2019, when room occupancy was 73% and only a modest increase on the all-time historic low of 30% reached in 2020.
"'Hotels and guesthouses will have seen a combined €5.3bn drop in revenues across 2020 and 2021 as a direct result of this crisis with overall revenues dropping 68% in 2020 and 55% this year. Expectations are that overseas tourism into Ireland will remain severely constrained next year and is unlikely to recover to pre-COVID levels until 2024/2025. Budget 2022 didn't go far enough to address this,' said Mr Fenn."
RAI Response
In a statement published on its website, the Restaurants Association of Ireland (RAI) said, "The Restaurants Association of Ireland described today's Budget as a disastrous, no ambition to stimulate and revitalise the tourism industry as 9% VAT rate set to end in August 2022. Whilst wage supports remain in place for the still restricted restaurant, hospitality, and tourism sector, they will taper off in the new year. CEO Adrian Cummins has warned that the hospitality industry faces a challenging five years to restore levels of business to that of pre-COVID.
"Adrian Cummins, Chief Executive of the Restaurants Association of Ireland said, 'This budget is a disaster for our members, restaurants, cafes and gastropubs, a vital element of our Tourism offering. The VAT rate ending, and wage supports tapering off will be the death nail in the coffin of many hospitality businesses this winter.
"'Although the supports offered in today's budget are welcomed, there are still some long hard months ahead. Since lockdown measures and restrictions have been put in place, our industry has complied with the rules. Public safety and the safety of workers have always been at the top of our agenda. But this has meant serious financial difficulties for many. We needed the Government to help us fight for survival, today's announcements fall short of that, and we will need ongoing support to trade out of this.'"
LVA Response
In a statement published on its website, the Licensed Vintners Association (LVA) said, "The Licensed Vintners Association (LVA) has said Budget 2022 was generally positive for the hospitality sector but warned the VAT increase coming next September will be a serious problem.
"The LVA believes the extension of the commercial rates waiver until the end of the year and the retention of the EWSS until April 2022 are were vital measures that will facilitate the recovery of the industry and sustain some hospitality businesses under pressure into the new year.
"The LVA also warmly welcomed the decision that Government charges imposed on late night venues such as late bars and nightclubs will be waived until the end of 2021. This is an issue the LVA raised extensively with the Government in the run up to the Budget.
"Any licensed premises seeking to operate late must secure a Special Exemption Order (SEO) in advance. Each SEO requires a payment to Government - which effectively amounts to a tax - of €410 per night for each individual venue.
"Late bars and nightclubs are expected to reopen on 22nd October, following 585 consecutive days of closure. Had these charges not been waived the LVA estimated the 300+ late bars and nightclubs around the country would have been forced to make advance payments of €2.2million to Government, before they could reopen. The LVA argued this would have been an unfair imposition on businesses which had zero business in more than 18 months.
"While most of the measures struck a positive tone for the sector, the Government's decision to increase the hospitality VAT rate next autumn will be a problem the LVA believes. Currently the hospitality VAT rate is 9%, but the Government confirmed it is to rise to 13.5% from September 2022, a 50% increase the rate imposed. This will have a significant inflationary impact on costs across the hospitality sector. The LVA anticipates further engagement with the Government on this issue will be necessary.
"'Overall this has been a generally positive Budget for the hospitality sector,' said Donall O'Keeffe, Chief Executive of the LVA. 'The extension of the rates waiver and the retention of the wage subsidy supports will provide some stability to businesses who have effectively been shuttered for most of the last 18 months and who are still operating with severe constraints in place. It is going to take months for our industry to recover and these measures are essential to allow pubs and other hospitality businesses to get back on their feet.
"'The Government's decision to waive the charges on late bars and nightclubs is also hugely important. The LVA has been making the case that it would be grossly unfair to expect businesses who have been kept closed for 1.5 years by order of the Government, to then have to make advance payments to the Government before they could open their doors again. Thankfully this point has been taken on board in the Budget deliberations and these charges will be waived until the end of the year, putting the recovery of late night hospitality on the front foot ahead of reopening on 22nd October.
"'Looking ahead, we are concerned about the implications of the decision to increase the VAT rate from next September. That's going to have a significant inflationary impact on hospitality costs from next autumn onwards, with the level of VAT charged effectively due to rise by 50%. We think that will be problematic for the sector and we will be seeking to further engage with the Government on this matter,' Mr. O'Keeffe concluded."
VFI Response
In a statement published on its website, the Vintners' Federation of Ireland (VFI) said, "The Vintners' Federation of Ireland (VFI) has welcomed the announcement in Budget 2022 that the Employment Wage Subsidy Scheme (EWSS) is to be extended until April of next year. The VFI says this will give members the opportunity to retain staff during a period when significant consumer uncertainty remains and tourist numbers will be depressed.
"The extension of the commercial rates waiver until the end of 2021 is also an important development and will provide time to recoup losses sustained through almost 18 months of closure due to the pandemic.
"However, the government's decision not to extend the 9% hospitality VAT rate past August 2022 is disappointing given the challenges the hospitality trade will face over the coming year and the fact most European countries utilise the 9% rate, which places Ireland at a disadvantage when seeking to attract inbound trade.
"While excise duty was not increased in the Budget, the VFI has described the government's decision not to reduce the tax, which is the second highest in Europe, as a 'missed opportunity'.
"Speaking after Budget 2022 was unveiled, VFI Chief Executive Padraig Cribben, said, 'Budget 2022 recognises that significant challenges remain for the pub sector. By maintaining the EWSS until next April and keeping the commercial rates waiver in place until the end of year the Government is giving publicans a chance to trade out of the most difficult 18 months imaginable.
"'We're just days away from when all indoor restrictions will finally be removed on 22nd October but that is far from the end of the crisis for publicans. Our members remain hugely concerned about consumer confidence and the impact of the forced closure of venues since March 2020. With these Budget measures, Government is effectively giving our members more time to rebuild their businesses.
"'The decision to increase the 9% hospitality VAT to 13.5% next September is short-sighted given that tourism will be significantly impacted for years to come. The crisis in hospitality is such that the lower VAT rate needs to be in place until at least 2025.
"'While we welcome the fact excise duty is not increased, this was a missed opportunity to lower Europe's second highest tax on alcohol. Reducing excise duty would incentivise publicans to reinvest in their businesses and increase our competitiveness once tourists do return.
"'Overall, the extensions to EWSS and the commercial rates waiver are meaningful supports for the trade as it begins to navigate the post-COVID world,' concluded Mr Cribben."
ITIC Response
According to The Irish Times, Irish Tourism Industry Confederation (ITIC) chief executive Eoghan O'Mara Walsh said that it was "very disappointing" that the VAT rate had not been extended, and, "It damages our competitiveness when industry will be in fragile recovery phase. Ireland to have one of the highest tourism VAT rate across European Union."
O'Mara Walsh reportedly welcomed a further €50 million announced by Minister for Public Expenditure Michael McGrath in business continuity grants that will be administered by Fáilte Ireland, reportedly expressing the hope that they will be paid "promptly" in the first quarter of the year.
McGrath reportedly also announced €39 million in enhanced funding for tourism marketing, and O'Mara Walsh reportedly said that the split between extra marketing funding for domestic and international tourism will be "crucial". Minister for Tourism Catherine Martin reportedly later said that €35 million of the funding will go on international marketing, and reportedly also signalled a further €10 million in funding for industry skills training, digital technology, and financial support for the Aer Lingus US College football classic, which is due to be held in Dublin's Aviva stadium in 2022.
Tourism Ireland Response
Tourism Ireland stated, "Welcoming the additional funding allocated to Tourism Ireland in Budget 2022, Niall Gibbons, Chief Executive of Tourism Ireland, said, 'We very much welcome the additional €39 million which has been allocated to tourism marketing and product development in Budget 2022, which demonstrates the Government's continued commitment to Irish tourism in these extraordinary times. As we restart tourism from overseas, this additional funding will allow Tourism Ireland to 'put our best foot forward' and roll out a really strong programme of promotions throughout 2022.
"'We know from our research that there is significant pent-up demand among travellers in our overseas markets to return to the island of Ireland as soon as possible. However, we also know that there will be significant competition in the marketplace; every destination across the globe has experienced the impact of COVID-19 and will be seeking its share of the recovery. This additional investment will allow us to upweight our new campaigns in our international markets, punch through the noise and convert 'lookers' to 'bookers'.
"'Aviation has been particularly hard hit by the pandemic, so we also welcome the announcement of a separate fund of €90 for aviation recovery. As an island, direct, convenient and competitive access services will be critical to restarting and rebuilding inbound tourism. We look forward to working with our airport and airline partners, to build a long term sustainable recovery for our tourism industry.'"
Fáilte Ireland Response
In a statement published on its website, Fáilte Ireland said, "Fáilte Ireland is welcoming the tourism specific and wider economic measures announced in Budget 2022.
"CEO of the National Tourism Development Authority, Paul Kelly, states 'the record level of funding for the tourism sector secured by Minister Catherine Martin TD will make a positive impact on the recovery and economic growth of the industry and individual tourism businesses.'
"'Tourism continues to be one of the sectors hardest hit by the COVID-19 pandemic and while the long-term view is hopeful and positive, the short-term outlook is uncertain as a solid return of overseas visitors is not expected until the second half of 2022. The overall financial package secured by the Minister responds to the significant challenges that remain for the sector. The funding provided and initiatives announced reflect the Government's ongoing commitment to protect the tourism industry's productive capacity and ability to recover from the crisis. These supports will help in reducing the risk that otherwise vulnerable-but-viable SMEs become insolvent and, ultimately, will benefit the Government's future fiscal position, notwithstanding the short-term costs,' added Paul Kelly.
"Mr Kelly continued, 'The tourism businesses most reliant on overseas visitors continue to have revenue levels below 25% of their 2019 levels. The support provided through the Tourism Business Continuity Scheme in 2021 enabled tourism businesses who have inherently high fixed costs of operation to continue to operate. The allocation to Fáilte Ireland of €50 million so we can administer further phases of the Tourism Business Continuity Scheme is very welcome. The Scheme will help sustain strategic tourism businesses during Q1 and Q2 of next year and enable them to survive and prepare well for the return of overseas tourists.'
"'The allocation of €27 million for a number of initiatives will help us to drive demand and ensure the competitiveness of the sector. Festivals and events play a key role in motivating visitors to travel. Budget 2022 will allow for greater investment in large scale events such as US College Football, postponed high impact festivals and the development of new world-class festivals, all of which will attract both international and domestic visitors. The allocation for domestic marketing will allow us to continue to produce strong sales and marketing campaigns to maximise home holidays which will be vital in helping businesses survive and protect jobs in the sector over the coming years. The investment of €35 million for the Tourism Marketing Fund and The Year of the Invitation - a themed year project - will also help stimulate international demand,' added Kelly.
"'The use of digital technology has increased as much in the last year as it has over the previous eight years, so it is critical that we build on our hugely important 'Digital that Delivers' programme. Funding combined with appropriate resources is needed for the successful delivery of our digitalisation support programme for tourism businesses.  This work provides businesses with the tools to boost their online presence and empower them to compete in a highly competitive marketplace. It is critical that we continue this work.'
"'The Budget 2022 measures announced will also help support our important work on tourism careers and skills development as we attempt to tackle the critical issue of recruitment and retention in the tourism industry. Appropriate resources and funding are required to deliver a campaign that achieves tangible results to support the long-term survival of the industry,' continued Paul Kelly.
"'The allocation of €36.5 million in capital funding for tourism product development, an increase of almost €4m on the 2021 allocation, will help us to continue to support the delivery of enhanced tourism amenities in line with the objectives of the new National Development Plan 2021-2030. This includes our Platforms for Growth capital investment strategy that targets large projects with the greatest potential to grow and foster sustainable tourism,' concludes Paul Kelly.
"Measures welcomed in Budget 2022 that will benefit tourism:
"€50m for further Tourism Business Continuity Schemes.
"Additional support for domestic marketing, festivals and events including hosting US College Football.
"Investment in Digital that Delivers.
"Further investment to support Fáilte Ireland's tourism careers work to attract talent, develop skills and retain staff.
"€36.5m in Capital Funding for tourism product development (an increase of almost €4m on 2021 allocation).
"€4m to develop a register of Short-term/Holiday lets as outlined in Housing for All – a New Housing Plan for Ireland.
"€35m increase in the Tourism Marketing Fund, which includes €5m to begin preparations on the Programme for Government commitment to deliver a themed year project, The Year of the Invitation.
"€90 million for an aviation package.
"Over €60 million to extend the commercial rates waiver for the last quarter of this year targeted at the hospitality, arts and certain tourism related sectors.
"9% VAT rate for the hospitality and tourism sector until end of August 2022.
"Employment Wage Subsidy Scheme (EWSS) in place in a graduated form until end April 2022."
DAA Response
Dublin Airport and Cork Airport operator DAA stated, "Management at DAA has warmly welcomed the news that the Government is to provide €90 million in immediate funding for an aviation package to help Ireland rebuild vital international connectivity following the decimation caused by COVID-19 to the sector over the past two years.
"Dalton Philips, CEO at DAA, said, 'Our business at Dublin and Cork Airports has been significantly hit by the fall in the passenger numbers over the past two years, as has the entire aviation ecosystem including our airline partners. Together we have a long journey to travel as we seek to reconnect Ireland to the rest of the world and fulfil our role as an economic enabler for the Irish economy in terms of trade, tourism and social connectivity. We obviously welcome the measures announced in today's budget and look forward to rebuilding our long and short haul networks out of Dublin and Cork Airports on the strength of these supports.'
"Vincent Harrison, Managing Director at Dublin Airport said, 'We're looking forward to further enhancing our traffic recovery incentive schemes for our airline customers who are looking to grow their business at Dublin Airport. This package of supports will help us to further improve upon our already highly competitive airport charges and incentives. Despite the downturn as a direct result of the pandemic, we are already seeing a ramping up of our business since the reopening of international travel in July. We are confident of demand increasing for long and short-haul travel into and out of Dublin Airport over the next number of years as consumer confidence increases daily.'
"Niall MacCarthy, Managing Director at Cork Airport said, 'Today's announcement has to be warmly welcomed and appreciated. Cork Airport was the second busiest and best-connected airport in the State coming into this pandemic and we aim to return to that position coming out of this crisis. These supports for Irish airports will allow us at Cork Airport to rebuild our international route network into next year and beyond. We have already had some really positive announcements made by our airline customers in recent weeks and we are confident of even more as a result of these Government supports. We are very grateful for this support from the Government as we continue that rebuilding process.'"
Drinks Ireland|Cider Response
Drinks Ireland|Cider stated, "Drinks Ireland|Cider, the representative group for Ireland's cider producers within Ibec, has welcomed news that the Minister for Finance has announced the introduction of an excise relief programme of up to 50 per cent for independent small producers of cider and other fermented beverages. The announcement was made in the Minister's budget speech where he stated that his officials will work with the cider sector to allow for the implementation of this relief in next year's Finance Bill.
"Seamus O'Hara, the Chair of Drinks Ireland|Cider and Founder and CEO of Carlow Brewing Company, which produces a range of cider brands including Falling Apple and Craigies, said, 'There are at least a dozen craft cider producers scattered across Ireland that will benefit greatly with this reduction, enabling further investment, job creation and innovation.  The move will benefit the wider cider sector by allowing expansion of and greater consumer interest in the category. It will also result in downstream benefits to the wider economy, particularly in retail, hospitality, and tourism.
"'Drinks Ireland|Cider welcomes the announcement from the Minister today. This decision is timely in the context of the challenges facing the cider sector. Ireland already has the third highest rate of excise on cider in the EU/UK. The sector has also been hard hit by the pandemic, with cider's market share of beverages falling from 7.4% in 2019 to 6.9% in 2020.'
"Jonathan McDade, Head of Cider at Drinks Ireland, added, 'This announcement follows a substantial lobbying campaign by Drinks Ireland|Cider which has called for the excise relief programme, currently enjoyed by craft brewers, to be extended to the craft cider sector.  Since that excise reduction over 15 years ago, the number of indigenous craft breweries in Ireland has increased from 8 to 75. We look forward to engaging with the Department and the Revenue Commissioners on the practicalities of introducing the scheme in the coming months.'"
Family Business Network Response
Family Business Network stated, "The organisation representing Irish family-owned business has responded to the publication of Budget 2022 by the Minister for Finance Paschal Donohue and Minister for Public Expenditure and Reform Michael McGrath.
"Speaking following the budget announcement this afternoon, John McGrane, Executive Director of the Family Business Network, said, 'Family businesses in towns and villages across Ireland will welcome the extension of the EWSS to April of next year as well as the gradual approach being taken to withdrawing COVID-19 business supports. Avoiding a 'cliff edge' will ensure that family firms can remain focused on creating jobs and supporting their local economy.
"'Family businesses will continue to play their part in strengthening Ireland's recovery and today's budget provides some reassurance that they will be supported in their efforts.'
"'The €100m tourism recovery package is a much-needed boost for the sector that continues to be impacted by the pandemic. The funding will help the sector to survive the challenging winter months and put it on a positive footing for growth in 2022.
"'However, Government failed to grasp the opportunity to use Budget 2022 to rebalance Ireland's economy. With ongoing changes to Ireland's FDI model, there is an ever growing need to reduce Capital Gains Tax to unlock greater levels of investment in indigenous firms so they can innovate and grow. Employing twice as many as Foreign Direct Investment and the State combined, indigenous Irish businesses want to hire more people, invest and support both their local and national economies.
"'Cutting CGT to 20% would have led to increased exchequer returns at a time when they are needed most. Without this important change, many family firms will continue to face the threat of having to sell key parts of their business as it passes from one generation to the next.
"'It is disappointing that no firm commitment has been made to replace the outdated commercial rates system which penalises local family firms to the benefit of large online retailers. The current system of commercial rates is an unfair weight on the shoulders of family businesses, and it is overdue for reform.'"
Connacht Hospitality Group Response
According to The Irish Independent, general manager of the Connacht Hospitality Group, which owns and runs five tourism and hospitality businesses in Galway city, including The Connacht Hotel, The Forster Court Hotel & Hyde Bar and The Residence Hotel & 1520 Bar, Wayne Neilon said that while Budget 2022 is generally positive, it is disappointing that the 9% VAT rate for tourism was not extended beyond August of 2022, and that maintaining the lower VAT rate for longer would have helped to keep Ireland competitive.
Neilon reportedly said, "Overall it's great that the wage subsidy scheme and business supports have been extended.
"The extension of business and employment supports are welcomed along with the fund for international marketing and air access. This will go some way to returning air connectivity to pre-pandemic levels.
"There would be disappointment that the 9% VAT rate for tourism was not extended beyond August 2022. The 9% rate would have kept Ireland in line with other European countries, maintaining the lower rate would have ensured competitiveness and supported recovery of international tourism.
"But overall it's good to see that it's a fair Budget for business."
Neilon reportedly said that while the tourism industry has seen a boost as COVID-19 pandemic-related restrictions have been eased, there are still significant difficulties, and, "While tourism performed very well during the summer months in some regions, including Galway, hotels and guest houses now face a very uncertain period up until June 2022.
"The average hotel occupancy nationally is projected to reach just 32% for this year. That is a very significant collapse compared to 2019 when the national occupancy was at 73%.
"The government supports so far have been critical and a lifeline for many businesses helping to restore employment. They supported the viability of business until we got back to a more stable footing. However, we need firm commitment that the supports will be maintained until the impact of the pandemic has passed. This is crucial to protect employment in the sector."
Neilon reportedly said that recovering from the pandemic will require buy-in from the hospitality sector and Government, and reportedly added that these supports are vital to ensuring that the industry can restore its position in the Irish labour market.
Neilon reportedly said, "We've made good inroads in getting back to pre-COVID employment levels, but the industry has taken a battering. There has been a negative perception of the industry and we have to work hard to turn that around."
BDO Reaction
According to The Irish Times, VAT Partner at financial advisory group BDO Philip Nolan said that the failure to further extend the 9% VAT rate has caused "much disappointment...following an extremely challenging period".
Smalls Firms Association Response
According to The Business Post, the Small Firms Association, which is the representative body for small businesses, was critical of Budget 2022, describing it as "underwhelming" for its members and saying that it did little to reduce costs for business, including the right of employees to request remote work, pension auto enrolment and statutory sick pay.
Oireactas Committee To Hear About Poor Pay And Conditions
Additionally, also according to The Business Post, an Oireachtas committee will hear today (Wednesday October 13) that it is "insulting" to suggest that COVID-19 pandemic wage supports should be cut to encourage hospitality workers to return to work post-pandemic.
A trio of trade unions will reportedly tell the Tourism Committee that poor pay and conditions are the main reasons for the staff shortages from which Ireland's hospitality sector is currently suffering.
TDs and Senators will reportedly be told that Ireland's hospitality sector is among the worst in Europe when it comes to "low pay", and that poor employment conditions are common in the sector.
The hearing reportedly comes against a backdrop in which a number of industry groups have called the Pandemic Unemployment Payment (PUP) to end, reportedly arguing that the supports serve as a disincentive for workers considering returning to work.
The RAI has reportedly estimated that 70,000 people have left the restaurant sector since the pandemic started, and RAI CEO Adrian Cummins has reportedly said that he believes that the PUP system is being defrauded by claimants who are not living in Ireland.
Cummins reportedly said in September, "We have 110,000 people on the PUP payment at the moment. That's nearly 20% of where we were in May of 2020. We've a number of fully open sectors now…and these are sectors who are trying to attract staff back into the industry."
Unite will reportedly claim that some employers are treating hospitality staff as "unskilled, cheap, temporary and easily replaceable", and add that this view is a major factor in the lack of staff available to work in hospitality venues as the reopening of the economy continues.
The union reportedly wrote in a submission that reportedly was reportedly seen by The Business Post, "Scenarios such as recently described by one young worker who received his wages with a bucket of coins, is only one example of the type of humiliation that so many workers face on a regular basis,", and reportedly said that the absence of legislation around workers' tips represents an "indication to those employed in hospitality that their rights are secondary to the profits of their employers".
Meanwhile, The Irish Congress of Trade Unions (ICTU) will reportedly say that it is "obvious" that hospitality sector labour shortages are due to poor pay and conditions rather than the pandemic payments put in place as a result of the pandemic.
ICTU's statement reportedly added, "There needs to [be] a revised and renewed effort to improve the pay and other conditions of employment in the tourism and hospitality sector."
© 2021 Hospitality Ireland – your source for the latest industry news. Article by Dave Simpson. Click subscribe to sign up for the Hospitality Ireland print edition.