COVID Certs To Be Required To Enter Indoor Hospitality Settings Until 2022
Published on Oct 20 2021 8:00 AM in Features tagged: Featured Post / IHF / Restaurants Association of Ireland / VFI / LVA / RAI / Irish hotels federation / Vintners' Federation of Ireland / Licensed Vintners Association / indoor dining / EU Digital COVID Certificate / indoor drinking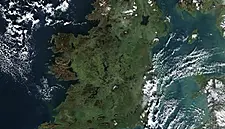 The government has announced that Digital COVID Certificates will be required to enter indoor hospitality settings including restaurants, cafés, pubs and nightclubs until February of 2022 at the earli...
The government has announced that Digital COVID Certificates will be required to enter indoor hospitality settings including restaurants, cafés, pubs and nightclubs until February of 2022 at the earliest.
The news follows news from earlier this week that the National Public Health Emergency Team (Nphet) had advised that current hospitality sector restrictions should remain in place for several more months, as well as last week's news that Taoiseach Micheál Martin said that he cannot guarantee that the further easing of COVID-19 pandemic-related planned for October 22 will proceed.
As reported by rte.ie, the government has called on businesses and venues to be stricter with their COVID certificate enforcement.
Individuals can apply for a COVID certificate if they have been vaccinated against COVID-19 or if they have recovered from the virus within the last six months.
Nightclubs To Reopen
Nightclubs will reportedly reopen on Friday October 22 in a fully-seated capacity, and Taoiseach Micheál Martin reportedly said that sector-specific advice for nightclubs will be issued in the coming days, but he reportedly added that "people will be able to dance in a nightclub".
Normal Operating For Bars And Restaurants To Resume
Normal operating hours for bars and restaurants will reportedly resume on October 22.
Indoor Hospitality Setting Rules
As mentioned above, a Digital COVID Certificate will reportedly be required for entry to indoor hospitality settings until February of 2022 at the earliest, and business owners will reportedly be expected to ensure a high level of safety for customers and employees alike.
Table service only requirements will reportedly remain in place, with a maximum of 10 adults at one table, and that limit can reportedly be increase to 15 when there are children in a group.
Antigen Testing
The use of antigen tests before attending social settings has reportedly been recommended, and antigen tests will reportedly play an enhanced role in the next phase of the newly-revised plan for reopening society.
Antigen tests, or lateral flow tests, while not as accurate as PCR tests, provide a positive or negative result in approximately 15 minutes.
From October 22, fully vaccinated individuals who are deemed close contacts will reportedly be sent a rapid antigen test in the post, and if the antigen test produces a positive result, a follow up PCR test will reportedly confirm a positive result.
Attendance Limits For Weddings And Religious Ceremonies
Attendance limits for weddings and religious ceremonies will reportedly be lifted on October 22.
Group Activities
Organisers of indoor and outdoor group activities reportedly should ensure that appropriate protective measures are in place, and in situations in which indoor groups have a mix of vaccinated and unvaccinated people, pods of six reportedly should apply.
Fixed capacity limits reportedly will not apply to these indoor and outdoor group activities, and capacity caps have reportedly been lifted from outdoor events, paving the way for full occupancy at sporting events from October 22.
Physical Distancing Requirements And Close Contacts Rules
The requirement for physical distancing will reportedly continue until February of 2022 at the earliest.
Close contacts of individuals who have tested positive for COVID-19 will reportedly now not have to isolate until they are tested. As mentioned above, if they are fully vaccinated, they will be sent a rapid antigen test.
People who have COVID-19 symptoms will reportedly still be required to self-isolate and take a COVID-19 test.
Hotel Quarantine
The mandatory hotel quarantine system is reportedly no longer considered necessary.
Return To The Workplace Advice
The government has reportedly advised against a large-scale return to the workplace from the week commencing Monday October 25, but has reportedly rather encouraged a "phased and cautious" return.
Vaccine Boosters
Vaccine boosters will reportedly be offered to people aged 60 years old and older, but a plan to further vaccinate healthcare workers has reportedly not been announced.
Duration Of Measures
The Taoiseach reportedly said that all of the above measures will remain in place until February of 2022 at the earliest.
RAI Reaction
Reacting to the announcement of the above measures, Restaurants Association of Ireland (RAI) president Mark McGowan reportedly said while speaking on RTÉ's Morning Ireland radio programme that venues are still unsure about things such as multiple table numbers, and are hoping that guidelines will be provided sooner rather than later.
McGowan reportedly said, "There's a lot of decisions that have to be made. We have to plan rosters, we have to plan the logistics of our table plans in the restaurant, and we may have to hire more staff as well.
"The fact that the COVID certs are here to stay - which I actually welcome - I think it is an additional labour cost, but what it does is mitigate risk and I think that's ultimately what this is all about."
IHF Reaction
The Irish Hotels Federation (IHF) stated, "Hoteliers have welcomed the decision announced today by the Government to increase the size of indoor gatherings from 22nd October. Elaina Fitzgerald Kane, President of the Irish Hotels Federation (IHF) said, 'We recognise the difficult balance the Government has to achieve in reopening the economy and are fully committed to continuing to play our part in ensuring public health is to the fore of everything we do. However, it is disappointing that some restrictions have to remain, and Government must immediately re-examine the cliff-edge that has been created in Budget 2022 with the withdrawal of business and employment supports in the coming months.'
The IHF President stated, 'Hoteliers fully support Government efforts to supress the virus. While disappointing that there is a need for a continuation of current requirements for Covid certs, we support this public health measure. Nonetheless the retention of restrictions means that the economic circumstances on which the decision to withdraw supports was based no longer exist. Instead, we are facing the kind of cliff-edge in December that the Government assured us we would avoid.'
"Ms. Fitzgerald Kane expressed serious concerns about the withdrawal of the EWSS employment support scheme. This would impact on hospitality businesses that may experience a seasonal Christmas uplift, thereby excluding them from further support during the months of January to April when business levels fall off dramatically. She urged the Government to provide a sector specific exemption for hospitality businesses.
"Additionally, she called on the Government to reconsider the failure in the recent budget to extend the rates waiver beyond December 2021. Ms Fitzgerald Kane states, 'Hoteliers cannot be expected to pay rates based on historical business levels that no longer exist and will take years to restore.'
"Ms. Fitzgerald Kane also called on the Government to commit to extending the 9% VAT rate for tourism and hospitality after August 2022 as a key competitive measure to support recovery. The current 9% rate is the correct rate for our sector and is in line with our European counterparts whereas a return to the 13.5% rate means Ireland will have the second highest VAT rate in Europe at a time when we are facing unprecedented inflationary pressures which will inhibit our competitiveness and recovery.
"Tourism will recover, but it is not a tap that can be turned off and on. The most optimistic forecast is for average occupancy for 2021 to reach 32% and expectations are that overseas tourism into Ireland will remain severely constrained next year and unlikely to recover to pre-COVID levels until 2024/2025.
"'Government supports have been important to restoring employment and will continue to be going forward, helping to support the viability of individual businesses and the wider sector until business levels recover. From a government policy and industry perspective, the over-riding priority must be to ensure Irish tourism recovers lost ground as quickly as possible. This is essential if the 270,000 livelihoods supported by tourism, 1 in 10 of all Irish jobs with 70% of those jobs outside of Dublin pre-COVID are to be secured,' she concluded.
LVA Response
In a statement published on its website, the Licensed Vintners Association (LVA) said, "Confusion now reigns over late night hospitality with the resumption of activity less than sixty hours away, the Licensed Vintners Association (LVA) has said. They warned that the latest announcement from Government has left more questions than answers and will lead to problems throughout the licensed trade.
"The LVA expects several nightclubs will proceed with their expected reopening plans which are scheduled for just after midnight the day after tomorrow (as Thursday turns to Friday 22 October).
"They also expressed their dismay that the Government now has no plan for the return to normal trading in hospitality, with the sector having previously been repeatedly told that they would be able to resume full service once the majority of the population was vaccinated. Currently 92% of the adult population has been vaccinated and anyone who has not received their vaccine would have zero difficulty or wait time in sourcing one.
"On the back of the muddled announcement made by Government, the LVA has a range of questions which they will be seeking urgent responses from Government.
"How does public health advice permit people to closely dance together but not allow the use of the bar counter?
"With some night time venues due to open in less than 60 hours, when will the Government be publishing the guidelines for that sector?
"When will updated guidelines be available for the rest of hospitality?
"How does the Government plan on distinguishing between traditional bars, late bars and nightclubs?
"Is the Government aware that for many nightclubs it will not be feasible to open without access to the bar counter?
"With the hospitality sector having been repeatedly told they must wait until a large majority of the public is vaccinated before they can fully reopen and 92% of the adult population now vaccinated, what does the Government expect to change that will permit the future return of normal trading?
"If, as the Government said, these problems started arising 2 - 3 weeks ago, why did they wait until 3 days before 22nd October to make their latest announcement? For example could this not have been done last week? Is it fair to leave such major announcements to the last minute?
"What actions are the Government taking to ensure there is greater emergency capacity in the health service in the future and when will those be achieved?
"What additional financial supports will they be providing to pubs with the sector expected to indefinitely cope with severe limitations on trading?
"Reacting to the Government announcement, Donall O'Keeffe said, 'We are astonished with the latest announcement from the Government. They have effectively thrown out their previous plan, that normal activity would resume once the majority of the public was vaccinated. Instead we now have a 'wait and see while hoping for the best approach'. This is not a plan and this is not what the social contract was built upon.
"'All they have done today, indeed since last week, is sow confusion. We now have a night time sector that will be reopening in less than 60 hours and which doesn't know what restrictions they will be trading under or whether it will be viable to open in the first place.
"'Permitting certain activities while preventing others also makes little sense to those who work in the hospitality sector. We are delighted to see the return of dancing for example but where is the logic that permits that activity but rules out the use of the bar counter? It is easy to see that the Government once again failed to engage with the hospitality sector in coming forward with these measures. They have created more questions than answers. Their anomalous approach to restrictions will not be practical in the real world.
"'With such tight restrictions now remaining in place for the licensed trade for many more months, it is imperative the Government confirms that the Covid business supports will be extended for pubs as long as these restrictions remain in place, particularly the EWSS at current rates and the commercial rates waiver,' Mr. O'Keeffe concluded."
VFI Response
In a statement published on its website, the Vintners' Federation of Ireland said, "The announcement that pubs must continue with mandatory table service while not permitting customers sit or stand at the bar counter until next February at the earliest is a devastating blow to a sector that was expecting to see all restrictions removed this week, says the Vintners' Federation of Ireland (VFI).
"The VFI says maintaining restrictions will result in further pub closures as mandatory table service significantly reduces capacity in venues. Some publicans will also choose to temporarily close their businesses as they are unable to break even in the current environment.
"The Federation says the decision not to ease restrictions is a direct result of Government failing to deal with the small percentage of people who remain unvaccinated and who have a disproportionate impact on hospitalisation numbers.
"VFI Chief Executive Padraig Cribben says, 'The Government decision to keep restrictions in place until February at the earliest is another devastating blow to the pub trade. Over 92% of people are vaccinated so we could have easily removed mandatory table service by limiting entry to customers with vaccine passes. Instead, Government has guaranteed the closure of more pubs over the coming months.
"'The return of normal trading hours is simply a fig leaf for the fact bar counters remain off limits. This restriction alone will mean pubs can't operate at full capacity and will make continued trading impossible for many of our members.
"'We also have to contend with the glaring anomaly of nightclubs reopening where, according to the Taoiseach, people will be permitted to dance while customers in pubs won't be allowed sit at the bar counter.
"'The pub trade has battled with uncertainty since March 2020 and today's news will only deepen the worry for publicans and their staff. In a sector that is struggling to find and retain employees these developments will only exacerbate staffing problems.
"'Where do we go from here? The Taoiseach says the current restrictions will remain in place for at least a further five months while business supports are ending just as the pressure increases on our members. If a 92% vaccination rate doesn't get our members fully open then we're in huge trouble.
"'We thought this crisis was coming to an end on Friday but now face the prospect of severely curtailed trading through the busiest period of the year. Government cannot allow the sector to limp on in this fashion and must come back with a concrete plan for the pub trade,' concludes Mr. Cribben."
Previous LVA And VFI Statements
The above statements from the LVA and the VFI follow a statement from the two organisations published on both of their websites on Sunday October 17 that said, "349 pubs have closed since the beginning of the pandemic, which vintners representatives say signal the extent of the distress faced by pubs as restrictions continue to impact the sector. According to the Vintners' Federation of Ireland (VFI) and Licenced Vintners' Association (LVA) the revelation of a 5% drop in pub licence renewals is a dramatic escalation in the crisis faced by pubs, coming just before Government will decide whether to remove all remaining COVID restrictions currently operated by the trade.
"The figures, which were taken from an analysis of licence renewals published by the Revenue Commissioners, shows pubs have closed across the country, with Cork losing 37 pubs while Dublin has lost 33 public houses. Donegal lost the same number, 33, while Kerry has seen 22 pubs not renew their licences.
"In light of these new figures, both the VFI and LVA say it's critically important restrictions on trading are removed as planned this coming Friday 22nd October. Given that 90% of over 18s are now vaccinated the trade organisations say that retaining the vaccine pass system would allow Government the reopening of late night hospitality, end mandatory table service, resume bar counter service and allow pubs to trade under normal opening hours. By the 22nd October, nightclubs and late bars will have remained closed for 585 consecutive days since the outset of the pandemic.
"Padraig Cribben, Chief Executive of the VFI, says, 'These new figures reveal COVID's dramatic impact on the trade over the past 19 months. To lose 5% of pubs in such a short timeframe is unprecedented and underlines how the pub trade bore the brunt of pandemic restrictions.
"'In light of recent speculation about delaying the ending of restrictions, the news that pubs are closing across the country will only heighten anxiety in the trade. Uncertainty is a key factor in why so many pubs have closed so Government must put an end to the crisis by announcing the easing of restrictions will proceed as planned.'
"Donall O'Keeffe, Chief Executive of the LVA, says, 'Losing 349 pubs across the country indicates the magnitude of what's happened to the pub trade since March 2020. These pubs closed even with the Government supports in place. We think the reopening of late night hospitality, the return of the bar counter, the end of mandatory table service and a resumption of normal trading hours should proceed next Friday. If access is limited to those who have been vaccinated there is no justification for not proceeding the easing of the rest of the restrictions. With more than 90% of the adult population vaccinated and vaccine passes likely to remain in place, if we can't allow hospitality to trade relatively normally now then when will we ever be able to?
"'Anticipation is high ahead of the lifting of 22nd October for the simple reason that publicans are desperate to get back to normal trading. Many pubs and other hospitality businesses have been hanging on for this moment and any further delays will be a step too far for some. The Government needs to recognise delays will push more businesses over the edge where they will join the 349 pubs that have already been lost during the course of the pandemic,'Mr. O'Keeffe concluded."
The above statements also follow a separate statement published on the LVA's website last week that said, "The Licensed Vintners Association (LVA) has said entire sectors should not be penalised because some people opting to remain unvaccinated. Following reports that the full easing of restrictions, due to take place on 22 October, is now under doubt, the LVA has said this issue will have to be grasped by Government as there is no guarantee the status of those who are unvaccinated will change no matter how long the reopening is delayed.
"Most of the hospitality sector is still operating under severe restrictions which were due to end next week, while late night operators such as late bars and nightclubs are yet to reopen. By 22 October these businesses will have remained closed for 585 consecutive days.
"Despite more than 90% of the adult population being vaccinated, the Deputy Chief Medical Officer, Dr. Ronan Glynn, has indicated that those who are unvaccinated are having a 'disproportionate impact' on the profile of the virus. According to his figures approximately 300,000 adults have not come forward for a vaccine and a further 70,000 people have not received their second dose.
"The LVA also cautioned that should the reopening be delayed then the Government's Budget calculations will have to be substantially reworked to take account of the changed economic status facing hospitality and other sectors impacted.
"'The latest suggestion that there will be a further delay to the easing of restrictions has left us asking when will it all be enough?' said Donall O'Keeffe, Chief Executive of the LVA. 'It doesn't seem in any way proportionate that entire sectors should be penalised because some people are choosing not to take the vaccine. Already this speculation is having an appalling impact on businesses, staff and suppliers who were all focused on reopening in a week's time.
"'If the reopening is delayed, what indications are there that people who are unvaccinated will change their minds? The HSE has done a tremendous job with the rollout of the vaccine. By now any adult in this country who wishes to receive their full quota of the vaccine has had plenty of opportunity to do so. So if the Government does decide to kick this can down the road again do they really expect those who are unvaccinated to change their minds?
"'Late night venues such as nightclubs and late bars are yet to reopen. The rest of our sector is still operating under severe restrictions, even though indoor service is limited to those who have been vaccinated. Yet we could face further delays because of a factor - the number of people unvaccinated - that is unlikely to change. That doesn't seem in any way proportionate.
"'If there are any further delays the Budget arithmetic will also need to be reworked. The supports announced for our sector were based on the full resumption of activity. If the Government changes their mind about the reopening then this will have a really significant domino effect on the recovery of the hospitality sector and they will need to come back to the table with package that addresses the further uncertainty they are imposing on hospitality and other sectors that are still severely impacted by the restrictions,' Mr. O'Keeffe concluded."
© 2021 Hospitality Ireland – your source for the latest industry news. Article by Dave Simpson. Click subscribe to sign up for the Hospitality Ireland print edition.