Dáil Passes Legislation On Resumption Of Indoor Hospitality Services
Published on Jul 15 2021 8:26 AM in Features tagged: Featured Post / Fáilte Ireland / LVA / Licensed Vintners Association / indoor dining / EU Digital COVID Certificate / indoor drinking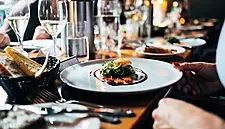 The Dáil has passed the government's legislation on the resumption of indoor hospitality services.
As reported by rte.ie, the legislation will permit hospitality venues to resume indoor services for individuals who are fully vaccinated against COVID-19 and individuals who have recovered from the from the virus within the last six months.
The Health (Amendment No.2) Bill 2021 was voted through by 74 votes to 68.
The legislation has now passed all stages and will go for consideration to the Seanad.
A "Sensible And Balanced Approach"
Minister for Health Stephen Donnelly reportedly told the Dáil that the government is taking a "sensible and balanced approach" to the resumption of indoor hospitality services, and the legislation is an opportunity to get people back to work safely as well as an act of solidarity to support them to do so.
Donnelly reportedly said, "Let's get people back to work...we need to take that opportunity. Primarily, it's about trusting people to do the right thing."
Donnelly reportedly also noted that the bill does provide for enforcement of the new rules.
The legislation also extends the hotel quarantine system until October 9, with an option for a single additional extension of a further three months.
Tánaiste Leo Varadkar reportedly signalled to his parliamentary party that the Health Amendment Bill will be reviewed in September, ahead of its October 9 expiry date, and that the plan is to "weather the rising Delta wave across the country".
Varadkar reportedly said that the Coalition will "speed up the vaccination programme, leave some restrictions in place and re-emphasise the public health messages."
"A Safe Path"
Varadkar previously told the Dáil that the government's plans for the resumption of indoor hospitality services are "imperfect" but better than the only two alternatives of resuming indoor hospitality services without restrictions or keeping indoor hospitality services suspended until there is herd immunity from COVID-19.
Varadkar reportedly said that it is "a middle path - a safe path", and the "best opportunity" to resume indoor hospitality services for the summer.
As reported by The Irish Times, Varadkar said, "If things go well we may not have to use this system for very long. And in the meantime, we might be able to use it to reopen other sectors currently closed, like live music, for example, the arts, leisure and entertainment facilities."
PCR And Antigen Testing
Varadkar reportedly also said that the bill also facilitates PCR and antigen testing, but it will take time to establish.
Donnelly reportedly said that the bill provides for both PCR and antigen testing, and reportedly told TDs that the legislation "can and will be enforced" but "primarily, it is about trusting people to do the right thing".
Regulations For Operating
According to The Irish Independent, vaccinated customers will still be prohibited from ordering drinks at the bar when indoor hospitality services resume, but time limits for indoor dining may be increased or abolished for vaccinated customers under plans being considered by the government.
New regulations are reportedly being drafted for pubs, restaurants, cafés.
A number of senior government sources have reportedly ruled out the possibility of people being permitted to sit at bars to drink, and senior civil servants are reportedly considering whether strict time limits for eating and drinking indoors could be ditched or increased for individuals who have been vaccinated against COVID-19 and individuals who have recovered from the virus in the last six months.
The current regulations drafted by Fáilte Ireland reportedly state that customers must leave bars and restaurants after 105 minutes if tables are one metre or less apart, but there are no time limits on how long customers can remain at tables if tables are at least two metres apart.
The hospitality working group will reportedly consider whether time limits can be increased or dropped for vaccinated customers who are sitting one metre apart.
Varadkar reportedly told Newstalk that he wants to see the time limit gone, but reportedly added, "I would prefer to do that with the support of public health advisors rather than as a political decision."
Restaurant representatives are reportedly pushing officials to provide details of an app that could be used to scan QR codes on EU Digital COVID certificates.
Unvaccinated Individuals And Children
Ireland's chief medical officer, Doctor Tony Holohan, reportedly said that unvaccinated individuals should not try to slip in "the back door" of a pub or to holiday overseas as the country is at risk of being at the start of another dangerous COVID-19 wave, with a difficult 10 weeks ahead.
Holohan reportedly said that parents should not bring their children into hospitality venues but dine outside instead, as there are already higher rates of infection among 13 to 18 year olds.
Holohan reportedly said, "You don't have to go indoors. We know Delta transmission among children can happen."
Holohan reportedly said that individuals who are not vaccinated are most at risk from the highly infectious Delta variant of COVID-19 and need to hold out until they are protected, which is "not far away".
Holohan reportedly said "we have two messages", and for the most part the fully vaccinated can regard themselves as being able to take part in activities that are now "open and available", but if they have respiratory symptoms they should not be mixing.
Holohan reportedly told individuals who are waiting for a vaccine to, at the very minimum, try to differentiate for themselves those activities that are high risk, and reportedly said "your vaccine is not far away" and "it will take us into September", and warned that the next 10 weeks will be "very uncertain".
LVA Response
In a statement published on its website, the Licensed Vintners Association (LVA) said, "The Licensed Vintners Association (LVA) has said that they are pleased that pubs and hospitality businesses will be able to reopen within the next two weeks. The government has confirmed that indoor hospitality will resume no later than 26th July.
"However, the LVA has again reiterated they have significant concerns around the new system that is to be implemented. The LVA believes the new measures are discriminatory, will lead to flashpoints between hospitality staff and potential customers and there remain major question marks how it will be enforced and how hospitality businesses will demonstrate compliance.
"The details around the phasing of the new system will also need to be clarified with the government suggesting that matters like hospitality businesses using an app to verify QR codes and the use of antigen testing will follow at a later date.
"The LVA believes they have no option but to go along with the new measures as the government has made it clear the only alternative will be to keep pubs and hospitality businesses closed for indoor service until September or October at the earliest. By 26th July some pubs will been required to keep their doors shut for 496 consecutive days.
"The LVA has also said that the issue of affordable ventilation for the hospitality sector should also be considered to improve public safety in indoor settings and to prevent future closures across the sector.
"The LVA remains fully engaged with the Government Hospitality Working Group to highlight the issues for the trade with the government's approach and to press government for clear and workable solutions."
LVA Chief Executive Statement
In a statement also published on the LVA's website, LVA chief executive Donall O'Keeffe said, "We don't like this plan. However, it has been made explicitly clear to us that our options amount to either staying closed until at least September or October or go along with a deeply flawed system. Pubs and hospitality businesses want to get open and based on what we've been told by government this seems to be the only circumstances under which that will be permitted to happen. In this situation we don't really feel like there is an alternative for our sector.
"After the latest meeting of the working group our concerns remain. We believe the system is discriminatory and is going to lead to flashpoints as hospitality staff try to verify whether potential customers have been vaccinated or not. Our members are already reporting there is real anger about this issue from customers. We are also quite worried about how this system is going to be policed for both customers and the businesses themselves.
"We have continually made it clear to our members that all guidelines must be followed for the good of public health and that will remain the case. However, there are still serious questions about how this approach will operate in practice and time is pressing.
"We also believe that the government must now clearly tackle and define the issue of affordable ventilation for indoor settings once and for all. This is an airborne virus so it stands to reason that solutions will ultimately need to include some measures in this area which will improve public safety and prevent future closures across our sector. Some experts have suggested that there are affordable measures available and if that is the case this is something that should be utilised.
"Critically, we sought clarification on the public heath guidelines that will apply given that all indoor customers will be vaccinated. We also need to know the detail of the further phasing of the reopening of the pub sector as the vaccine rollout advances."
© 2021 Hospitality Ireland – your source for the latest industry news. Article by Dave Simpson. Click subscribe to sign up for the Hospitality Ireland print edition.