Dáil Passes Motion To Extend Emergency Health Measures Until February
Published on Nov 4 2021 8:01 AM in Features tagged: Featured Post / National Public Health Emergency Team / Nphet / nightclubs / indoor dining / indoor drinking / Irish Epidemiological Modelling Advisory Group / McGowan's / Bab Bobs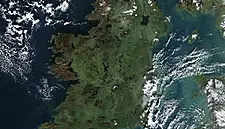 The Dáil has passed a motion to extend emergency health measures until February, 9, 2022, with 82 TDs voting in favour of the motion and 44 voting against it.
As reported by rte.ie, the measures extended include mask wearing and COVID-19 vaccine certificate rules, hospitality measures, and fixed penalties.
Chief Medical Officer Statements
Chief Medical Officer Doctor Tony Holohan reportedly said that additional or wider public health measures are not being contemplated at present and that a COVID-19 circuit breaker is not under discussion.
Holohan reportedly said that Amárach research data has shown that one in four people who attended hospitality venues last weekend were not asked for their COVID-19 certificate.
Holohan reportedly said that they would encourage people to do the right thing and want the basic measures implemented in the various environments in which they are spending their time.
Holohan reportedly said at a National Public Health Emergency Team (Nphet) briefing yesterday (Wednesday November 3) that said small changes in socialisation could have a big effect on the number of infections in the community, and that an improvement of our collective adherence to existing restrictions and an improvement in the environments in which we are spending time are the measures that can be successful in slowing the spread of COVID-19.
Holohan reportedly said that now that pubs are open, they want to see people using these venues as safely as they possibly can.
Holohan reportedly said, "If you socialise, be mindful of your contacts in the days after, especially consider anyone you may meet who may be immunocompromised or vulnerable to COVID-19.
"If you experience symptoms isolate immediately and arrange a PCR test. Do not go to school, college or socialise until you receive a negative result."
Irish Epidemiological Modelling Advisory Group Chair Statements
The Chair of the Irish Epidemiological Modelling Advisory Group reportedly said that there has been a 25% increase in the number of COVID-19 cases between last week and this week.
Professor Philip Nolan reportedly told yesterday's Nphet briefing that the 14-day cumulative incidence is now approaching 700 per 100,000.
Nolan reportedly said that four weeks ago, there were approximately 1,500 cases a day, while on Tuesday November 2 the seven-day average was 2,612.
A Need For People To "Wind Back" Their Social Contacts
Both the Chief Medical Officer and the head of Nphet's epidemiological modelling group reportedly said that there is a need for people to "wind back" their social contacts.
Holohan said that we have "really, really high levels of infection" and so small changes in socialisation will produce a big effect in terms of case number.
Nolan reportedly said that if people are planning to see 15 to 20 others next week it would be much better to see 8 to 10, and that there is no doubt in his mind that the high level of infection "is primarily driven by progressive increases in effective social contact".
Minister Of State Statements
Minister of State Niall Collins reportedly defended the proposal from the Minister for Health to extend emergency legislation providing for face masks, COVID-19 passes, enforcement powers and fixed penalty notices.
Collins reportedly said while speaking on RTÉ's Today with Claire Byrne radio programme that the government has to act to protect human life and public health and makes decisions based on the advice and in consultation with Nphet.
Collins reportedly said that the hope is that this will be the final extension of the powers, but that legislation would be required to extend them beyond February.
Taoiseach Statements
Taoiseach Micheál Martin reportedly said that Ireland is learning to live with COVID-19.
The Taoiseach reportedly also appealed for people to adhere to public health guidelines.
Dublin Hospitality Venue Owner Asks Not To Be Left On Another Knife Edge
Meanwhile, the owner of McGowan's in Dublin's Phibsboro area, Danny McGowan, has urged the government not to leave the entertainment industry on another knife edge if COVID-19 cases continue to rise.
McGowan said that nightlife could have reopened sooner, and without the "absolute mess" of new legislation, and that practical solutions such as air-cleansing ozone machines and CO2 monitors are now a crucial part of keeping the sector open.
McGowan's and its sister venue, Bad Bobs in the capital's Temple Bar area, have invested in mobile ozone machines, which McGowan said have given staff and customers a huge level of reassurance.
McGowan said, "The government could have reopened nightlife earlier and recognised venues were doing everything they could to guarantee safety with many, like us, using ozone devices.
"Instead, it was left to the last minute for owners to figure out the new legislation themselves.
"The industry is doing everything it can, the last thing owners need is to be put on a knife edge, they want to remain open.
"From our point of view, every customer coming into our place is vaccinated and the machines we use effectively vaccinate the building every day."
McGowan's has two dance floors and welcomed customers back last week, but McGowan said some that staff felt like "fun police" as they encouraged customers to abide by COVID-19 regulations, and, "We were really thrown in at the deep end. It was difficult and there's always going to be a few teething problems, you're putting in a queuing system that sometimes doesn't work and getting the customers to listen to you explaining the rules is the hard bit.
"But most people won't break the rules knowingly."
McGowan said that preparations to reopen the nightclub sector and plans for a ticketing system have been "an absolute mess", meaning that venues like his had to take safety into their own hands.
The nightspot uses two Italian-made, portable devices distributed worldwide by Dublin firm SanitySystem, which McGowan said provide a "two-pronged attack" against COVID-19.
McGowan said, "From our point of view, it is as important for our staff as it is for our customers, to be able to stand over our levels of cleanliness and safety.
"Having these machines in place guarantees to our staff that the building is as clean as we can possibly make it."
The mobile "plug and play" devices use ozone gas to purify air and surfaces of indoor spaces and can also be used in schools, workplaces or vehicles.
The procedure then reverses itself to remove any remaining ozone so the premises can be used as soon as the process finishes.
New legislation that came into effect last week requires nightclub attendees to purchase tickets at least an hour in advance of arriving at venues and to maintain a one-metre distance in queues for the bar, and venues face fines of €2,500 if they do not adhere to the regulations.
Further Restrictions May Be Necessary In NI
Meanwhile, as also reported by rte.ie, Stormont's Health Minister has warned that further COVID-19 restrictions may be necessary in Northern Ireland if pressures on Northern Ireland's health service continue to mount.
Robin Swann reportedly said that the Executive will do all that it can to avoid imposing fresh measures and reportedly added that another lockdown would represent a "detrimental step" for the region.
Swann reportedly stressed the importance of driving up vaccination rates as a way to prevent the reintroduction of restrictions over the winter period, reportedly said that the local health service simply does not have enough staff to cope with the current pressures.
On the prospect of further restrictions being needed in Northern Ireland, Swann reportedly told BBC Radio Ulster, "I hope we don't get into a position where we have to go down the lengths of a further lockdown. I think we'll be doing all that we can as an Executive collectively to make sure that we don't get to that extreme level.
"Will we have to look at further restrictions? Possibly. But I'll always, as I've always done, take that advice and guidance from our Chief Medical Officer (Sir Michael McBride) and our Chief Scientific Adviser (Professor Ian Young) in regards to where we are."
Swann reportedly added, "If we have to go through into another lockdown, I think it will be a detrimental step that I wouldn't want to recommend."
© 2021 Hospitality Ireland – your source for the latest industry news. Article by Dave Simpson. Click subscribe to sign up for the Hospitality Ireland print edition.