Electric Picnic Operator Calls For Reversal Of Decision To Cancel 2021 Festival
Published on Aug 25 2021 8:03 AM in Features tagged: Featured Post / Ibec / Electric Picnic / National Public Health Emergency Team / Nphet / indoor dining / indoor drinking / Pandemic Unemployment Payment / PUP / COVID Restrictions Support Scheme / CRSS / EWSS / Festival Republic / Music and Entertainment Association of Ireland / MEAI / Laois County Council / Employee Wage Subsidy Scheme / Irish Epidemiological Modelling Advisory Group / MCD Productions / MCD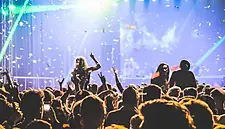 The operator of the Electric Picnic music festival has called on the government and Laois County Council to reverse the decision to cancel the festival this year and permit it to take place for individuals who are vaccinated against COVID-19.
Earlier this month, Laois County Council refused to grant a licence for Electric Picnic 2021, which was had been due to take place from September 24 to September 26 at Co. Laois's Stradbally Hall Estate.
Electric Picnic Operator Managing Director Statement
As reported by rte.ie, managing director of Electric Picnic operator Festival Republic Melvin Benn said that Festival Republic is now "asking Laois County Council to immediately reverse the decision it took to refuse the licence and grant it immediately."
Chief Medical Officer Statements
Festival Republic's call for Electric Picnic to go ahead reportedly came after Ireland's chief medical officer, Doctor Tony Holohan, said at a National Public Health Emergency Team (Nphet) briefing yesterday (Tuesday August 24) that he would not have a concern if concerts were to take place with vaccinated individuals in attendance.
Holohan reportedly said in response to being asked whether concerts such as Electric Picnic could go ahead for vaccinated individuals only, "We wouldn't have a concern from a public health point of view if everyone is vaccinated."
Holohan reportedly said that if there are social events taking place indoors and they involve vaccinated individuals only, then that has a much different risk profile than events at which there are likely to be unvaccinated individuals.
Holohan reportedly said in response to questions about Sunday August 22's All-Ireland hurling final between Cork and Limerick in Croke Park, at which an attendance of 40,000 was permitted, that unvaccinated people should not go to large events because the incidence of COVID-19 is too high and the protection from mass vaccination has not fully been reached.
Holohan reportedly said, "We'd like to see those events confined to those who are vaccinated,", reportedly adding "if not vaccinated don't go to events of this scale", and that he was not just talking about GAA games, but any large outdoor event of that scale.
Holohan has reportedly also appealed for people to continue wearing face coverings in indoor settings.
Additional Electric Picnic Operator Managing Director Statements
Benn reportedly said that Holohan's comments came as "a great surprise" to him.
Benn reportedly said on RTÉ's Prime Time programme that the remarks mean that "the entire premise of why [Laois County Council] said the festival couldn't go ahead has been overruled, as far as I'm concerned, by Tony Holohan."
Benn reportedly added that the "pressure" is on the council and that he believes that Electric Picnic attendees could have "a wonderful time in an incredibly safe environment where everybody is fully vaccinated."
MCD Productions Managing Director Statements
The managing director of event management company MCD Productions, Denis Desmond, has reportedly also called on the government to permit Electric Picnic festival to take place next month.
Desmond reportedly said that MCD has written to the government today (Wednesday August 25) asking for a decision to be made on the matter by tomorrow (Thursday August 26) at the latest.
Desmond reportedly said on RTÉ's Today with Philip Boucher-Hayes programme that he feels that it is very safe to proceed with Electric Picnic and "it's time to open up and get back to the new normality."
Desmond reportedly said that indoor shows at full capacity should be permitted to return by October and November, limited to individuals who are fully vaccinated, but that late September is the latest that Electric Picnic can be held.
"Morning, Noon And Night"
MCD reportedly said that it will work "morning, noon and night" to attempt to hold Electric Picnic next month if the decision not to permit it to proceed is reversed.
MCD Representative Statements
Caroline Downey of MCD reportedly said on RTÉ News at One that it was a "lovely surprise" to hear Holohan say that outdoor events could go ahead for individuals who are fully vaccinated against COVID-19.
Downey reportedly said that in light of Holohan's remarks and remarks made the minister for health, the promoters have reapplied to Laois County Council to run Electric Picnic this year.
Downey reportedly said that if the application is successful, unlike in Croke Park last weekend, Electric Picnic organisers will only permit people to work at or attend the festival if they are fully-vaccinated and use a COVID-19 certificate to confirm their vaccination status.
Downey reportedly said that it would be "a wasted journey" for ticket-holders who are not vaccinated to try to gain access to the festival.
Downey reportedly also said that by the end of September over 90% of the population will be vaccinated, but that Electric Picnic organisers are "running out of time" and need to get started soon if they are to host the festival this year.
"Significantly More Clarity" And Calls For Entertainment Sector Reopening
The above news follows yesterday's news that Minister for Children Roderic O'Gorman has said that Ireland's entertainment sector will get "significantly more clarity" on reopening plans after a Cabinet meeting that's scheduled for next week, and upset that 40,000 attendees were permitted at Sunday August 22's All-Ireland hurling final while the entertainment sector remains closed.
It also follows news from last week that the Music and Entertainment Association of Ireland (MEAI) has called for the government to set a date for the return of live concerts and other cultural events as well as subsequent news that no date was set for the return of live concerts and other cultural events following a meeting between live music sector representatives and Minister for Tourism, Culture, Arts, Gaeltacht, Sport and Media Catherine Martin, and a call from lobby and business representative group Ibec for a roadmap for the full reopening of Ireland's experience economy, which Taoiseach Micheál Martin said is being worked on at present as part of a comprehensive roadmap that covers all sectors, which is expected to be published by August 31.
Taoiseach And Tourism Meeting To Discuss Reopening Roadmap
A government spokesperson reportedly said yesterday evening that Taoiseach Micheál Martin has met with Minister Martin to discuss the upcoming roadmap for reopening society, which includes the live entertainment and arts sectors.
Planned Meeting With Entertainment And Arts Industry Stakeholders
It has reportedly been agreed that a meeting with entertainment and arts industry stakeholders that will be attended by both the taoiseach and Tánaiste Leo Varadkar will take place on Monday August 31.
Advice And Deliberations Due On August 27
The planned August 31 meeting will follow the latest Nphet advice and the deliberations of the COVID-19 committee scheduled for Friday August 27, the latter of which will reportedly be attended by Minister Martin.
Minister For Health Statements
Minister for Health Stephen Donnelly has reportedly said that he would be surprised if any changes are made to the requirements for spectators at upcoming All-Ireland finals.
Donnelly reportedly said on RTÉ's Morning Ireland radio programme that Sunday August 22's All-Ireland hurling final was well run inside of Croke Park, however, he reportedly said that he did have concerns when he saw images on social media of crowds gathering after the match.
Donnelly reportedly said, "I will be very surprised if there are any changes given how soon those events are happening. I know it might be frustrating for me not to give more detail but I need to discuss this with cabinet colleagues. I don't think it would be fair to the sector to be speculating", and, "There has already been an agreement on very significant capacity for spectators at those events."
Donnelly reportedly urged individuals who gathered in high-risk environments to get a PCR test.
The 40,000-spectator All-Ireland hurling final on Sunday August 22 was the biggest event that has taken place in the Republic of Ireland since the COVID-19 pandemic began, and 24,000 individuals are reportedly expected to attend a football semi-final between Kerry and Tyrone this weekend.
Regarding the questioning by entertainment sector representatives about why similar events cannot be held with similar crowds for their sector, Donnelly reportedly said that the entertainment sector has had a "really brutal time", and that the government wants to see it reopen safely and not have to close down again.
Donnelly reportedly said that he does not want to comment about individual events, when asked if an event such as Electric Picnic could place.
Donnelly reportedly said, "The questions being raised by the entertainment sector are very reasonable...there should be more pilots to scale up these events", and the Government's upcoming roadmap for reopening will consider lifting some of the current COVID-19 restrictions in the coming weeks, with others being likely to be delayed until after the expected peak of the current wave of COVID-19, which, he reportedly said, modelling from the Nphet indicates will come in four to six weeks.
Donnelly reportedly said that the government will decide within the roadmap what measures can be relaxed sooner, and then once the current COVID-19 surge stabilises, what remaining activities can resume.
Donnelly reportedly said, "Hopefully [the entertainment, religious and indoor sport sectors] can open before Christmas, but that is the date I was asked about yesterday."
Donnelly reportedly said that limiting indoor hospitality services only to individuals who are fully vaccinated against COVID-19 and individuals who have recovered from the virus has gone well, and that Holohan is looking to see if a similar principle can be applied to larger scale events.
Donnelly reportedly, "There is a lot of merit to it."
Garda Commissioner Statements
Garda commissioner Drew Harris reportedly said that gardaí will be involved in managing public safety and the movement of crowds at upcoming All-Ireland matches and that they will make sure that public health advice is followed "as far as we can".
Harris reportedly said, "We've no specific powers in respect of that advice at this time but we are asking people to be sensible."
Harris reportedly said that there will be "congregations of people and bottlenecks and we need to keep people moving and get them to and from the ground safely."
Harris reportedly also said that gardaí were involved in the policing of licensed premises around Croke Park during the weekend of the All-Ireland hurling final between Limerick and Cork, making sure they were conducting their business properly, and, "There were some interventions last weekend about that. We've learned from that and we're working with licensees."
Nphet To Meet Today
Nphet will reportedly meet today to discuss its recommendations for the next phase of reopening the country, ahead of the government's planned publication of a roadmap next week.
Very High Incidences Of COVID-19
Chair of Nphet's Irish Epidemiological Modelling Advisory Group Professor Philip Nolan reportedly said that there are very high incidences of COVID-19 in adults and adolescents aged 16-29, and that the burden of the virus is going to present a challenge to the health service for "some weeks to come".
Ibec Chief Executive Statements
Following yesterday's news that the chief executive of lobby and business representative group Ibec, Danny McCoy, said in a letter to the taoiseach and other ministers that businesses welcome that the new that the government is publishing a revised roadmap to reflect the progress that has made in vaccinating the public, but added that with nearly nine out of 10 adults now fully vaccinated, it is time that greater personal responsibility for individuals and autonomy for businesses in their office operations form the core of the approach in the next phase of COVID, McCoy reportedly told RTÉ News at One that the customer experience in the "experience economy" also requires people to be back in work.
McCoy reportedly said that the Pandemic Unemployment Payment (PUP) should be tapered off as the economy is substantially reopened up as it has hindered businesses in getting staff, but that the COVID Restrictions Support Scheme (CRSS) and the Employee Wage Subsidy Scheme (EWSS) need to be kept in place, and that the PUP is required for people connected to jobs that have not returned.
However, he reportedly said that "the ambition here is to open up the full economy safely and quickly".
McCoy reportedly also said that the government's roadmap for reopening is critical and needs to be more timely and not stretch into 2022, as business people would then miss another season.
Previous Ibec Call For Reopening Roadmap
News of McCoy's letter to the taoiseach and other ministers and his subsequent statements to RTÉ News at One followed last week's news that Ibec has called for a roadmap for the full reopening of Ireland's experience economy, saying that greater urgency is needed.
Response To McCoy's Letter
In response to McCoy's letter to the taoiseach and other ministers, a government spokesperson reportedly said that the government acknowledges the challenges that are being faced by many sectors of society during the pandemic and welcomes the constructive engagement by Ibec.
The government spokesperson reportedly said, "We will shortly publish a roadmap for managing COVID-19, which includes the further reopening of various sectors and the workplace", and reportedly added, "Government will work with each sector to facilitate the next stages of that reopening."
© 2021 Hospitality Ireland – your source for the latest industry news. Article by Dave Simpson. Click subscribe to sign up for the Hospitality Ireland print edition.