Government Examining Introduction Of Specific Supports For Hospitality Sector
Published on Nov 22 2021 8:00 AM in Features tagged: Featured Post / IHF / Restaurants Association of Ireland / RAI / Irish hotels federation / National Public Health Emergency Team / Nphet / Employment Wage Subsidy Scheme / Pandemic Unemployment Payment / PUP / EWSS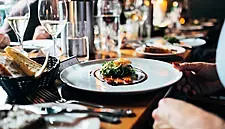 The government is examining the introduction of specific supports for the hospitality and arts industries.
As reported by rte.ie, senior ministers will discuss the issue at a meeting of the Cabinet Sub Committee on Economic Recovery today (Monday November 22).
Taoiseach Micheál Martin reportedly said that, in light of renewed restrictions and the impact that they will have on some sectors, the government will also consider planned delaying cuts to the Employment Wage Subsidy Scheme (EWSS), which are reportedly due to kick in from December 1.
The Taoiseach reportedly said that the government will explore how to continue to support sectors such as the entertainment sector, which is "undoubtedly suffering".
Rising inflation and the Pensions Commission report are reportedly on the agenda for today's meeting too.
Additionally, the National Public Health Emergency Team (Nphet) will reportedly meet again on Thursday November 25 to assess the current spread of COVID-19 amid continued concern about high case numbers and pressure on hospitals.
Sources reportedly indicated that it will be too soon to evaluate the impact of the most recent restrictions.
Strengthened advice to work from home and a requirement for hospitality venues to close by midnight came into effect on Friday November 19, and further measures are reportedly not being ruled out. Members will reportedly be closely scrutinising the most up to date information available.
There is reportedly a view in the government that the message to reduce social contacts is having an effect, but it is reportedly not clear whether this will be sufficient to ease the pressure on the health system.
The Restaurants Association of Ireland (RAI) said reportedly said yesterday (Sunday November 21) that it has engaged with the highest levels of government over to retain the EWSS scheme at the current level and to reintroduce the COVID Recovery Support Scheme (CRSS).
The RAI reportedly said that these measures are necessary "due to level of contraction in hospitality as an outcome of restrictions and messaging around reducing social contacts", and that December is a critical month for the sector in terms of cash flow for first three months of 2022.
Minister For Foreign Affairs Statements
Minister for Foreign Affairs Simon Coveney has reportedly said that future lockdowns are not inevitable, but a national effort is required to slow the spread of COVID-19.
Coveney reportedly said while speaking on RTÉ's The Week In Politics television programme that the view in the government is very similar to that of the Chief Medical Officer, which is to focus on what they know works and what they are asking people to do.
Coveney reportedly said, "To limit their social contacts, to make sure that rooms are ventilated, to wear masks when people are in crowds indoors and outdoors, to work from home when you can.
"These are messages that people have heard many times and they understand, because they work.
"So it is possible to avoid the introduction of more restrictions, but we will have to watch the numbers very closely because our hospital system is under enormous pressure now."
Coveney reportedly said that a 'national effort' is needed to stem the COVID-19 surge, and, "Over 640 people are in hospital, over 120 of those are in ICU, and that is putting our health system under immense pressure, so we do have to watch that closely.
"We have to protect it, and we will as a government.
"Future lockdowns are not inevitable, but this requires a national effort to do what we know works to slow down, at least, the spread of this virus."
Coveney reportedly said that nobody wants to introduce restrictions again, but that they will do so if it makes sense from a public health perspective and to protect society and the health system, and that they would do it on the back of public health advice to ensure that the interventions "are accurate and have the maximum effect possible".
Coveney reportedly said that they have spent "about €8 billion on PUP payments so far" during the COVID-19 pandemic, and that they will continue to support vulnerable sectors that are restricted.
Coveney reportedly said that there is "a lot of antigen testing going on" and that there has been for months, and that the important thing is to make sure that everyone understands how and when to use antigen tests.
Coveney reportedly said that it is a "really useful tool" for those who are asymptomatic, but that they need to be careful that it does not replace PCR testing for those who are symptomatic, and that it would be up to the Minister for Health to bring forward something on antigen test subsidies and if he thinks it is beneficial to do that, then they will see it come before Cabinet.
Coveney reportedly said, "I can certainly understand the arguments why you don't want antigen testing to be cost prohibitive for people, and if it makes sense to use antigen testing we should be encouraging that.
"But we have to be careful that people don't replace PCR testing with antigen testing in their own mind, because I think that could be counter-productive."
Coveney reprotedly said that he "strongly expects" that antigen tests will be made more affordable and that a decision on that will hopefully be made on Tuesday November 23.
Coveney reportedly said that they are acting with urgency in terms of booster rollout, and that the vaccination programme has been an "extraordinary success".
Coveney reportedly said that they currently have the capacity to roll out approximately 230,000 boosters a week, which will soon rise to 270,000 and "probably beyond that", and, "I think the message for the public on boosters needs to be - make sure you turn up when you get a date, make sure you look for your booster when you're eligible.
"Because in many ways, boosters offer significantly more protection than, for example, the second dose after people received it, we know that.
"Boosters can be a hugely important shield that will prevent further restrictions having to be introduced."
Coveney reportedly said that "well over half a million people" currently have boosters and they know that approximately two and a half million people are eligible to get boosters under NIAC's recommendation so far.
Subsidised Antigen Tests
The government is reportedly to go ahead with a plan to provide subsidised antigen tests despite renewed warnings against the move by Chief Medical Officer Doctor Tony Holohan.
It is reportedly understood that Holohan sent an e-mail to Health Minister Stephen Donnelly on Wednesday November 17 warning against the plan to roll out reduced rate antigen tests.
Holohan reportedly restated his view that such tests could be used incorrectly and could lead to an increase in cases.
The government is reportedly aiming to sign off on the cheaper antigen tests at Tuesday November 23's Cabinet meeting.
Donnelly is reportedly proposing to apply a universal subsidy that would then be deducted from the retailer's price.
The Taoiseach reportedly said when asked about Holohan's reported opposition to subsidised antigen testing that the use of antigen testing has expanded over the past few months, and that Holohan's main concern is that there has to be clear communication about the proper use of antigen testing and that people should not use them if they have COVID-19 symptoms.
The Taoiseach reportedly said that there will be a twin approach now of clearer communications with a wider deployment of antigen tests.
Chair of Nphet's Expert Advisory Group and Director of the National Virus Reference Laboratory Doctor Cillian de Gascun reportedly said that it is important to inform people how to conduct an antigen test, but that the tests have limitations in and of themselves.
De Gascun reportedly said while speaking on RTÉ's Saturday with Justin McCarthy television programme, "With antigen testing there isn't necessarily an internal control. So, the test might work, but we don't necessarily know the quality of the sample, we don't know that it's been effective.
"We also know that the sensitivity can be reduced in certain settings and that's why we want people to compensate for that reduced sensitivity by repeat testing, because you're very unlikely to get repeat false negatives.
"We want people to use them properly, but also not to use them as a green light."
Christmas Parties
While, as it stands, the government has reportedly not advised employers to cancel Christmas parties, Holohan has reportedly encouraged people not to attend work Christmas parties.
Holohan reportedly said when asked if Christmas parties should go ahead, "We're advising people to stay at home as much as possible."
RAI CEO Adrian Cummins reportedly said that "mixed messaging" from public health officials and the government regarding social events has caused confusion for the public, and that this is already having an impact on hospitality businesses that are adhering to the public health measures that are currently in place.
The Irish Hotels Federation (IHF) reportedly said that hotels and guesthouses are working with event organisers and guests to ensure that all government guidelines are adhered to when it comes to organising Christmas parties.
However, the IHF reportedly said that they are hearing from their members that many businesses are adopting a "cautious approach" when it comes to hosting parties and even meetings.
The IHF reportedly said in a statement, "Some are changing their plans to avoid bringing larger groups of employees together including postponing, or in a number of cases cancelling events, while others are opting for small groups."
On a positive note, the IHF reportedly said that a number of businesses are purchasing hotel and guesthouse vouchers for their employees to use in their own time as a way of rewarding their employees and also supporting the hotel sector.
Barbara Berman of the Berman and Wallace restaurant and catering company reportedly said that since people were told to work from home it was "like a deck of cards" with ten Christmas parties in the next four weeks being cancelled.
Berman reportedly said while speaking on RTE's Morning Ireland radio programme that prior to that announcement, momentum had been building and the restaurant was "getting buzzed up again" with people coming back to work, but now breakfast and lunch for workers is down to 20% from approximately 50%.
Berman reportedly said that staff are worried and that it is critical that the EWSS is maintained at previous levels.
Padraic O'Kane of the Sole & Fire restaurants in Dublin and the Round Room in the Mansion House reportedly said while also speaking on Morning Ireland that public confidence has diminished over the past fortnight, and that while November and December had been strong for bookings, these are now "completely gone", and, "There's just no work. It's a further setback for an industry that's already on life support."
O'Kane reportedly said that a typical Christmas party would employ approximately 100 people, and that supports for businesses need to be fully reinstated
PUP
O'Kane reportedly said that the Pandemic Unemployment Payment (PUP) needs to return to its original level.
The first cut to the PUP reportedly took place in September, with the top rate reportedly being reduced from €350 to €300 per week.
A further cut was reportedly introduced last week as part of the ongoing process of gradually winding down the payment.
People who were receiving €300 a week reportedly saw their payment fall to €250, while those on the €250 rate reportedly dropped to €203, which is reportedly the current maximum rate of jobseeker's benefit and allowance.
The PUP was reportedly being claimed by 605,000 people across a large range of sectors at its peak in May of 2020.
© 2021 Hospitality Ireland – your source for the latest industry news. Article by Dave Simpson. Click subscribe to sign up for the Hospitality Ireland print edition.