Government Unveils New Plan For Reopening Society
Published on Sep 1 2021 8:08 AM in Features tagged: Featured Post / IHF / Restaurants Association of Ireland / LVA / RAI / Irish hotels federation / Licensed Vintners Association / National Transport Authority / Drinks Ireland / Abbey Theatre / National Public Health Emergency Team / Nphet / Outdoor Dining / outdoor drinking / indoor dining / indoor drinking / NTA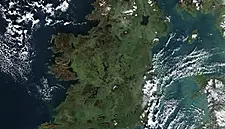 The government has unveiled a new plan for reopening society that will effectively end COVID-19-related restrictions on October 22.
As reported by rte.ie, the new plan agreed by Cabinet is contingent on COVID-19 case numbers remaining manageable and 90% of adults being fully vaccinated against the virus, and the wearing of masks will still be required in the health and retail sectors as well as on public transport.
Public Transport, Indoor And Outdoor Events, Live Music, And Coach Tours
Under the new plan, from today (Wednesday September 1), public transport can operate at 100% capacity, and from September 6, indoor venues will be permitted to operate at 60% capacity for events for individuals who are vaccinated, and outdoor events will be permitted to operate at 75% capacity for individuals who are vaccinated.
Also from September 6, live music will be permitted in bars as well as indoor at weddings along with dancing at weddings, and coach tours will be permitted to carry 50% of capacity.
Religious Ceremonies And Outdoor Sports Events
Additionally from September 6, larger crowds will be permitted to gather for religious ceremonies with up to 50% capacity being permitted in places of worship, and outdoor sports events will be permitted to have 50% capacity in stadiums.
Return To Workplace, Group Activities And After-School Activities
From September 20, a return to the workplace can begin on a "phased and staggered" basis, restrictions on indoor and outdoor group activities involving arts, culture, sports and dance classes will be lifted, and after-school activities will be permitted to resume.
Restrictions That Are Planned To Be Lifted On October 22
It is reportedly hoped that most of the remaining restrictions can subsequently be lifted on October 22, including the legal requirement to prove "immunity" to gain access to indoor hospitality services and other events, all remaining restrictions on indoor and outdoor events and activities including limits on numbers at such events and activities, all remaining restrictions on religious or civil ceremonies, and the legal requirements for mask-wearing outdoors and in indoor private settings.
Weddings will be included among the events at which there be not a limit on the number of attendees from October 22.
It is reportedly also hoped that nightclubs will be permitted to reopen from October 22, with the requirement for hospitality businesses to close at 11.30pm ending on that date, and that requirements for physical distancing and limits on the number of people that can meet in private homes/gardens will be lifted.
Minister for Health Stephen Donnelly reportedly said that the two-metre social distancing guideline will be eased depending on the requirement of individual sectors, whether it is sports or entertainment, and that guidelines will be forthcoming from entities such as Fáilte Ireland after the Cabinet's decision.
Measures That Will Remain In Place After October 22
Measures that will remain in place after October 22 include self-isolation for individuals who have COVID-19 symptoms, the requirement to wear masks in healthcare and indoor retail settings and on public transport, and the requirement for certification of vaccination, immunity or testing for international travel.
COVID-19 Restrictions Support Scheme And Temporary Wage Subsidy Scheme
COVID-19 Restrictions Support Scheme (CRSS) payments to businesses that are closed will reportedly continue until they are permitted to reopen, and the Temporary Wage Subsidy Scheme will reportedly remain in place until the end of the year. A decision on whether or not to extend it will reportedly be made in the upcoming Budget, but Tánaiste Leo Varadkar reportedly acknowledged that some sectors will require supports into 2022.
Taoiseach Statements
Taoiseach Micheál Martin reportedly said that the sectors that are still closed due to the pandemic can "now begin to hope again" as he outlined the new roadmap to reopen society.
Martin reportedly said that restrictions will be "gradually and carefully eased during September", before a "significant change of approach" in October, as outlined above, and, "Today, we're taking an important and very welcome step forward."
However, the taoiseach said that it is unlikely that Ireland will get "rid of this virus completely" and that people need to take precautions even after October 22, such as staying at home if they have symptoms of the virus.
Martin reportedly said that obviously people must remain vigilant and nimble, and that if a new variant emerges or hospitals come under unsustainable pressure again, the government will move quickly to respond to the situation.
Martin reportedly warned that the health service could face pressure this winter, but reportedly also said that Ireland will be able to move forward with "personal freedoms restored" into the future.
Martin reportedly also said that the requirement for mask wearing in education will "continue to be subject to review", and that the country is moving from a "regulatory phase" of the pandemic to one in which personal responsibility will take precedence.
Tánaiste Statements
Tánaiste Leo Varadkar reportedly said during a press conference following the taoiseach's announcement of the new reopening roadmap that rather than looking at October 22 as a "freedom day", it should be looked at as the start of a "new normal", and that that date was chosen because the government is confident that 90% of over-16s will be fully vaccinated by then, and also that the country will have passed the peak of the Delta wave of COVID-19.
Varadkar reportedly stressed that the pandemic is not over and that if the government has to act to protect public health again, it will, and cited increasing Delta variant case numbers in both Scotland and England.
Varadkar also reportedly said that the National Public Health Emergency Team (Nphet) did not give specific advice on public transport, and that some members of Nphet attended the Cabinet Committee meeting at which the return to 100% capacity on public transport during the same week that schools reopen was discussed, and that he is sure that Nphet has the same concerns that the government has in terms of the risks in this regard.
Minister For Transport Statements
Minister for Transport Eamon Ryan reportedly also stressed that "this is not over", and urged people to continue to take precautions.
Ryan reportedly said that continuing to wear masks on public transport is both the respectful thing to do and is also "the law".
Minister For Tourism, Culture, Arts, Gaeltacht, Sport And Media Statements
Minister for Tourism, Culture, Arts, Gaeltacht, Sport and Media Catherine Martin reportedly said that she is pleased that the Cabinet understands the challenge that the performance sector faces, and she thanks members of the sector who worked with her and her department colleagues ahead the announcement of the new reopening roadmap.
Minister Martin reportedly said that public health is a priority and a phased approach of alleviating restrictions will take time, but that by continuing to listen to and work with partners from the sector, an industry that has suffered severely will be repaired.
Minister Martin reportedly also said that the government knows that the arts and culture sector needs support to help it thrive again.
IHF Response
Responding to the announcement of the new reopening roadmap, Irish Hotels Federation (IHF) president Elaina Fitzgerald Kane said, "We have a long road ahead of us, which means that continued government supports are critical in sustaining the livelihoods of Ireland's 270,000 tourism community. The domestic market was very important last year and again this year. However, it does not replace international visitor numbers. As an island nation, international tourism is critically important, accounting for over 70% of tourism revenue pre-COVID, and recovery in this market is not expected to begin in earnest until the second quarter of 2022, which highlights the enormous ongoing challenges facing the hotel and broader tourism sector."
Fitzgerald Kane called for a firm commitment from the government on the continuation of business and employment supports, and added, "Tourism was the first sector to close and the longest to reopen. Tourism will recover but it will take time. The supports to date have been very welcome and have been a lifeline for many businesses. However, it is essential that the government provides certainty around the supports into 2022 so that businesses, particularly those reliant on overseas visitors, can plan for their recovery as they face into the traditional off-peak tourist season, which in Ireland runs from September until May.
"Government measures sought by the IHF include a clear commitment to retain the 9% tourism VAT rate until after 2025, extension of the current EWSS employment supports and a commercial rates waiver until June 2022. In addition, substantial additional funding is required for international marketing and restoring the air connectivity which existed in 2019.
"We estimate that almost 30,000 hotel positions will have been restored this summer in addition to the approximately 27,000 hotel jobs retained throughout the crisis. The hotel sector has a vital role to play in ensuring Irish tourism and hospitality returns to a more stable footing over the months ahead, helping to sustain thousands of livelihoods and communities throughout the country.
"Prior to this pandemic, tourism supported almost 270,000 livelihoods, representing 11% of total employment nationally. With 70% of these jobs located outside of Dublin, it makes a vital contribution to communities in every county and town throughout the country. In some communities, tourism is the only show in town. Continued support for the industry must remain to the fore of government economic policy as we seek to restore employment levels and tourism communities in a sustainable way as quickly as possible."
RAI Response
In a statement published on its website, the Restaurants Association of Ireland (RAI) said, "The Restaurant Association of Ireland has cautiously welcomed the government's latest announcement regarding the [new reopening roadmap]."
In a statement also published on the RAI's website, RAI CEO Adrian Cummins said, "The announcement made this evening by An Taoiseach Micheál Martin TD goes a long way in terms of outlining a roadmap for the restaurant and hospitality sector with the provision of key dates, metrics and targets, but work must be done regarding business supports for an industry economically flattened since March 2020.
"The Restaurants Association of Ireland has continuously called for a structured, clear and transparent reopening plan which includes continuing supports for survival. With over 50% of restaurants on the verge of collapse a plan would give hope and confidence to a sector effectively closed for over 18 months.
"The Restaurants Association of Ireland is calling on the government to continue to engage in constructive dialogue to give hope and assurance for the thousands of businesses who are trying to maintain the viability and plan a way forward for their enterprises and hundreds of thousands of workers within the sector. The tourism sector which restaurants and hospitality are a significant part of employed pre-pandemic over 265,000 people & contributed €9.2 Billion to the economy. A sector with such significance to the overall economy must continue to receive supports to survive until trading levels can return with the resumption of international tourism and lifting of all trading current restrictions."
The RAI added, "The immediate priority asks for the survival of the restaurant and hospitality sector now are:
"Financial Supports
Wage supports - continuation of EWSS at current rates to June 2022.
CRSS - continuation of scheme for hospitality following reopening of indoor dining.
Commercial rates waiver - must be extended for hospitality into Q1 2022
9% VAT rate - extension until 2025 to support businesses now and tender for future international tourism and be competitive.
Stay & Spend Scheme - immediate review and redrafting of the scheme - real time voucher needed and must be applicable for all citizens.
"Recruitment & Retention
Streamlining and prioritising of work permits and visa process for staff.
Establish a National Tourism & Hospitality Training Body
Immediate equitable funding of culinary apprenticeships as outlined in Apprenticeship Action plan
"Medium term supports needed
Representation of food and drink sectors of hospitality of state boards and authorities
Insurance reform - as members of the Alliance for Insurance Reform, we are asking for legislative changes and reform.
Tourism budget - an increase in the Budget for 2022 that impacts directly upon tourism and hospitality businesses in real time and does not get lost in state agencies.
Licencing review and plan for the development of the night-time economy."
LVA Response
In a statement published on its website, the Licensed Vintners Association (LVA) said, "The government's announcement that all restrictions be removed from pubs and that nightclubs and late bars will be able to reopen from the 22nd October has been welcomed as positive news by the Licensed Vintners Association (LVA). According to the LVA, this will be warmly greeted across the licensed trade.
"The LVA also pointed out that it will come as a major relief to the approximately 300+ venues and 5,000 employees who were awaiting this news…The LVA also called for government supports to be extended into 2022."
In a statement also published on the LVA's website, LVA chief executive Donall O'Keeffe said, "Everyone associated with nightclubs and late bars will be extremely relieved to hear this positive news that they will be able to open their doors from October 22nd. For many of the 300+ venues around the country and the 5,000 people working in those venues, they will have been wondering if this day would ever come. Thankfully, they finally have a date and that will now allow them to start organising for their reopening.
"It was also very positive to see that the restrictions on indoor hospitality will be eased from the 22nd October. This will mean we won't have to restrict admission to only those with vaccine certificates, social distancing will no longer apply and bar counters will finally be back in use."
O'Keeffe added, "Looking at the overall picture, it should be noted that while there was progress in this announcement, the reality is that severe restrictions remain in place for all pubs for another seven weeks, while nightclubs and late bars will remain closed for that period. That will bring their total closure to 585 consecutive days. This is far from business as usual for our sector and we expect that will be acknowledged in the form of extended supports being provided by the government."
Drinks Ireland Response
Director of Drinks Ireland, which represents drinks manufacturers and suppliers, Patricia Callan stated, "We welcome today's announcement from government, as vitally important and timely clarity for our industry and the wider economy.
"Currently, the plan says that there will be no changes to the current arrangements in the hospitality sector ahead of October 22nd, but we would call for consideration to be given to relaxing some of these measures ahead of that date. As vaccinations will continue to be necessary to enter venues between now and October 22nd, there is scope to allow for increased capacity in venues, removing social distancing requirements, and allowing activities that are prohibited like ordering and sitting at the bar counter. Additionally, we would call for the 11.30pm closure time to be extended.
"We welcome the return of live music in pubs, and the return of organised indoor and outdoor events from September 6th. The arts and cultural sector has been hard hit by the pandemic, and is a vital part of Ireland's experience economy, in which our sector also operates."
Abbey Theatre Response
Jenn Coppinger of Dublin's Abbey Theatre reportedly told RTÉ News that the theatre will be able to welcome audiences safely and that there is a huge appetite among people to see live theatre shows again.
National Transport Authority Response
The National Transport Authority (NTA) reportedly said that it is happy to welcome customers back to public transport.
NTA CEO Anne Graham reportedly told RTÉ News that the NTA wants to keep all passengers safe and is reminding people that mask wearing will remain mandatory for the duration of all journeys and not just while getting on or off a bus, train or tram.
Graham reportedly also said that people are being asked to use hand sanitation where available and to use leap cards to pay for their journeys.
© 2021 Hospitality Ireland – your source for the latest industry news. Article by Dave Simpson. Click subscribe to sign up for the Hospitality Ireland print edition.