Guidelines For Indoor Hospitality Services Published
Published on Jul 26 2021 7:58 AM in Features tagged: Featured Post / Fáilte Ireland / Restaurants Association of Ireland / VFI / LVA / RAI / HSE / Vintners' Federation of Ireland / Licensed Vintners Association / Health Service Executive / Health and Safety Authority / indoor dining / EU Digital COVID Certificate / indoor drinking / Champion Green / Kilkenny Design Group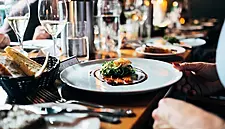 Guidelines for indoor hospitality services have been published following the news that hospitality venues are permitted to resume indoor services from today (Monday July 26) for individuals who are fully vaccinated against COVID-19 and individuals who have recovered from the virus.
Guidelines And Indoor Hospitality Services Requirements And Procedures
As reported by rte.ie, the EU Digital COVID Certificate (DCC) will be the primary evidence for proof of immunity to COVID-19 when entering a hospitality venue to gain access to indoor hospitality services.
Other acceptable proofs of immunity will reportedly include the Health Service Executive (HSE) Vaccination Record.
There reportedly must be a "defined, managed and supervised entrance point with an appropriate queue management system within the business (at entrance to premises or as near to the entrance as possible) or at point of entry to seating areas, that is controlled by personnel who have been instructed in the process".
All customers will have to show photo identification at the door of a hospitality venue, along with proof of immunity.
Children may also be asked for photo ID to prove that they are under 18 and are allowed to enter the premises with an immune parent or guardian.
Once they are confirmed as being vaccinated against COVID-19 or having recovered from the virus along with proof of ID, an individual will be deemed eligible for entry and will be permitted to move to the next check-in step of contact tracing.
Individuals under the age of 18 who are accompanied by an immune parent or guardian do not require proof of immunity.
Once proof of immunity checks are complete for each individual being admitted, details have to be recorded for all individuals who are permitted to enter a venues, including time of arrival, party size and confirmation that all customers over the age of 18 have been verified to have immunity.
The name and contact number of the lead person at a table or of solo customers must be taken for contact tracing purposes.
Details must be retained by venues for 28 days and must be compliant with GDPR. This information must be recorded for both walk-ins and pre-bookings.
A maximum of six individuals aged 13 or over are permitted to sit at one table. The six person table limit does not include accompanying children aged 12 or younger, however, the total combined capacity at a table cannot exceed 15 overall, with of maximum six individuals aged 13 or older.
Businesses reportedly will not be required to keep a record of what table customers sit at.
Customers will be served via table service only and cannot approach or order from a venue's bar or other counters.
Face coverings must be worn by customers at all times other than they are seated at their table.
If a customer leaves a venue, or seating area in a food court for example, for any reason, to access a smoking area for example, they will have to notify a staff member. Ideally, they will then be provided with a pass that must be returned or checked on re-entry.
Venues must be clear of all customers by 11.30pm.
There is no government requirement to limit the amount of time that customers can remain at a table, but individual businesses may decide to operate this approach.
There is also no requirement for pre-booking, but businesses may also decide to operate this approach, and businesses should have appropriate queue management systems in place.
The Health and Safety Authority and the HSE have been designated in the legislation as having a role in assessing compliance with the new guidelines.
A statement by the government reportedly said, "As a customer, you should raise your concerns with the business first, and if you're not happy, going to another premises sends a strong signal."
An online QR code scanner has been developed to help verify individuals' EU Digital COVID Certificates.
Tánaiste Statements
Tánaiste and Minister for Enterprise Leo Varadkar reportedly said, "From Monday [July 26], we are going to open indoor hospitality, get lots of businesses open and lots of people back to work.
"The restrictions being applied to this reopening are designed to be a temporary measure...I know that operating this new system will be inconvenient for business and could add to staff costs.
"It is, however, the only way we can re-open and stay open throughout this Delta wave."
Varadkar reportedly added, "Hopefully, it will not be necessary in a few months' time, but it is good to have it in place in case it is.
"There will be teething problems and we will work with the industry to review and amend the regulations as needed and based on practical experience."
Tourism Minister Statement
Tourism Minister Catherine Martin reportedly said, "I am acutely aware of the devastation the necessary public health restrictions have had on tourism and hospitality businesses since March 2020 with many unable to open at all.
"The publication of updated guidance will help businesses and customers to adapt to a new and hopefully temporary regime which is aimed at protecting public health while allowing businesses to get back to what they do best.
"The 'céad míle fáilte' will be much in evidence from Monday (July 26) onward and I encourage all customers to show patience and understanding as businesses and their staff get used to the new requirements.
"Let's all work together to keep this vitally important sector open from now on."
Fáilte Ireland Statement
Fáilte Ireland stated on its website, "The operational guidelines have been developed by government officials and Fáilte Ireland in consultation with the hospitality representative bodies.
"The guidelines provide information and guidance on the systems and protective measures that must be implemented in accordance with public health advice and legislation underpinning this phase of the re-opening of indoor hospitality.
"The guidelines will provide practical guidance for the safe reopening of indoor hospitality while also helping to instil public confidence in the safety of businesses.
"While businesses providing indoor hospitality are being asked to implement and adhere to specified protective measures, so too must customers who are availing of indoor hospitality to ensure a safe environment for all.
"The key element of this guidance is that reasonable steps must be taken to ensure that no person, other than a 'permitted person', is admitted to relevant indoor premises. Permitted persons are those with acceptable proof of immunity or children under 18 in their care.
"Details of acceptable proofs of immunity, including the EU Digital COVID Certificate, are available on gov.ie/reopeninghospitality
"Businesses may check the validity of EU Digital COVID Certificates using the online QR scanner at gov.ie/DCCchecker 
"Customers may also be asked to present a photo ID to show that the proof of immunity relates to them.
"Fáilte Ireland's sector operational guidelines are updated in line with the Health (Amendment) (No. 2) Act 2021.
"The operational guidelines are live on https://covid19.failteireland.ie/operational-guidelines/".
Fáilte Ireland Director Of Sector Development Statements
In a statement also published on Fáilte Ireland's website, Director of Sector Development at Fáilte Ireland Jenny De Saulles said that the new guidelines are a "critical part in helping tourism businesses safely reopen for indoor hospitality", and, "Throughout this crisis we have been working with tourism and hospitality businesses and with government to provide the businesses with the practical guidance and supports they need. The next phase of recovery is the reopening of indoor hospitality and renewing its vital contribution to job creation and regional development. We will continue to focus our resources on providing critical operational and business supports to ensure the reopening and recovery of tourism and hospitality and to safeguard the viability and competitiveness of our tourism industry."
RAI Chief Executive Statements
As reportedly by rte.ie, businesses that reopen will reportedly be able to avail of the three-week double payment of the COVID Restrictions Support Scheme, however, Restaurant Association of Ireland (RAI) CEO Adrian Cummins has reportedly said that a quarter of hospitality businesses will not resume indoor services immediately.
Cummins reportedly said on RTÉ's The Business radio programme that he estimates that 25% of hospitality businesses are unwilling to operate under the new guidelines.
Cummins reportedly said, "That is my gut feeling based on listening to businesses."
He reportedly said that a lack of staff is the "single biggest issue" for the hospitality sector, and reportedly added, "We don't have enough staff, and we have to make sure we source as many as possible for our sector."
The Irish Times quotes Cummins as saying, "We estimate that 30% of our staff is gone. We're standing still with only 70%, and that's far from where we need to be for a labour-intensive industry."
Cummins reportedly said that the government needs to sit down with the hospitality sector to "fast track a solution to restaffing the sector and look at avenues to get people back into the workforce"m and reportedly suggested that incentive schemes might be a solution.
As reported by rte.ie, Cummins said that the hospitality sector may need to renegotiate the guidelines for indoor hospitality services if they do not working properly from this week, and that congestion at doorways is a potential pitfall and a reduction in the paperwork that must be maintained for regulatory purposes due to the guidelines will be needed.
Cummins reportedly said, "What we need to do now is get our doors open from Monday and then look at how the operation of this new regime is in flow, and then we may have to go back to the government to streamline what it is there to make it more operational for our industry."
He reportedly added, "We are moving in the right direction but need to make sure it's streamlined into the future."
VFI Chief Executive Statements
Vintners' Federation of Ireland (VFI) chief executive Padraig Cribben reportedly described the guidelines as being "overly prescriptive" and believes that they have been made more difficult than necessary.
Cribben reportedly said that the VFI is extremely disappointed that the use of bar counter service is not permitted, and that it is "intrinsic" to a lot of small rural pubs.
The VFI reportedly said that many pubs are planning to spread their opening over the coming week because they only received the government guidelines on Friday July 23, and many business owners and managers just received them on Sunday July 25.
Cribben reportedly said that there are approximately 2,500-3,000 non-food serving pubs that have yet to open.
Cribben reportedly said on RTÉ's Morning Ireland radio programme that it has been almost 500 days since some businesses were able to open and while there is a lot of relief in the industry, there is also a lot of anxiety.
He reportedly urged people to work with publicans and follow the public health guidelines, and reportedly added that he is still waiting to see the regulation for vaccination certificates for individuals from Northern Ireland, the UK and the US, and that there is "quite an amount of work still to be done".
According to The Irish Times, Cribben said that most rural pubs have staffing issues "already finalised" but there is "no doubt" that some in tourist areas will be struggling to find staff.
In a statement published on the VFI's website, Cribben said, "Unfortunately, the new guidelines government handed down to us will make it very difficult for publicans and staff to manage their indoor businesses. Our message to customers is simple: 'please work with us as we get used to these new guidelines'."
Cribben also said in the same statement, "While we're far from happy about how our members are reopening, it's important to remember this is only a temporary measure and our expectation is that the requirement to check vaccine certs will be removed as soon as possible."
Over 3,000 Pubs Reopening
According to the VFI, over 3,000 pubs will reopen today (Monday July 26), with 25,000 staff signing off of the Pandemic Unemployment Payment (PUP) and heading back to work.
VFI President Statement
In a statement also published on the VFI's website, VFI President Paul Moynihan, who runs a pub in Donard, Co Wicklow, said, "The reopening of indoor hospitality marks the end of an extremely challenging 16 month period that began on 15th March 2020 when all pubs were instructed to close in the face of the advancing pandemic.
"It's only fair that pubs with no outdoor space are allowed reopen. While outdoor trading has been a success for some publicans, reopening indoors gives businesses a chance to make ends meet.
"Safety and responsibility will be the watchwords in the weeks ahead as publicans and customers get to grips with the new reality. Publicans having to request vaccine certs from people they've known for years is not where any of us expected to be but we need to get open.
"The key message I've received from publicans is that once we're open we stay open. There can be no return to more lockdowns, as the consequences of such a move for the trade don't bear thinking about."
LVA Statements
The Licensed Vintners Association (LVA) said that the ability to reopen for indoor hospitality will come with relief, hope and nervousness for many in the hospitality sector.
The LVA also said that this will be a difficult period for everyone in the hospitality sector and that it is calling on its members and the public to ensure that they carefully follow the new guidelines.
LVA Chief Executive Statement
In a statement published on the LVA's website, LVA chief executive Donall O'Keeffe stated, "Being allowed to provide indoor service will come with a mixture of relief, hope and nervousness for many in the hospitality sector, especially those pubs in Dublin who have not been able to open their doors for the last 497 days. The relief of trading will undoubtedly be tinged with trepidation. There are a lot of mixed feelings about reopening and what it's going to mean in terms of handling difficult customers and protecting the welfare of staff.
"For many in our sector this is not the way we wanted to reopen, but unfortunately it is the only option on the table. All our members and other hospitality businesses must clearly understand that they have to do everything they can to ensure the new guidelines are thoroughly followed and enforced. We would also ask the members of the public to work with the sector in helping us to make a success of these measures.
"All hospitality premises should know that any business that flout the rules have the book thrown at them. This is far too important. Businesses taking chances pose risks to public health and also endanger the future of our sector. Everyone who is trading has to follow the guidelines.
"Of course, the reopening of indoor hospitality is only the next step in this process. Our sector still has some way to go before we are operating normally. After all, we were told these were 'temporary measures'. In the weeks ahead as the vaccine rollout progresses there will be a need for this system and the guidelines to be reviewed. There is still a long road ahead before our sector is truly back on track."
HSE CEO Says Embrace Indoor Hospitality Safely And "Make It Work"
As reported by rte.ie, HSE CEO Paul Reid has urged people to embrace the resumption of indoor hospitality safely and to "make it work".
Reid reportedly said in a Twitter post, "As hospitality, society and the economy opens up further, let's all embrace it safely and make it work."
A Cautious But Certain Approach
Minister for Agriculture, Food and the Marine Charlie McConalogue reportedly said that the success of the vaccination programme has put the country in a very different space, but that the government will be guided by public health advice at all times.
McConalogue reportedly said on RTÉ's Morning Ireland radio programme that every step that is being taken is with the objective of keeping services open, and the country will continue to go forward with a cautious but certain approach.
McConalogue reportedly paid tribute to the tremendous engagement of the hospitality sector with the government, and reportedly also said that he understands that certificates given to people who have been vaccinated in Northern Ireland will be compatible with the app being used by hospitality venues in the Republic.
© 2021 Hospitality Ireland – your source for the latest industry news. Article by Dave Simpson. Click subscribe to sign up for the Hospitality Ireland print edition.