Hospitality Industry Guidelines For Outdoor Events Updated
Published on Aug 9 2021 8:05 AM in Features tagged: Featured Post / Fáilte Ireland / IHF / Restaurants Association of Ireland / VFI / LVA / RAI / Electric Picnic / HSE / Irish hotels federation / Vintners' Federation of Ireland / Licensed Vintners Association / Health Service Executive / Outdoor Dining / outdoor drinking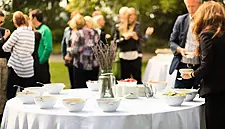 The hospitality industry guidelines for outdoor events have been updated.
This follows news that the Cabinet sub-committee on COVID-19 was expected to discuss updates to hospitality industry guidelines for outdoor events at a meeting on Friday August 6, as well as news from Thursday August 5 that Fáilte Ireland had said that it would meet government officials on Wednesday August 4 to update the public health guidelines for outdoor events and provide clarity on the operation of such events.
Fáilte Ireland is the state agency that is responsible for drawing up guidelines for the hospitality industry on how to operate under COVID-19 pandemic regulations.
Updates Details
As reported by rte.ie, the new guidelines from Fáilte Ireland for organised outdoor events state that venues can now cater for a maximum of 200 people at such venues, and multiple tables can be booked in an outdoor area, but intermingling between the tables is not permitted.
The new guidelines reportedly state that "live music and other performances are permitted outdoors", subject to adherence with all relevant COVID-19 guidance, but that "no live/loud music or performances are permitted indoors".
However, dancing is not permitted and wedding receptions must be a sit down meal only.
The maximum of number of people that can sit at a table remains six, aged 13 or over.
This limit does not apply when additional individuals at a table are children aged 12 or younger, however, the total combined capacity of a table cannot be more than 15 overall.
Venues are still required to be clear of all customers by 11.30pm.
The new guidelines reportedly also imply that there can be music at wedding receptions as long as it's outdoors. However, dancing is not permitted.
Additionally, wedding receptions must be a sit down meal only and the maximum amount of guests permitted to attend a wedding reception is still 100.
Communions And Confirmations
The government is reportedly planning to write to senior church leaders to outline plans to permit communions and confirmations to take place in September, but reportedly said in a statement that the final decision on that matter will depend on the public health situation at the time.
The government reportedly noted recent concerns expressed by church leaders about health guidelines in relation to religious ceremonies, especially in relation to communions and confirmations, and reportedly said that it "hopes" that those restrictions will be lifted in September, subject to the COVID-19 situation at that time, and that it will "engage further" with relevant faith group leaders in the coming weeks.
VFI Chief Executive Welcomes Clarification On Outdoor Gatherings
Vintners' Federation of Ireland (VFI) chief executive Padraig Cribben has reportedly welcomed the clarification on outdoor gatherings.
Cribben reportedly said on RTÉ's News at One that it had been his understanding that these were confined to tables of six and that parties were not allowed, and reportedly added, "But that was then, and this is now."
Cribben reportedly that said the prevention of people from intermingling outdoors will "present a significant challenge" that demonstrates the need for a "roadmap on getting back to normal services".
He reportedly said, "I think it would present significant challenges. But all of this is presenting challenges.
"Whether it be the table service, whether it be the collection of the data that's required. It's all very, very challenging. It's all demanding of additional staff that are not there.
"And that's why, as I said earlier, we need now very quickly to see the roadmap, the road map back to normality."
LVA Chief Executive Welcomes New Guidelines
Licensed Vintners Association (LVA) chief executive Donall O'Keeffe has reportedly welcomed the new guidelines.
O'Keeffe reportedly said that the priority now is to have music and DJs permitted indoors so that venues can begin to reopen and the late bar and nightclub sector can be rebuilt.
O'Keeffe reportedly also said that it would be better if the maximum number of guests permitted at a wedding limit increases to 200 and that this is something that the wider hospitality sector will be seeking.
IHF Welcomes Updated Guidelines
The Irish Hotels Federation (IHF) has also welcomed the updated guidelines for outdoor events.
The IHF said in a statement, "The Irish Hotels Federation (IHF) welcomes the updated guidelines for the hospitality sector, published today by Fáilte Ireland. The clarification in relation to outdoor events, including live music and performances outdoors, provides much-needed clarity for hospitality businesses - it is another positive step toward the full reopening of Ireland's wider tourism and hospitality industry.
"Hotels and guesthouses are committed to the safe implementation of these guidelines in line public health measures. As always, public health remains the number one priority with everyone having a part to play.
"A clear roadmap is now required from government in order to provide greater clarity around the lifting of remaining restrictions so that business can plan for the weeks and months ahead. As part of this process, we continue to engage with government in relation to the easing of restrictions around indoor social and business gatherings, extension of closing time in line with normal licensing hours as well as the performance of live music indoors at hotels, including at weddings."
RAI CEO Says It Is Important To Understand What Is Required
Restaurants Association of Ireland (RAI) CEO Adrian Cummins reportedly previously said that it is important that both businesses and the public understand what is required in terms of the rules and limits.
Cummins reportedly said in a Twitter post that the hospitality sector has "lost a huge amount of revenue due to confusion over the guidelines".
"Worried" That The Updated Guidelines Will Lead To Parties Of 200
Monaghan-based GP Doctor Ilona Duffy has reportedly said that she is "worried" that the updated guidelines for outdoor gatherings will lead to parties of 200.
Duffy reportedly warned on RTÉ's Drivetime radio programme that individuals who are vaccinated can still develop COVID-19 and infect others.
Duffy reportedly said that she is "disappointed" by the "rushed decision", and reportedly added, "We risk losing people if they do not have confidence in how the decision was made and the rushed manner in which it was made."
Duffy reportedly also said that it will be "exceptionally difficult" to ensure that there is no intermingling among 200 people.
Deputy Chief Medical Officer Says COVID-19 Incidence Rate Has Risen
Duffy's statement came as Ireland's deputy chief medical officer, Doctor Ronan Glynn, reportedly said that Ireland's 14-day COVID-19 incidence rate has now risen to 386 per 100,000 people, which is the highest that it has been since early February.
Glynn reportedly said in an update on social media that 18,000 cases of the COVID-19 have been recorded in the last fortnight alone, and, "There remains significant uncertainty in terms of the underlying trends, including due to the potential effect of the recent August Bank Holiday weekend on case numbers and referral patterns."
Glynn's statements reportedly came as the Department of Health was notified of an additional 1,782 confirmed cases of the COVID-19.
Glynn reportedly said, "Although the link between cases and severe disease has been very substantially weakened through vaccination, it has not been completely broken, and unfortunately due to the high incidence, we continue to see an increasing number of people in hospital."
He reportedly also said that Ireland is experiencing a high level of disease, and that the outlook over the coming days "is uncertain", but reportedly added that what is not uncertain is that the course that COVID-19 takes in Ireland can be altered with the measures adopted by people over the past few months.
HSE Chief Clinical Officer Urges Caution About Attending Outdoor Events
Meanwhile, Health Service Executive (HSE) chief clinical officer Doctor Colm Henry reportedly said that the rate of COVID-19 cases appears to be "growing more slowly than expected", but reportedly urged caution about attending outdoor gatherings at this stage of the vaccination programme.
Henry warned on RTÉ's Today with Philip Boucher Hayes programme of the consequences of people who test positive for COVID-19 not disclosing their close contacts, saying that this means that advice cannot be passed on to others and, consequently, there can be a secondary spread of COVID-19 and further cases.
Henry reportedly said, "We do know from our directors of public health that there are instances where people don't always reveal their close contacts.
"They might ring their close contacts themselves but if they don't tell us their close contacts we can't ensure they get the correct public health advice and that secondary transmission doesn't occur."
He reportedly said that this risk is further heightened considering that there is a more transmissible variant of COVID-19, with the Delta strain of the virus, which he said can lead to superspreader events, even outdoors.
Taoiseach Says "Personal Responsibility" Will Be A Key Factor In Dealing With COVID-19
Taoiseach Micheál Martin has reportedly said that "personal responsibility" will be a key factor in dealing with COVID-19 in the coming weeks and months.
Martin reportedly said that "the government accepts that further clarity and consistency on guidelines was required."
The taoiseach reportedly said that public health officials have consistently made the point "that the original guidance on social distancing, wearing of masks indoors and taking precautions will be essential in the weeks and months ahead."
Martin reportedly also said, "As we move forward, personal responsibility will be a key factor."
HSE CEO Urges Public To "Stick With" Guidelines
Health Service Executive (HSE) CEO Paul Reid has reportedly previously urged the public to "stick with" public health guidelines following the confusion surrounding COVID-19 pandemic-related regulations for outdoor gatherings.
When asked about the confusion surrounding the regulations at the weekly HSE COVID-19 briefing on Thursday August 5, Reid reportedly said, "The only concern we have is people just drop their guard over the next few weeks, whether it's over frustration or confusion.
"People drop their guard. So the message from the HSE...people stick with us, in a few weeks' time we will be on a much better side of this pandemic."
Reid reportedly said, "My call is to the public: don't get confused, don't get frustrated, just stick with what we're doing, it's working and allow us to get on with the vaccination programme."
Roadmap For The Easing Of Ending Of Remaining COVID-19 Restrictions
The government is reportedly intending to publish a roadmap by the end of August for the easing or ending of remaining COVID-19 restrictions, according to a newly-published statement.
The statement reportedly said that the government is intending to monitor the progress of COVID-19 and the vaccination programme with the aim of publishing a roadmap by the end of August for the easing or removal of remaining restrictions.
The government has reportedly said that the road out of the remaining COVID-19-related restrictions that are in place across Ireland lies in a combination of maintaining the current level of restrictions during August until the current wave of disease falls, as well as in continuing the rollout of COVID-19 vaccines.
Meanwhile, Minister for State Jack Chambers reportedly told RTÉ's This Week radio programme that the government will publish a "comprehensive roadmap" later this month for the easing of remaining COVID-19-related restrictions and the reopening of society and the economy that will include the reopening of education, a return to the office and the resumption of indoor sports.
Laois County Council Refuses To Grant License For Electric Picnic
The above news also follows news that Laois County Council has refused to grant a licence for outdoor music festival Electric Picnic this year.
© 2021 Hospitality Ireland – your source for the latest industry news. Article by Dave Simpson. Click subscribe to sign up for the Hospitality Ireland print edition.