Hospitality Ireland Presents Round-Up Of Island Of Ireland Hotel News
Published on Nov 1 2021 10:25 AM in Features tagged: Trending Posts / CBRE / Hilton Garden Inn / Henderson Park / Europa Hotel / Killeavy Castle / Coachhouse Catering Ltd / Old Imperial Hotel / Zavarovalnica Sava / Frost Insurance / Frost Underwriting UQuote / Babodana / Skylon Hotel / Yeats Country Hotel / Holyrood Hotel / Killeavy Castle Estate / World Luxury Awards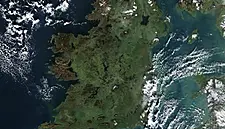 Hospitality Ireland presents a round-up of island of Ireland hotel news. Hilton Garden Inn Hotel In Dublin Acquired By Henderson Park The Hilton Garden Inn on Dublin's Custom House Quay has been sol...
Hospitality Ireland presents a round-up of island of Ireland hotel news.
Hilton Garden Inn Hotel In Dublin Acquired By Henderson Park
The Hilton Garden Inn on Dublin's Custom House Quay has been sold to UK private equity real estate manager Henderson Park as part of a broader acquisition of 12 Hilton branded hotels across the Ireland and the UK.
As reported by The Irish Times, the acquisitions, the financial terms of which were not disclosed, involves Henderson Park acquiring 12 predominantly freehold Hilton properties in cities including London, Edinburgh and Glasgow.
The 2,424 key portfolio is reportedly a collection of well-positioned, full-service Hilton branded hotels with a wide range of amenities, encompassing three of the company's most recognised brands: Hilton Hotels & Resorts, Hilton Garden Inn, and DoubleTree by Hilton.
Henderson Park founding partner Nick Weber reportedly said, "This transaction presents us with a rare opportunity to acquire a large, high-quality portfolio of assets, timed to capitalise on the potential for a near-term return to travel as well as a wider post-pandemic recovery over the years to come."
Henderson Park reportedly said that the deal offers opportunities for additional value creation across the portfolio, through extensions, room renovations, redevelopment of ground floor space to attract external footfall, and alternative use exploration, and that it is in advanced discussions with the existing manager, Amaris Hospitality, for the ongoing management of the hotels.
Finance for the transaction was reportedly provided by Apollo, and the deal is reportedly expected to close later this year.
Irish Hotel Sues Insurer Over COVID-19 Cover Dispute
In other Irish hotel news, as reported by The Irish Independent, the Commercial Court has heard that an insurer's business interruption insurance policy is "riddled with obfuscation and confusion" and should be interpreted as providing cover for COVID-19 disruption.
The claim was reportedly made by Richard Kean SC for a hotel suing a Slovenia-based insurer and a broker, on the first day of a case which, counsel reportedly said, has implications for several other similar businesses that were closed due to the COVID-19 pandemic.
Coachhouse Catering Ltd, which runs the Old Imperial Hotel in Youghal, Co. Cork, has reportedly brought the action over what it reportedly says is the refusal of the Zavarovalnica Sava insurance company to provide an indemnity for losses suffered under a business interruption insurance policy that it provided.
It is reportedly also suing Irish broker Frost Insurance, trading as Frost Underwriting UQuote.
Coachhouse is reportedly seeking declarations including that it is entitled to an indemnity under the policy for interruption/losses after March 15 of 2020 when the first COVID-19 pandemic-related lockdown was announced.
It is reportedly also seeking a declaration that the closure order from that date constituted a loss and/or destruction and/damage to the property it uses for business, and it is reportedly also seeking damages for breach of contract including aggravated and/or exemplary damages.
The defendants reportedly deny the claims.
Opening the case, Kean reportedly said that Zavarovalnica Sava, an insurer and reinsurer that reportedly made a €47.6 million net profit last year, promises on its website to "never leave you alone" and that it is caring and professional.
Counsel reportedly said, "It also says it gives you peace of mind but the plaintiffs have not been given peace of mind, they have almost lost their minds."
Kean reportedly said that the core of Coachhouse's case is reportedly that the closure of the hotel caused loss and that the insurance policy was riddled with ambiguity, and that Top of FormBottom of Formthe defendants themselves did not know what the policy was about and as a policy which is riddled with obfuscation and confusion, it should be interpreted in favour of his client.
Alan Grace, a retired insurance expert on behalf of the defendants, under cross examination, reportedly said that before COVID-19, pandemics such as Sars and swine flu were "on the horizon" and some insurers chose to include them while others sought to reduce cover for them. Generally, however, they did not put pandemic exclusions in the policy.
When asked by Kean where COVID-19 was specifically excluded in the Coachhouse policy, Grace reportedly said that it was not in the policy, and that the policy was not very well constructed and drafted.
The case reportedly continues before Mr Justice Denis McDonald, and it is being heard both as a physical and remote hearing through the specially designed TrialView system.
Hotels Record Figures For 2020
In additional Irish hotel news, as reported by The Irish Times, accounts for Babodana, which owns Dublin's Skylon Hotel, have revealed that sales decreased by €5 million to €2.2 million, in 2020.
However, it reportedly staunched the damage at a net loss of €628,000, which reportedly compares to a profit of close €1 million in 2019.
Operating expenses reportedly were €2.6 million, €400,000 more than its sales, but the pain was reportedly limited by €580,000 of "other income", which would include any state payments.
Meanwhile, the Yeats Country Hotel of Co. Sligo reportedly made a of €206,000 in 2020, while cash on hand reportedly increased close to sixfold to €610,000 by year-end, and the Holyrood Hotel of Co. Donegal reportedly flipped from a 2019 loss of €233,000 to a 2020 profit of €294,000 while cash on hand reportedly increased there by fourfold to €603,000.
The relative financial stability of the Co. Sligo and Co. Donegal properties in 2020 was reportedly achieved without fresh equity or any increase in debt.
12 Hotels Sales Completed In First Nine Months Of 2021
The above news also coincides with news that, as also reported by The Irish Times, according to commercial real estate services firm CBRE's newly-published final bimonthly report for 2021, a total of 12 hotel sales totalling more than €330 million were completed during the first nine months of 2021, which was more than double the volume of hotel sales completed in the entire year of 2020.
Killeavy Castle Estate Wins Luxury Castle Hotel (Europe) Award
In further island of Ireland hotel news, Killeavy Castle Estate has been named winner of the Luxury Castle Hotel (Europe) Award at the World Luxury Awards 2021
Killeavy Castle Estate stated, "Killeavy Castle Estate has been named winner of the Luxury Castle Hotel (Europe) Award at the prestigious World Luxury Awards 2021, which took place in Mauritius in October.
"The 4-star luxury Estate, nestled in the foothills of Slieve Gullion was recognised for epitomising the ethos of luxury and fine service throughout the Estate.
"The World Luxury Awards recognise establishments for world-class service excellence and are presented on a country, regional, continent and global basis. Winners are selected by public vote and are judged on brand, location and overall guest satisfaction as received back from our online reviews, amongst other criteria.
"'We congratulate this year's winners. True luxury is not easily attained. It takes highly efficient and dedicated staff who are willing to go the extra mile and stop at nothing to ensure that every guest feels cared for and that no challenge goes unresolved. This is the definition of luxury. It is what makes the winners shine,' said The World Luxury Awards Marketing Director, Michael Hunter-Smith.
"Killeavy Castle Estate has also shone on the local stage, picking up two awards at the Greater Newry Area Business Awards. The Estate, which has as its centrepiece the stunningly refurbished Killeavy Castle, was named Best Tourism and Hospitality Business and Best Place To Eat (Best Restaurant and Bistro).
"Jason Foody, General Manager at Killeavy Castle Estate, said, 'We are delighted to have won three such important awards this month. It is fantastic to be recognised on an international stage at the World Luxury Awards, but for us, our local awards are just as important. It is the outstanding support of our local community here in the Greater Newry area that allows Killeavy Castle Estate to be the successful business it is.'
"'We could not achieve the high standards we hold ourselves to without the fabulous team of people at Killeavy. Through what has been a challenging year for the hospitality industry, our colleagues have been outstanding and shown true commitment to delivering a first-class service to our guests,' he continued.
"Not only does Killeavy Castle Estate pride itself on giving guests a first-class experience, it is also leading the way in sustainable tourism. With sustainability initiatives built into its ethos, the Estate is further developing its plans for the future with a new Estate Garden, Farm Store and a reforestation initiative that will see the replanting of Slieve Gullion with broadleaf trees."
Belfast's Europa Hotel Unveils Lobby Display To Celebrate Its 50th Birthday
Additionally, as reported by The Irish News, to celebrate its 50th birthday, Belfast's Europa Hotel has unveiled a new floor-to-ceiling display lobby installation that tells story of Belfast and the 50 year old venue.
© 2021 Hospitality Ireland – your source for the latest industry news. Article by Dave Simpson. Click subscribe to sign up for the Hospitality Ireland print edition.