Hospitality Sector Must Comply With Rules To Remain Open, Says Tánaiste
Published on Nov 10 2021 8:02 AM in Features tagged: Featured Post / Fáilte Ireland / Restaurants Association of Ireland / LVA / RAI / HSE / HSA / Health Service Executive / Health and Safety Authority / Give Us The Night / Licenced Vintners Association / Murray Group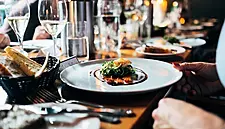 Tánaiste and Minister for Enterprise Leo Varadkar has said that the hospitality sector needs to comply with COVID-19 rules of it wants to remain open.
As reported by rte.ie, Varadkar said that there are plans to "step up" inspections by the Health and Safety Authority (HSA) to ensure that premises are checking COVID-19 passes, and he appealed to those in the sector to enforce the checks.
Varadkar reportedly told RTÉ News at One that the compliance capacity in the HSA is being increased, but that a range of agencies have carried out a total of 46,000 inspections since May of 2020.
Of these, 707 were reportedly carried out by the HSA since July 26.
Varadkar reportedly said that while most premises are complying, those that are not in compliance will face enforcement actions.
Risk Review Meeting
Representatives of the hospitality sector reportedly met government officials yesterday (Tuesday November 9) to review the risks associated with October's further easing of restrictions and how compliance measures are performing.
Deputy Chief Medical Officer Ronan Glynn reportedly attended yesterday's meeting.
The Restaurants Association of Ireland (RAI) reportedly said following the meeting that it had a "productive, full and frank meeting", and that the hospitality industry representatives at the meeting had "collectively called for stronger sanctions including penalties, fines and closures for hospitality businesses flouting the regulations and breaching COVID guidelines".
RAI CEO Adrian Cummins reportedly described the establishment of a special phoneline to report businesses that are not checking COVID-19 certs as a "good idea", and reportedly said that they would support any initiative that increases the level of compliance within the industry and "if a hotline is set up into a department or into any agency, to me that's a good idea".
Cummins reportedly said that the general public are currently reporting non-compliant businesses on social media and that there Is a need to put a proper structure in place.
Cummins reportedly suggested that either Fáilte Ireland, the HSA or the Health Service Executive (HSE) could operate this service.
The Licenced Vintners Association (LVA) reportedly described the meeting as a "positive and engaging discussion", and reportedly called on all sectors of the hospitality sector to follow the guidelines and regulations, including COVID-19 passes.
Lobby group "Give Us The Night" reportedly said that it had "a good, open discussion that focussed a lot on the messaging around COVID-19, rather than any talk of the industry having to shut".
Spokesperson Sunil Sharpe reportedly said, "We are obviously leading up to the busiest time of the year for socialising, so doing that as safely and efficiently as possible is the main priority for everyone. In particular, I was happy about the discussion around ventilation and the commitment to further communication on this topic.
"Public transport and effective use of taxis is another important area we need to get right and this was recognised today also.
"It does still feel like pre-event testing is not a priority for the government, but I'm hopeful that there was food for thought for the Taoiseach's officials and Doctor Ronan Glynn from points raised today."
A spokesperson for the Department of Tourism reportedly said that yesterday's meeting with the hospitality sector provided an important context for the three-week review that was signalled at the outset and "we will continue to engage with the sector bilaterally as part of that review process".
The department reportedly said that the review will "be critically informed by the wider public health situation", and that discussions will also take place this week with the live entertainment sector, after which an update will be provided for the Cabinet.
The government reportedly said in a statement that "constructive engagement took place on the range of issues", and that issues surrounding improved "awareness of the risks and how to manage them" and how to "support the public to follow public health advice and ensure greater compliance with regulations and guidance" were discussed with the hospitality representatives.
The government reportedly said that it will continue to work with the sector to maximise "the impact of mitigations - whether at an individual or a business level - on the transmission of COVID-19".
Legislation To Combine Public Health Measures
The government is reportedly aiming to pass a single piece of legislation before Christmas that would combine the public health measures that are currently due to expire on February 9.
The measures include the requirement to wear masks in certain places and the rules around COVID-19 passes for the hospitality sector and international travel.
A government spokesperson reportedly said that the legislation is to ensure that the state can react to the pandemic and that the government will not look to have these additional powers for longer than necessary.
However, it reportedly does raise the possibility that the measures could be extended at some point beyond February 9.
The Cabinet was reportedly presented with information yesterday (Tuesday November 9) about compliance with the most recent Social Activity Measure survey, reportedly showing that more people reported not getting their COVID-19 certificates checked when dining indoors.
The HSA reportedly carried out 645 compliance checks between July 26, 2021, and October, 29, 2021, and reportedly found that 96% of indoor venues were in compliance, with 14% of them reportedly requiring additional measures, and 4% were reportedly non-compliant.
The HSE reportedly undertook 11,948 compliance checks up to October 29 and of those 7,318 were reportedly completed.
70% were reportedly in compliance, 3% were reportedly non-compliant and 27% reportedly needed further compliance measures.
High COVID-19 Case Numbers
Chief Medical Officer Doctor Tony Holohan reportedly said yesterday (Tuesday November 9), "We have reported over 44,000 cases in the past 14 days.
"The volume of disease in the community is really very high and represents a significant risk to those who are most vulnerable in our society.
"We need to continue to use all of the tools available to us to protect ourselves and others. By layering all of the public health measures with which we are now so familiar, we can help to break the chains of transmission."
Hospitality Sector Businesses Must Help Create A "Sense Of A Collective Effort"
As reported by The Business Post, hospitality sector stakeholders who attended yesterday's meeting the government were warned that they must play a role in creating a "sense of a collective effort" when it comes to the measures designed to slow the spread of COVID-19.
Hospitality sector representatives were reportedly told in a briefing note circulated ahead of the meeting that compliance measures should "become normalised rather than exceptional behaviour".
Officials reportedly told the stakeholders that the government wants to partner with them "in promoting and amplifying public health messaging at this critical juncture".
The government reportedly said in the document that compliance with the state's pandemic measures "should not be considered best practice but rather the minimum standard required to protect our communities".
The note reportedly added, "Individual businesses need to proactively risk assess their premises to calibrate mitigating measures in a bespoke way for their business,", and businesses were reportedly told, "If we do not engender a sense of a collective effort, it will severely hamper our capacity to get transmission under control. In turn, this will limit our options in terms of reducing the burden of disease and mortality of this latest wave."
RAI CEO Adrian Cummins reportedly said after the meeting, "Government officials engaged with Hospitality representatives in a proactive and informative manner in terms of presentation of public health communication plans, COVID health data and hospital capacity as we head into the winter period,", and reportedly told RTÉ's Morning Ireland radio programme that he will be calling on officials to seek out premises that are not following the guidelines set down by the government, and reportedly added that these should be ordered to shut down by inspectors.
Cummins reportedly said, "We want to know who they are, where they are and when they will be shut down.
"Inspectors must go in and shut them down. They are putting other businesses at risk."
Pub Group Offering "Season Tickets" Despite Being Advised It Is In Contravention Of Guidelines
The above news coincides with news, as also reported by The Business Post, the owner of a Dublin pub group plans is offering "season tickets" for customers despite being advised by the LVA that doing so is in contravention of guidelines for late-night venues.
A number of venues run by the Murray Group, which is a Dublin-based pub group run by father and son Noel and Ross Murray, have reportedly been offering "season tickets" available to attendees via Eventbrite.
As per recently-issued guidelines, events at nightclubs must be ticketed and must use electronic tickets, and tickets must be purchased or acquired at least one hour prior to attendance at an event. This requirement is reportedly set out in recent amendments made to the Health Act 1947.
However, the season tickets offered by Murray Group venues including Fibber Magee's, The Living Room, The Camden Nightclub and Murray's Bar reportedly allow attendees to use one ticket that can be added to an Apple or Android wallet on "any weekend" of their choosing, including bank holidays, and they reportedly only need to apply for the ticket once.
Terms and conditions for the tickets reportedly stipulate that "normal entry rules and procedures apply", that both a valid ID and COVID-19 vaccination cert are required on entry and that tickets are for those over the age of 21 years old.
Following the group's introduction of the season ticket system, LVA representatives reportedly got in touch with Ross Murray to inform him that the Department of Arts had raised the issue of season tickets.
An LVA spokesperson reportedly told The Business Post, "The LVA has made it clear to all members that they must follow and implement the regulations. The new late night regulations require all relevant venues to issue tickets for specific dates and events."
Murray reportedly told The Business Post that the introduction of the season ticket system was designed to ease the administrative burden associated with new guidelines for nightclubs that were published by the Department of Arts on October 28, and reportedly added that this was in part to accommodate the "regulars" of Murray Group venues, which he reportedly said make up between 80% of its venue attendees.
Murray reportedly said that the intention of the system was for tickets to be scanned at every use, allowing the venue to record attendance for contact tracing purposes and hold required contact tracing data without requiring customers to re-register for a ticket every time.
The group reportedly elected to implement its season ticket system after reviewing the existing guidelines at the time and determining that nothing in them prevented them from doing so.
Murray reportedly said, "It was just a way to create less hassle for our customers.
"In my experience, people don't really plan their nights out. They might go out and think, 'Oh, maybe I'll go to the Camden, maybe I'll go to Coppers'...This system was a way to allow that."
Murray reportedly added that even with the use of the season ticket system, and even with the venues operating at approximately 60% capacity, entry checks for customers entering venues still took "about three times longer" than pre-COVID-19 pandemic due to the need to check tickets and vaccine certs against existing IDs.
Murray reportedly said that other publicans and venue owners have since been in contact with him expressing interest in the season ticket system, and that he will stop the season ticket system if he is advised to do so by the Department of Arts and Culture.
A spokesperson for the department reportedly said that officials met with industry representatives on Friday October 29 to consider the implementation of e-ticketing in relevant venues, and that officials advised that the purpose of the guidelines and regulations in relation to electronic ticketing is for contact tracing purposes and to reduce the scope for large queues for events and that e-ticketing must be on an individual event basis, for a specified date and time.
The spokesperson reportedly said, "Season-long tickets do not meet the intention of e-tickets being for a specific date and event and are not to be used on an open-ended basis."
The spokesperson reportedly added that the implementation of the new guidelines for venues is being "kept under review", and, "The sectoral representatives have committed to continuing engaging with their members to ensure e-ticketing processes into line with the spirit and the specific requirements of the regulations."
© 2021 Hospitality Ireland – your source for the latest industry news. Article by Dave Simpson. Click subscribe to sign up for the Hospitality Ireland print edition.