Idea That Testing Could Be Used To Allow Indoor Hospitality Services Dismissed
Published on Jul 1 2021 9:01 AM in Features tagged: Featured Post / ITIC / Restaurants Association of Ireland / VFI / LVA / RAI / Vintners' Federation of Ireland / Licensed Vintners Association / Irish Tourism Industry Confederation / Drinks Ireland / indoor dining / EU Digital COVID Certificate / indoor drinking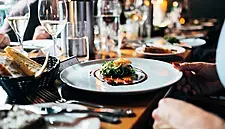 Ireland's chief medical officer, Dr. Tony Holohan, has dismissed the idea that testing instead of full vaccination could be used to allow indoor hospitality services to resume.
The dismissal of the idea follows news that indoor hospitality services will not resume on July 5, as previously planned, due to concerns about the spread of the Delta variant of COVID-19, and that when indoors hospitality services do resume, they will be for individuals who are fully vaccinated or who have recovered from COVID-19 only, based on advice from the National Public Health Emergency Team (Nphet).
As reported by rte.ie, while briefing opposition leaders about Nphet's advice to the government, Holohan said that without vaccination certs, indoor hospitality services could have stayed off the table beyond September, and that it should be possible to introduce a vaccination certificate system quickly, given that work on the EU Digital COVID Certificate is already in the advanced stages.
A Challenging Variant
Professor Philip Nolan reportedly detailed the methodology and the assumptions behind the modelling that produced the figures on which the decision to delay the resumption of indoor hospitality services was based, saying that a variant of COVID-19 with a transmission advantage can do very significant damage if it spreads in a partially vaccinated population.
Taoiseach Micheál Martin reportedly said that the Delta variant of COVID-19 is a challenging one that creates risks, and insisted that it was the right decision to delay the resumption of indoor hospitality services.
Martin reportedly told the Dáil that Nphet gave the government stark warnings about hospitalisations and deaths arising from the Delta variant of the virus, and said COVID-19 has been devastating for the hospitality sector as well as for society as a whole, and vaccinations are the most effective weapon against it.
Martin reportedly said, "Nphet is independent of government. We might not like its advice from time to time. It is up to government to decide. Now we have to work with the industry to see how we proceed, including testing."
Tánaiste Statements
Tánaiste Leo Varadkar reportedly said that the government understands the delay to the resumption of indoor hospitality services was a surprise for many people and that he is going to meet with the hospitality industry to see how to make a green pass/corona pass system work.
Varadkar reportedly added that there will be anomalies and details to work out, including whether children under six can be exempted, but that initial advice from the Attorney General is that a vaccination certificate is lawful.
Varadkar also reportedly told the Oireachtas Committee on Enterprise, Trade and Employment that the government is "keeping an open mind" on whether to allow people who have recently tested negative for COVID-19 to avail of indoor hospitality services, and said that the government will review the measures announced this week "in the run up" to July 19.
A "Constructive" Meeting For Hospitality Sector Representatives
Meanwhile, representatives of the hospitality sector reportedly said they had a "constructive" meeting with Martin and government ministers on the afternoon of Wednesday June 30.
Restaurants Association of Ireland (RAI) CEO Adrian Cummins reportedly said there was "an urgency" to get indoor hospitality services up and running again, and that the government listened to the sector's concerns.
A special group involving both the government and the sector will be formally established before Monday July 5 with the aim of finding "workable solution" to the issue of indoor hospitality services resumption.
Cummins reportedly said that "all options" are still on the table, included a so-called "corona pass" to facilitate indoor hospitality services.
LVA And VFI Statements
However, the Licensed Vintners Association (LVA) has reportedly said that vaccine certification is "unworkable and unfair" and would cause chaos in the hospitality, and called for hospitality sector employees to be prioritised for vaccines, while the Vintners' Federation of Ireland (VFI) said that pubs must resume indoor services no later than July 19, and VFI chief executive Padraig Cribben said that "any plan that placed the onus on publicans to check a customers' vaccination status would be unworkable"
Cribben also reportedly said that Nphet and the government have "lost the dressing room" following the decision to delay the resumption of indoor service hospitality services.
ITIC Chief Executive Statements
Irish Tourism Industry Confederation (ITIC) chief executive Eoghan O'Mara Walsh reportedly said that "cancellations are coming through thick and fast" since the announcement that of the delay to the resumption of indoor hospitality services was made.
O'Mara Walsh reportedly said on RTÉ's Drivetime radio programme following Wednesday June 30's meeting with senior ministers that the mood at the meeting was "sombre".
O'Mara Walsh reportedly said, "It was clear from the announcement yesterday that the Irish tourism sector is closed again. Already, cancellations are coming through thick and fast."
O'Mara Walsh reportedly also said that the sector will work "with might and main" to facilitate the reopening of tourism in Ireland, and, "If that includes a cert, so be it. But it has to be workable and viable."
Drinks Ireland Director Statements
Drinks Ireland director Patricia Callan reportedly said while also speaking on RTÉ's Drivetime radio programme that Drinks Ireland also wants the government to commit to permitting indoor hospitality services to resume on July 19.
Callan reportedly said that "if you're only getting to a plan then, and then you're saying it might take us another month to roll out the technology and then it's the autumn and winter, that's just not good enough".
She reportedly said that it is the government's job to govern, that "it behoves them now to act and make this their number one priority to get hospitality reopen", and that during their meeting with Martin, Varadkar and other senior ministers on the afternoon of Wednesday June 30, it was clear that they genuinely want to engage and find a solution.
Callan reportedly also said that they need to "figure out how we can get to a reopening position and [she thinks] everyone is very constructive in wanting to do that and that is positive", and added that businesses need dates to reopen and drink suppliers need five weeks' lead-in time to prepare.
© 2021 Hospitality Ireland – your source for the latest industry news. Article by Dave Simpson. Click subscribe to sign up for the Hospitality Ireland print edition.