Incentives To Limit Outdoor Events To Fully Vaccinated Individuals Being Considered
Published on Aug 30 2021 8:00 AM in Features tagged: Featured Post / Ibec / Electric Picnic / HSE / Health Service Executive / EU Digital COVID Certifcate / Music and Entertainment Association of Ireland / MEAI / Events Industry Alliance / MCD Productions / MCD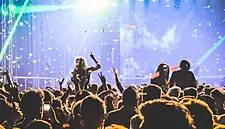 The government is considering proposals to incentivise promoters to limit attendance at outdoor events to individuals who fully vaccinated against COVID-19 by offering them increased capacity.
As reported by rte.ie, it is understood that ministers will not legislate to limit such gatherings to individuals who fully vaccinated against the virus in the same way that COVID-19 passes have been used for indoor hospitality services.
The option of asking event organisers to volunteer to hold larger events for individuals who are fully vaccinated people was reportedly discussed at a COVID-19 Committee meeting that took place on Friday August 27.
It is reportedly understood that there was much support at the Cabinet Committee on COVID-19 meeting for a phased resumption for the live events sector starting sometime in September.
Aiming To Gradually Lift Legal Regulations
The government is reportedly aiming to gradually lift legal regulations leaving guidelines and public health advice in their place.
The use of vaccination certificates for theatres is reportedly also under consideration as well as for other indoor activities such as bowling and bingo, and the number of mourners permitted at funerals is reportedly expected to be increased too.
Communions and confirmations will reportedly also return next month.
A phased return to work could reportedly begin on September 13, or later dates of September 20 or September 27.
Current COVID-19 Situation
The committee was reportedly given a thorough presentation on the current COVID-19 situation at August 27's meeting, and heard that 87% of individual who are over the age of 18 are now fully vaccinated.
There is still a high prevalence of the Delta variant of COVID-19 and the government is reportedly expecting case numbers to increase.
The government will reportedly monitor the situation closely and plan the reopening roadmap knowing that case numbers are still expected to peak.
Taoiseach Statements
Taoiseach Micheál Martin reportedly said that Ireland could have close to 90% of individuals who are over the age of 16 fully vaccinated by the week that starts on September 6.
Speaking at government buildings, Martin reportedly said that a full plan to reopen the economy and society will be delivered on Tuesday August 31, and that he expects to see an easing of restrictions in areas such as live entertainment, theatre and the arts in September.
Martin reportedly also said that the government will provide a timeline for the return to the workplace.
Minister For The Environment, Climate and Communications Statements
Minister for the Environment, Climate and Communications Eamon Ryan reportedly said there was broad agreement among other ministers on the Cabinet committee for a phased easing of restrictions over the next two months, but that he would not be drawn on specific restrictions that might be eased, except to say that he expects capacity on public transport will return to 100% next week.
More Details Remain To Be Finalised
Some elements of reopening were reportedly agreed on Friday August 27, but more details reportedly remain to be finalised.
Roadmap And Announcement Due On Tuesday August 31
The committee will reportedly meet again today (Monday August 30) to finalise details before meeting to sign-off on the new reopening roadmap and making an announcement is made on tomorrow (Tuesday August 31).
Meeting With Live Events Sector Representatives
Additionally, the taoiseach, Tánaiste Leo Varadkar and Minister for Tourism, Culture, Arts, Gaeltacht, Sport and Media Catherine Martin are reportedly meeting representatives of live events sector today, and are expected to discuss the sector's reopening, capacity at future events and the potential use of COVID-19 certificates.
The Events Industry Alliance reportedly said that it will be asking the government to permit the immediate reopening of indoor and outdoor events at full capacity.
Events Industry Alliance Chairman Statements
Events Industry Alliance chairman Dan McDonnell reportedly said that the alliance is also looking for a rapid cross-government, sector-focussed group to be set up to deliver on any recommendations.
McDonnell reportedly said on RTÉ's Morning Ireland radio programme that there is a huge level of frustration and disappointment in the industry, and "we are simply looking to get open again and get back to work".
McDonnell reportedly said that the industry will be looking to ensure a safe reopening by using the vaccine certificate for entry to events and that the industry is "willing to get back open and implement requirements that are over and above any laid out by the HSE [Health Service Executive] at the moment".
MCD Productions Managing Director Statements
The managing director of event management company MCD Productions, Denis Desmond, reportedly said that the entertainment sector needs to fully reopen to full capacity events to allow for the return of theatres, large weddings and concerts, and that concert and pantomines should be permitted to take place for those individuals who are fully vaccinated.
Desmond reportedly told RTÉ's Today with Claire Byrne radio programme that "it's time to open up and live with the new normal", and that it is now a crucial stage for the Electric Picnic music festival and a final call on whether it can go ahead needs to be made today.
Desmond reportedly also welcomed news that the Cabinet is meeting and considering a full return of public transport, among other issues, and reportedly said that live events have returned in the UK and the US, with approximately 90,000 people attending the Reading Festival over the weekend.
Minister For Foreign Affairs Statements
Minister for Foreign Affairs Simon Coveney reportedly said that the government wants to open up society through September "as safely as we can" and will try to agree with the live events industry today on how best to do that.
Coveney reportedly said on Morning Ireland that the government's new reopening plan aims to give specific dates to businesses so that they can plan around set dates.
Seeking A Way To Allow Electric Picnic To Take Place
The above news follows news from Friday August 27 that Minister for Tourism, Culture, Arts, Gaeltacht, Sport and Media Catherine Martin is examining all options to facilitate Electric Picnic, including the possibility of designating the music festival as a pilot event, as well news from Thursday August 26 that Laois County Council has said that it cannot revisit its refusal to grant a licence for the Electric Picnic music festival this year, which followed news from Wednesday August 25 that the operator of the Electric Picnic music festival and the managing director of event management company MCD Productions had called on the government and Laois County Council to reverse the decision to cancel the festival this year and permit it to take place for individuals who are fully vaccinated against COVID-19.
Previous Calls For Entertainment Sector Reopening
The above news also follows news from earlier this month that the Music and Entertainment Association of Ireland (MEAI) has called for the government to set a date for the return of live concerts and other cultural events as well as subsequent news that no date was set for the return of live concerts and other cultural events following a meeting between live music sector representatives and Minister Martin, and a call from lobby and business representative group Ibec for a roadmap for the full reopening of Ireland's experience economy.
"Significantly More Clarity"
Minister for Children Roderic O'Gorman said last week that Ireland's entertainment sector will get "significantly more clarity" on reopening plans after a Cabinet meeting that's scheduled for next week, as the permitting of 40,000 attendees at Sunday August 22's All-Ireland hurling final while the entertainment sector remains closed caused upset.
© 2021 Hospitality Ireland – your source for the latest industry news. Article by Dave Simpson. Click subscribe to sign up for the Hospitality Ireland print edition.