Indoor Hospitality Services To Resume By July 26 At The Latest
Published on Jul 13 2021 8:29 AM in Features tagged: Featured Post / IHF / Restaurants Association of Ireland / VFI / LVA / RAI / Irish hotels federation / Vintners' Federation of Ireland / Licensed Vintners Association / indoor dining / EU Digital COVID Certificate / indoor drinking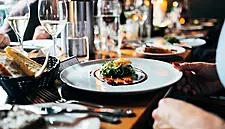 The government has announced that indoor hospitality services will resume by July 26 at the latest for individuals who have been vaccinated against COVID-19 and individuals who have recovered from the virus.
As reported by rte.ie, Tánaiste Leo Varadkar said that Cabinet has approved legislation for the resumption of indoor hospitality services that will allow people with evidence of vaccination or immunity to enter food and drinks venues.
Children will be permitted to enter venues with their parents or guardians and social distancing measures will still apply, and the measures also permit unvaccinated employees to eat a meal before or after work in the premises.
As reported by The Irish Independent, the government will be advising employers to carry out antigen testing of their employees "maybe twice a week or once a week".
As reported by rte.ie, Varadkar said that the government is aiming to implement the new rules next week, and no later than July 26.
Varadkar said that the bill contains provisions to extend indoor hospitality services to individuals who pass PCR or antigen testing, but that this will require further scientific advice, and that there are also provisions to extend it to other indoor venues such as bingo halls and bowling allies in the future.
However, Varadkar said nightclubs operating as nightclubs will not be permitted to open for "quite some time", but that nightclubs can operate as licensed venues with six to a table and table service only.
Minister for Tourism Catherine Martin said that pilot events will be held in nightclubs and dance hall settings in the near future, and that she will be seeking advice to allow for the return of live music at licensed premises.
Certificates And Checks
Varadkar said that gardaí will not be going into venues to check individual vaccine passes, but that they will be checking if venues are making those checks, and Martin said that there will be fines of up to €2,500 for forged documents or for venues that are not checking certificates.
As reported by The Irish Independent, individuals who are caught with forged indoor dining passes could face a fine and/or a month in prison, and checks will be carried out at venues by "compliance officers", meaning 350 environmental health officers and 70 inspectors with the Health and Safety Authority.
As reported by rte.ie, Varadkar said that the type of certificates that will be accepted will be specified before the date on which indoor hospitality services will be permitted to resume.
The Irish Independent quotes Varadkar as saying that he "certainly wouldn't anticipate everyone will get [digital certificates to allow them access to indoor hospitality services] on the same day.
"It's quite a big operation being led by the Department of Health and also the Revenue Commissioners. It might take a little bit longer than that."
As reported by The Irish Independent, under new legislation signed off by Cabinet, people will also be permitted to use the EU Digital Covid Certificate for international travel to show that they are fully vaccinated or have recovered from COVID-19 in the last six months. Other medical documentation will also be permitted to be used, but the details are still being discussed.
Visitors to Ireland from outside of the EU, including from Northern Ireland, the UK and the US, will be permitted to access indoor dining with vaccination or immunity identification from their own countries.
Hospitality venues will not retain any information on customers once they can show identification of immunisation or vaccination.
Time Limit
People will be permitted to remain in venues where tables are less than two metres apart for up to one hour and 45 minutes, and there will be no time restrictions in venues where tables are at least two metres apart.
Passing The Legislation
As reported by rte.ie, the government is aiming to have the legislation passed by the Dáil and Seanad before the end of this week, and after the bill, which amends the 1947 Public Health Act, passes in the Seanad, most likely on Friday July 16, it will go to President Michael D. Higgins to be signed.
Once the president signs the bill, the new system will come into operation.
Additionally, there will be a sunset clause, meaning that the law will fall in October unless it is extended by the Dáil and Seanad.
Not Ideal
Varadkar said that he knows that this is not the ideal way to resume indoor hospitality services, but that the alternative was to wait until September, when all adults are vaccinated, but that even then it may not have happened as all teenagers may not be vaccinated by then.
RAI Response
Restaurants Association of Ireland (RAI) CEO Adrian Cummins said that the announcement about the resumption of indoor hospitality services is a giant leap towards reopening hospitality businesses safely, viably and sustainably.
Rte.ie quotes Cummins as saying, "Confidence is building within the hospitality industry that we could see doors open for indoor hospitality, subject to the legislation passing through the Oireachtas this week, around Friday 23 July."
Cummins reportedly said that the measures contained in the legislation are "the only option on the table at the moment", and, "We are moving forward. It's not perfect but we will make it perfect over the weeks and months ahead."
VFI Response
Vintners' Federation of Ireland (VFI) chief executive Padraig Cribben reportedly said that the proposed plans are "cumbersome, unwieldy and unnecessary", but that the VFI will "work with members to ensure they have the protocols in place" to be able to resume operations.
Rte.ie quotes Cribben as saying on on RTÉ's Today with Claire Byrne radio programme that he understands that publicans will need to be able to verify QR codes and that "an app may be available but that could take some time", and that legislation will need to be "robust" to ensure that "it covers against any claims".
LVA Response
Licensed Vintners Association (LVA) chief executive Donall O'Keeffe said in a statement published on the LVA's website, "We don't like this approach and we don't want it. We feel it is deeply problematic on a practical level. But when the choice comes down to this proposal or staying closed for several more months, we feel we have no option but to go along with it. With some pubs having now been shut for almost 16 consecutive months we're being put over a barrel because we have to get the sector open or more businesses will go bust and thousands more will lose their livelihoods.
"The system they are putting forward is open to abuse and there will be real questions and concerns in the coming weeks as to whether everyone claiming to be vaccinated will be. It is also deeply unfair and discriminatory towards hospitality staff and others who may not yet have been vaccinated or who are unable to do so for various reasons.
"We are expecting major problems on the ground such as individuals seeking to gain access under false pretences. Tourists that arrive here on a negative PCR test won't be permitted indoors. We have received many reports of members of the public taking serious objections to providing a single contact number for a group and that creating aggravation for the staff involved, so we do anticipate there will be even more difficulties once this approach is implemented.
"Accordingly, we urgently need to see the legislative proposal underpinning this approach.
"The key question now is whether the government moving quickly enough to have this system in place by 19 July to allow indoor hospitality to proceed on that date. There can be no further delays in clarifying those questions so that everyone in our industry can start working towards a definitive date once and for all.  After the catastrophic delay experienced to date, we need the government to be crystal clear with removing the operational challenges to their approach and achieving a 19 July reopening date."
IHF Response
Meanwhile, Irish Hotels Federation (IHF) chief executive Tim Fenn stated, "[The government's] announcement was an important milestone in the reopening of society and the economy and in the recovery of Ireland's tourism and hospitality industry.
"Public health remains the number one priority of hotels and guesthouses across the country and our members are firmly committed to the implementation of safety guidelines and protocols, which cover every aspect of our operations and facilities. Since the outset of the pandemic, the implementation of government safety measures has proved highly effective, helped by the strong support of our teams and co-operation of guests. Hotels have existing processes in place around the safety of indoor hospitality and now look forward to extending a warm welcome to non-residents in line with revised restrictions.
"One of our key priorities now is the opening up of safe international travel and [the government's] announcement is a key part of that. We therefore welcome the government's decision to recognise equivalent proof of vaccination for visitors from Britain and the US, two of our key overseas markets."
© 2021 Hospitality Ireland – your source for the latest industry news. Article by Dave Simpson. Click subscribe to sign up for the Hospitality Ireland print edition.