Irish Hospitality Sector Suffering From Staff Shortage
Published on Sep 28 2021 9:45 AM in Features tagged: Trending Posts / Fáilte Ireland / Offbeat Donut Co. / Food Drink Ireland / FDI / Indeed / Pandemic Unemployment Payment / PUP / Herb Street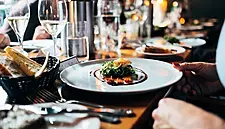 Ireland's hospitality sector is currently suffering from a shortage of staff.
As reported by rte.ie, according to the latest Labour Force Survey from the Central Statistics Office (CSO), there were 60,000 or a third fewer workers employed in the accommodation and food sector in the second quarter of 2021 compared to the second quarter of 2019.
Industry Representative Statements
The news came as Offbeat Donuts co-founder Sandra O'Casey reportedly said that it is a very trying time for the business due to staff recruitment issues.
O'Casey reportedly said, "Currently, we are finding that we have ads up on Indeed all of the time, trying to recruit staff and then trying to retain them after you trained them is quite difficult."
O'Casey reportedly added that the situation may impact plans to have longer opening hours in the run-up to the festive season, and is also putting upward pressure on wages, and reportedly said that the company employs some Brazilian students studying in Ireland who are also working part-time and want to work more or stay after their courses are finished, but are not permitted to do so under their visas.
O'Casey reportedly said, "It would be great to see if we could get more people into the country,", and reportedly added, "We'd hope that the government would maybe widen the visa and rules regarding entry into the country just to facilitate that."
Vinny Mullen, work runs Herb Street restaurant in Grand Canal Dock in Dublin with his wife, reportedly said, "It is extremely difficult. We are going to recruitment agencies and we've ads all over the place on social media, on various platforms, but there just wasn't anyone answering ads over the summer."
Mullen reportedly said, "Those that were answering ads were looking for very high salaries. They were also prone to move when they got a better offer. So it was challenging - really, really difficult - because the demand is there and people are happy to be out."
Consequently, Herb Street is reportedly having to turn customers away and curtail its opening hours, reducing its operation from seven days a week to five, including just three nights, and Mullen reportedly said that the shortages are most acute among chefs, with front of house staff starting to come back as students return to college.
Mullen reportedly said that a lot of chefs have left the industry during the pandemic and have not come back, resulting in a terrible shortage that he reportedly believes is not easily resolved.
Mullen reportedly said that if work permits could be made more available for chefs from outside the European Economic Area, it would help.
Food Drink Ireland (FDI) director Paul Kelly reportedly said regarding staff shortage, "It is really severe, it is probably the number one priority issue for companies across large parts of the sector at this stage."
Kelly reportedly said, "They are doing their best to recruit either domestically here in the Irish market or from around the rest of Europe, but they are really having a lot of difficulties."
Kelly reportedly said that this is impacting on their ability to do business as they normally would and some are having to turn away new business and restrict product ranges.
Kelly reportedly said that some employers are having to increase overtime, but that there is a limit to how much can be asked of existing staff, and that ultimately the extra costs involved will have to be recovered and that is going to put pressure on retailers and consumers.
Kelly reportedly called for a real focus on labour activation measures to get people off the Live register, and reportedly added that there also needs to be greater responsiveness in the work permit system, and more flexibility in visa approval process.
Indeed Data
Meanwhile, job listing website Indeed has said that hospitality jobs are rebounding, but the sector is battling to fill posts.
Indeed stated, "The ending of lockdown and reopening of international travel has supported a surge in recruitment in the tourism industry, according to new data published today by jobs site Indeed to mark UN World Tourism Day.
"Job postings containing keywords such as 'tourism' and 'hospitality' in Ireland more than doubled (+104%) as a proportion of total job postings in the three months to the end of August compared to the lows of lockdown in 2020. The recovery in hiring kicked off in May, which was the first month to show an increase (+87%) in recruitment after 15 consecutive months of decline.
"Whilst employers in the sector are searching for staff, the pace of recovery in demand for tourism/hospitality jobs is less rapid, which is consistent with reports that jobs are proving hard to fill. Searches for tourism/hospitality related roles were up 38% in the three months to the end of August, rising by only a third of the pace at which employers are increasing job posts.
"Earlier this month, Fáilte Ireland launched a campaign to attract jobseekers, saying that many tourism businesses have been unable to capitalise on the available demand for their service due to staff shortages.
"With inbound tourism effectively shut, and domestic tourism severely curtailed, the pandemic has had a severe impact on a sector that accounts for 5% of GDP. Of the 110,700 people in receipt of Pandemic Unemployment Payments (PUP) as of 21st September, over 19,000 were in the hospitality/restaurant/food sector, down from a peak of 131,000 in May 20203.
"Indeed's monthly Job Search Survey, also published today, shows that care responsibilities such as parenting and fears about contracting COVID in the workplace are continuing to act as barriers to those without jobs and not in receipt of PUP returning to work.
"The research also shows that PUP recipients have become much more active in their job search, with the proportion of respondents in this category saying they are urgently looking for a role rising from 13% in July, to 36% in August. That increase comes as phased reductions in PUP payments kicked in during September.
"Overall demand for labour has continued to rise, with job postings as of 10 September 2021 on Indeed Ireland 32.2% above the pre-pandemic baseline of 1 February 2020. With employers in a range of sectors in addition to tourism/hospitality encountering hiring bottlenecks, the supply of workers is struggling to keep pace.
Indeed Economist Statement
Indeed economist Jack Kennedy stated, "Tourism accounts for one in 10 jobs worldwide and is a major source of employment due to its labour-intensive nature, so the recovery of the sector will play an important role in helping reduce unemployment levels in Ireland. The industry is the economic backbone of many rural communities and is particularly important for younger people who will often use part-time roles to help them fund their studies.
"Our data paints a welcome picture of a sharp recovery in demand from employers as lockdown restrictions eased. It also shows that the level of demand from job seekers has not rebounded at the same pace, explaining the acute staff shortages that we are hearing from those in the hotel, pub and restaurant trade. This is likely compounded by a dip in supply of workers from overseas, who often provide necessary support to the sector.
"For some, concerns about exposure to COVID-19 remains a barrier to returning to work. A sustained period of reduced case numbers and hospitalisations, coupled with high vaccination rates may help reassure this cohort that is holding back to avail of the large number of opportunities that are out there.
"The recovery in labour demand is being felt through the economy, with job postings over 30% ahead of pre-pandemic levels, and it is likely that other sectors of the economy beyond tourism and hospitality may also find roles challenging to fill."
World Tourism Day Aim
Indeed added, "The aim of World Tourism Day is to raise awareness of tourism's social, cultural, political and economic value. The sector's contribution to job creation is specifically recognized under section 8.9 of the UN's Sustainable Development Goals."
© 2021 Hospitality Ireland – your source for the latest industry news. Article by Dave Simpson. Click subscribe to sign up for the Hospitality Ireland print edition.