Is Cash Still King?
Published on Jun 30 2015 5:16 PM in Features tagged: cash handling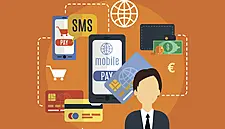 In the digital age, the tap of a card is often all consumers need to pay for products and services. But where does this leave the future of cash transactions? And how is the hospitality industry adapt...
In the digital age, the tap of a card is often all consumers need to pay for products and services. But where does this leave the future of cash transactions? And how is the hospitality industry adapting its cash-handling systems to suit this evolution?
---
There is growing belief among certain economists that we are well on our way to a cashless society. While waving goodbye to the world of of paper cash has growing support in the economics community, interestingly, it's now being touted that consumers are coming around to the idea.
Everybody loves money, but are folk becoming increasingly sceptical of the traditional paper and coin kind? Last month it was revealed that Denmark is on track to become the world's first cashless nation, after its parliament proposed a law that would allow stores and service providers to refuse to accept cash payments in exchange for goods or services.
It is understood that Denmark is hoping to get rid of the option to pay by cash by as early as 2016.
Already nearly a third of all Danish citizens prefer to use Danske Bank's official app, MobilePay, to pay for services and transactions, and it is expected that the proposal will be met with little opposition.
Digital payment options, such as Google Wallet, Apple's Passbook and the UK's Paym, are starting to become more commonplace, with experts predicting that Nordic nations could become cashless by 2030.

Those in favour of the move argue that going cashless would save the service industries money on security, in addition to time spent counting money at the close of business, while adding that society has changed so much that there is no longer a need for requirements on cash payments.
Meanwhile, in the US, research by Nilson shows that the amount spent using Visa and MasterCard debit cards has risen nearly ninefold since 2000.
For some, it's the convenience, especially now that cards enabled for contactless payment save customers the trouble of keying in a PIN number.
In addition to this, last year Juniper Research forecast that smartphone payments would hit 9.9 billion by 2018, with one in five phones acting as digital wallets.
Cash Remains Consumer King
Cash was overtaken by other payment methods in the UK for the first time last year, according to figures from the Payments Council, yet it remains king with consumers.
In the UK, businesses, consumers and financial organisations together made 18.3 billion cash payments during 2014, versus 19.8 billion non-cash payments. Cash payments made up 48 per cent of the number of transactions, with automated and card payments accounting for the rest.
However, among consumers alone, cash remains the most popular way to pay, despite the continued roll-out of contactless payments and other innovations that make it easier to do away with notes and coins.
Private individuals were responsible for 99 per cent of cash payments made during the year, and chose coins and notes for 52 per cent of their overall transactions.
While 1.6 million consumers predominantly used cash, representing 3.1 per cent of all adults, there were 2.3 million consumers who rarely used it.
Nearly 40 per cent of those who depended on cash were aged 65 or older, while half of those who used it infrequently were aged under 35.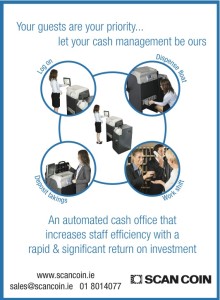 Cash Handling
Although the way people pay for services is evolving rapidly in the digital age, it looks like cash will be hugely important to customers, particularly here in Ireland.
In the hospitality industry, having an efficient cash-handling system will ensure that management is immediately aware of any discrepancies between sales, stock and what is in the till.
Working in the sector usually means hard work and long hours, therefore, trying to ensure that the business is successful may mean that work gets harder and hours get longer.
Consequently, it is important to ensure, for all the effort involved, that no monies are lost between the sale to a customer and the cash being safely banked.
"Cash remains a popular and enduring payment method, and so remains an important management issue for the hospitality industry," Tom Weafer, commercial manager at Scan Coin Ireland, tells Hospitality Ireland.
He adds that all hospitality businesses can benefit from improving cash management, with hotels with multiple till points, in particular, likely to reap the rewards.
"Manual cash counting can be both labour- and cost-intensive. An efficient cash-handling system will streamline your cash processing by automating the process, resulting in significant savings in time and money," says Weafer.
"All your cash processes are handled in a single, accurate and auditable system, from floats out, cash in and all the change processes in between," he adds.
For managers in the hospitality sector, there are a number of time-consuming activities involved in keeping cash flowing through a long process chain – from acceptance, checking for forgeries, change provision and float supply, to sorting, counting and reconciliation.
"Improving your cash management increases efficiency and allows staff to focus on the guests, rather than back-office operations," according to Weafer, who cites Scan Coin's RCS and Cashlogy solutions, which handle a number of cash-office operations to streamline cash handling so that repeated and time- consuming manual cash handling is eliminated.
RCS enables faster, more efficient routines for collecting cash floats and depositing the day's takings, while the front-of-house solution, Cashlogy, is an automatic cash drawer that customers can pay directly into with notes and coins against POS transactions.
Handling Pitfalls
Untraceable cash discrepancies generate enormous losses for all hospitality businesses, so the use of correct cash- handling solutions eradicates the losses derived from petty theft, errors in change-giving, or the acceptance of counterfeit coins and notes, as well as reducing the risk of a possible hold-up or robbery. A system like Cashlogy provides closed-loop cash handling, which removes any manual cash handling by staff, removing the risk of errors and shrinkage, while RCS gives full accountability for cash to an individual member of staff.
In the hospitality industry, the types of till in operation range from a simple electronic till, a preset style of electronic till, to an EPOS (electronic point of sale) system, which is a computerised till with keypad input.
The EPOS systems usually provide extensive management information, which helps control all aspects of the business, including petty-cash expenditure. It is important to use the right till system for the business. A good till system for any hospitality business should help to prevent or overcome fraudulent practices, pilfering and carelessness by staff, while giving the owner/operator sufficient information to run the business efficiently, also giving them information appropriate for the size and type of business.