July 26 Is Target Date For Resumption Of Indoor Hospitality Services
Published on Jul 16 2021 8:02 AM in Features tagged: Featured Post / National Public Health Emergency Team / Nphet / indoor dining / indoor drinking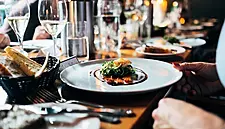 Monday July 26 is the government's target date for the resumption of indoor hospitality services, Tánaiste Leo Varadkar has said.
As reported by rte.ie, Varadkar said that there are "reasons for real concerns and caution" as the Delta variant of COVID-19 starts to "surge", and stated, "Now unvaccinated people of all ages are the ones most at risk. The next few weeks will be the most dangerous for them."
Varadkar's statements follow news that the Dáil has passed legislation that will permit hospitality venues to resume indoor services for individuals who are fully vaccinated against COVID-19 and individuals who have recovered from the from the virus within the last six months.
As reported by The Irish Times, Varadkar said that he anticipates that it will be Monday July 26 before the new legislation is cleared through the Houses of the Oireachtas and signed into law.
As reported by rte.ie, Taoiseach Micheál Martin said that the new legislation on the resumption of indoor hospitality services "flows from" public health advice in terms of prioritising those who have been vaccinated or who have recovered from COVID-19.
Children And Indoor Dining
As reported by The Irish Times, children under the age of 18 in a "family bubble" will be permitted to dine indoors despite not being vaccinated.
However, Ireland's chief medical officer Doctor Tony Holohan's has said that it is safer not to bring children into indoor hospitality settings, and, as reported by The Irish Times, public health expert Professor Anthony Staines said that children cannot safely dine indoors with their parents at current COVID-19 incidence rates.
Staines reportedly told Newstalk radio that if case numbers stay high, it will not be safe for children to dine indoors with their parents, and reportedly stated, "If there were 10 cases of COVID in the country per day, it would be irrelevant, more or less. But there's not. The numbers are expected to rise."
As reported by rte.ie, when asked about Holohan's statement, Martin said that the government made a decision on "balance" that children will be permitted to dine alongside fully vaccinated parents.
Martin reportedly said, "One has to have a balance here in terms of how people operate and how people live their lives. The chief medical officer will advise and government will make decisions in terms of broader issues that government has to consider."
The Taoiseach reportedly said that people can exercise their own judgement, and, "In many instances, there won't be any difficulty in terms of children, in my view, accompanying parents in controlled environments."
Martin reportedly said that the exception for children is "understandable" due to the circumstances of families, and, "We need to trust people too. This is a collective effort as a society to try and deal with an unprecedented global pandemic with many twists and turns."
The Taoiseach reportedly said that people need to be vigilant as individuals and take the advice of the Holohan seriously.
Martin reportedly said, "But I think government has created a good balance here. We have reopened the economy significantly since the beginning of the year...whilst keeping a check on the numbers, relative to other other economies and societies."
A "Different Phase Of The Pandemic"
Martin reportedly said that the government will also be working on ventilation "over the next while, particularly in terms of schools" and that Ireland is in a "different phase of the pandemic".
Martin reportedly said that the government is concerned about the Delta variant of the COVID-19 due to its increased transmissibility and because case numbers and hospitalisations are increasing, and stated, "I have concerns obviously with the Delta variant. There are risks but Delta is now rising even prior to the reopening of indoor hospitality but it is a substantially different situation to the Christmas period in that the majority of those eligible for vaccination are fully vaccinated."
Martin reportedly said, "As we're vaccinating more and more people, the nature to our response to the pandemic will evolve and change.
"But what will not change is the need for basic common sense in terms of how we behave and how we adhere to the guidance and regulations around public health."
Unvaccinated Individuals "Are At Very High Risk"
Leo Varadkar reportedly used his last opportunity to address the house on COVID-19 before its summer recess to warn individuals who are not fully vaccinated that they "are at very high risk".
The Tánaiste reportedly said that Ireland is "entering a new phase" of the pandemic in which the country has "weakened the connection between cases and hospitalisations and deaths" but "we have not broken it", and stated, "Now, unvaccinated people are the most vulnerable" and "are at greater risk than ever before, because this virus is so transmissible".
Varadkar reportedly warned that the recent "major surge in cases" is "almost entirely in younger people and people who are not fully vaccinated", and appealed to them to "avoid socialising indoors" and non-essential overseas travel.
Religious Ceremonies And Summer Camps
Varadkar reportedly also told the Dáil that the government has asked the National Public Health Emergency Team (Nphet) "to review over the next couple of weeks" at how religious ceremonies, including christenings, communions and confirmations, might be safely held and to look again at the issue of indoor summer camps.
The Tánaiste reportedly said that Nphet has been asked to advise the government on these issues within "the next week or two", and noted that an increase in cases among children is very different to previous phases of the pandemic.
© 2021 Hospitality Ireland – your source for the latest industry news. Article by Dave Simpson. Click subscribe to sign up for the Hospitality Ireland print edition.