Latest Lifting Of Restrictions Is "Significant, And Welcome, Milestone", Says Taoiseach
Published on Sep 20 2021 8:01 AM in Features tagged: Featured Post / Health and Safety Authority / National Public Health Emergency Team / Nphet / CIPD Ireland / CIPD / Bray Bowl / Play Activity & Leisure Ireland / PALI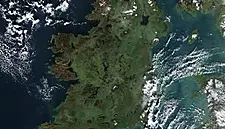 A number of COVID-19 pandemic-related restrictions have been lifted today (Monday September 20, 2021) in what Taoiseach Micheál Martin said is "another significant, and welcome, milestone for Ireland", as the latest phase of the government's recently-unveiled new reopening plan for society commences.
Latest Restrictions Lifted And New Rules
As reported by rte.ie, from today, rules for organised indoor group activities are being relaxed, limits on outdoor group activities for participants are being removed and attendance at offices and places of work for specific business requirements can commence on a phased and staggered basis.
Organised indoor group activities such as indoor sports, and indoor arts, culture, dance, yoga, pilates and art classes can now take place with capacity limits of 100 people where all participants are either fully vaccinated against COVID-19 or have recovered from the virus in the last six months, and all restrictions on outdoor group activities have been removed.
In circumstances in which those attending have mixed immunity, pods of up to six participants are permitted, excluding adult leaders and teachers, and multiple pods are permitted subject to protective measures, with the number of pods being dependent on the size of venues and substantial social distance between each one.
As regards attendance at offices and places of work, employers are required to continue to abide by the Work Safely Protocols, including maintaining two-metre distancing between employees, wearing masks in certain circumstances and ensuring adequate ventilation and hygiene measures are in place.
In many cases, this means that pre-pandemic office capacity will have to be curtailed for the time being, with employees taking turns to come in and using hot desks while present.
Where social distancing requirements cannot be maintained, employers will have to adopt work-around measures, such as screens and partitioned areas, the Health and Safety Authority will reportedly continue to be the lead agency regarding workplace compliance with the protocols, and it and other state agencies will reportedly continue to carry out inspections.
Taoiseach Statement
Taoiseach Micheál Martin reportedly stated, "Today marks another significant, and welcome, milestone for Ireland as we continue to emerge from the COVID-19 pandemic.
"This progress has been made possible by the continued and consistent hard work of the Irish people, and the exceptional progress of a national vaccination programme that has fully vaccinated over 90% of the adult population.
"Of course, we cannot let our guard down, and we all have a part to play in protecting our hospitals and most vulnerable.
"In the coming weeks, the government will announce how we intend to mark the sacrifice and efforts of frontline workers in the fight against COVID-19.
"We will ask too how we can best honour and commemorate all those who lost their lives in this terrible and unprecedented pandemic."
Tánaiste Statements
Tánaiste and Minister for Enterprise, Trade and Employment Leo Varadkar reportedly described today as a "big day for thousands of businesses who are opening for the first time since the pandemic and thousands more people getting back to work".
Varadkar reportedly said, "It has been an incredibly challenging 18 months for those running indoor activities.
"Business owners have had to make huge changes to their business, from moving outdoors to moving online. Your efforts to date have doubtless saved lives."
Varadkar reportedly said that the government really wants to see remote working become a permanent fixture of Irish working life.
The tánaiste reportedly stated, "The pandemic has taught us what's possible in terms of remote working. It transformed the world of work overnight. I hope we can learn something from what worked for workers and employers during that time and incorporate it post-COVID.
"We really want to see remote working become a permanent fixture of Irish working life. I hope employers are speaking to their staff to figure out what works best for them and the business as this phased return begins."
Varadkar reportedly credited the Ireland's vaccination programme for allowing the government to be in a position to ease measures further, and reportedly said, "We are now one of the best in the world for vaccine uptake, 90% of people over 16 are now double-jabbed. It's a testament to the Irish people for trusting the science, trusting our health care professionals and protecting each other."
CIPD Ireland And Director Statements
The representative body for HR professionals, CIPD Ireland, reportedly said that the return to the workplace will be like starting a new job for many workers.
CIPD Director Mary Connaughton reportedly, "In the coming weeks, they will have to cope with changes to the work practices they've adopted while working from home during the last year.
"It's another round of upheaval, albeit on a planned basis, and it should be acknowledged and thoughtfully dealt with."
Vaccination Status Will Remain A Tricky Issue
Vaccination status will reportedly remain a tricky issue for many employers because vaccination is not mandatory and it is reportedly not permissible for businesses to ask their employees what their vaccination status is.
Bray Bowl General Manager Statements
Boz Quinn, the general manager of Bray Bowl in the Co. Wicklow town of Bray, reportedly said regarding being able to return to work, "Today was very exciting coming back into work, my wife took a picture of me and the kids, it was like the first day of school."
Bray Bowl closed since October of 2020.
Since the COVID-19 pandemic began in early 2020, bowling alleys, adventure play centres and amusement arcades have been open for just three months.
Quinn reportedly said, "It has been a real struggle, we thought we'd open with indoor hospitality just like last summer, but that didn't happen."
Quinn reportedly said that the indoor entertainment and leisure industry "were totally forgotten about", and, "There are less and less in this industry now, and it would be a real shame to see another amenity to Bray close, we've been a big amenity to Bray for the last 30 years."
The number of people employed by Bray Bowl has reportedly decreased from 21 to 15, with many part-time workers moving on.
The safety measures in place at Bray Bowl reportedly include hand sanitiser stations, perspex sheeting separating bowling alleys, a requirement to pre-book and a requirement to wear masks while moving around the arcade.
Bray Bowl's phone has reportedly already been busy with calls from parents booking birthday parties.
Quinn reportedly said, "Before the pandemic, our birthday parties were flying, our BYOB nights were great as well and everything was looking rosey, so now we just have to try and get that business back."
Play, Activity & Leisure Ireland Statement
Play, Activity & Leisure Ireland (PALI), which represents over 130 business in the leisure industry, reportedly said that the sector was already under pressure with high insurance costs, and that the closures because of public health restrictions have left many struggling and risking closure for good.
Nphet Agreement And Next Phase Of Lifting Restrictions
The above news follows news from Friday September 17 that the National Public Health Emergency Team (Nphet) had agreed to recommend that the government proceeds with its plan for a further lifting of COVID-19 pandemic-related restrictions today, based on the latest data on the coronavirus at the time.
The next phase of lifting restrictions is currently planned to take place on October 22.
© 2021 Hospitality Ireland – your source for the latest industry news. Article by Dave Simpson. Click subscribe to sign up for the Hospitality Ireland print edition.