Minister Optimistic About Phased Live Indoor Events Return In September
Published on Aug 31 2021 8:02 AM in Features tagged: Featured Post / hotel quarantine / Event Industry Alliance / mandatory hotel quarantine / National Campaign for the Arts / Give Us The Night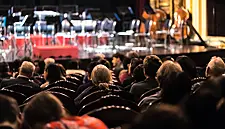 Minister for Tourism, Culture, Arts, Gaeltacht, Sport and Media Catherine Martin has said that she is optimistic about the chances of live indoor events returning on a phased basis in September.
As reported by rte.ie, exact dates for the lifting of restrictions were considered further by the Cabinet COVID-19 Committee yesterday (Monday August 30) afternoon.
Minister Martin reportedly said following a meeting with the live events sector yesterday morning, at which Taoiseach Micheál Martin and Tánaiste Leo Varadkar were also in attendance, that the proposed phased return of live indoor events would initially involve the use of COVID-19 vaccine certificates, and the industry requires reopening dates and they will be provided today (Tuesday August 31).
Minister Martin reportedly added, "Also in terms of drama and indoor dance for children, it was emphasised that this is something that involves more than 250,000 children and that is something I am seeking to recommence in September in a phased way as well."
Event Industry Alliance Response
The Event Industry Alliance, which was represented at yesterday's meeting, reportedly said that it was disappointed and frustrated that no reopening date was provided, and it is reportedly seeking an early September safe reopening date for individuals who are fully vaccinated against COVID-19 to attend full capacity indoor and outdoor events.
The Event Industry Alliance reportedly also wants business and employee supports to remain in place until June of 2022 to allow the sector to recover and reportedly called for a cross governmental sector focussed group, and meaningful engagement with the government to continue.
Promoter and Events Industry Alliance member Justin Greene reportedly pleaded with the government to take on board comments that were made by members of the sector at yesterday's meeting, and reportedly said that it remains disappointing that no assurances or firm dates for reopening were given.
Greene reportedly said on RTÉ News at One was a lot of frustration at the meeting because of the lack of commitment to a date for reopening or to maintaining welfare supports for the industry.
Green reportedly said that the taoiseach, the tánaiste and Minister Martin "seemed to have listened to our concerns" and had said that they would take everything on board and onto the COVID-19 Committee and the full Cabinet today before a decision is made.
Greene reportedly said that "after 537 days of closure, it has been a terrible period for everyone involved", and that it will take until next year to recover and the industry needs pandemic supports to remain in place for longer.
Greene reportedly also stressed that the commercial events sector does not receive taxpayer funding and just wants to reopen but that it needs 100% capacity in order to do so.
The industry reportedly represents 35,000 individuals and is reportedly worth €3.5 billion to the economy.
National Campaign For The Arts Reaction
The National Campaign for the Arts reportedly said that yesterday's meeting was positive and that it looks forward to a nuanced approach to the reopening of arts and live event sectors.
Give Us The Night Campaign Response
The Give Us The Night campaign reportedly called for a working group to be established to facilitate more communication between the Department of Health and indoor venue operators on reopening the sector.
Spokesperson Sunil Sharp reportedly said on RTÉ's Today with Claire Byrne radio programme that the meeting with the government "went well", but a reopening date was not given.
Sharp reportedly said, "We're finding out more through the media, really, than we are back from government, but I think we all really appreciated the engagement today and it definitely made us feel a little bit clearer in terms of the government's commitment to indoor venues and nightclubs, which obviously do serve up certain challenges that other types of events don't."
Sharp reportedly said regarding accessing these premises with COVID-19 certificates that it did not appear that that had been fully decided and that the sector is of the view that "testing is the future, rather than COVID certs" and the taoiseach appeared to agree with this.
Aiming To End Almost All Restrictions By October 22
The government is reportedly aiming to end almost all COVID-19 pandemic-related restrictions by October 22 under plans that are going to Cabinet today.
The requirement for mask wearing in certain settings will reportedly remain, however.
The final decision on the further easing of restrictions will reportedly be made at a full meeting of the government today.
Minister For Public Expenditure Statements
Minister for Public Expenditure Michael McGrath reportedly said that COVID-19 restrictions will begin to unwind from next week, and that there will not be a declaration that COVID-19 is over but there will be a "gradual move" from regulations to personal responsibility.
Minister For Health Statements
Minister for Health Stephen Donnelly reportedly said that the roadmap that will be announced following today's meeting will be a detailed and comprehensive plan, and that there is a lot about which to be optimistic about, but reportedly added that he is watching other places with significant increases in cases including Northern Ireland, Wales and Scotland, and that there remains a need to be vigilant and to keep the guard up.
Minister For Transport Statement
Minister for Transport Eamon Ryan reportedly said that there will be a series of phased relaxations of restrictions for the month of September starting with public transport to accommodate the return of schools, colleges and people going back to the office.
"We Are Opening Too Many Things, Too Quickly"
Professor of Immunology at Dublin City University (DCU) Christine Loscher reportedly told RTÉ's Drivetime radio programme that Ireland is "racing too fast" in terms of reopening society and that the reopening schools should be prioritised over other sectors of society, and that the impact of them reopening over a few weeks should be assessed and then a return to full capacity on public transport should happen.
Loscher reportedly said, "We are opening too many things, too quickly. We have staggered things until now and it has worked well."
Outdoor Events Incentives, Public Transport And Hotel Quarantine
The above news follows yesterday's news that the government is considering proposals to incentivise promoters to limit attendance at outdoor events to individuals who fully vaccinated against COVID-19 by offering them increased capacity, as well as news that Minister Ryan said that public transport will return to 100% capacity this week and news that the Department of Health said that mandatory hotel quarantine will continue to operate for as long as is considered necessary.
© 2021 Hospitality Ireland – your source for the latest industry news. Article by Dave Simpson. Click subscribe to sign up for the Hospitality Ireland print edition.