New Guidelines For Hospitality Venues Will Be Practical, Says Taoiseach
Published on Oct 21 2021 8:02 AM in Features tagged: Featured Post / Restaurants Association of Ireland / LVA / RAI / Licensed Vintners Association / indoor dining / indoor drinking / Hidden Agenda Promotions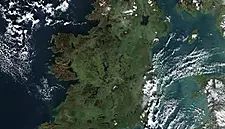 Taoiseach Michéal Martin told a meeting of his party last night (Wednesday October 20) that soon-to-be-published new guidelines for hospitality venues that will apply from tomorrow (Friday October 22)...
Taoiseach Michéal Martin told a meeting of his party last night (Wednesday October 20) that soon-to-be-published new guidelines for hospitality venues that will apply from tomorrow (Friday October 22) will be practical and common sense will apply.
The news follows news from earlier this week that the government has announced that Digital COVID Certificates will be required to enter indoor hospitality settings including restaurants, cafés, pubs and nightclubs until February of 2022 at the earliest, among a number of other measures.
As reported by rte.ie, the new guidelines are expected to permit the multiple booking of tables in bars and restaurants, and it is also likely that table service will continue in bars but socially distanced queues will be permitted at bar counters.
However, people will reportedly not be permitted to congregate at bar and the move is reportedly aimed at addressing staff shortages.
Additionally, permitting people to stand at live events could reportedly involve some limit on capacity, along with both ticketing and COVID-19 certificate requirements.
The Taoiseach reportedly said that collective behaviour must change to level the current increase in COVID-19 cases and that antigen testing will be used widely.
Talks Between Officials And Industry Representatives
A spokesperson for Minister for Tourism, Culture, Arts, Gaeltacht, Sport and Media Catherine Martin reportedly said that talks between officials and industry representatives on these issues yesterday (Wednesday October 20) were constructive.
The Licensed Vintners Assocation (LVA) reportedly described yesterday's negotiations with departmental officials regarding the further easing of restrictions on hospitality as a "useful engagement", and that it hopes to have clarity on the reopening guidelines for late bars and nightclubs by this evening (Thursday October 21).
However, LVA chief executive Donall O'Keeffe reportedly said that it as a "ridiculous" and "chaotic" situation that the new guidelines have not yet been published following a long closure.
O'Keeffe reportedly said that it is important that bar counter service is permitted as it is at the core of service provided in late bars and nightclubs, and that the sector welcomes increased regulation of COVID-19 certificate, and that it is clear that there will be more attention on this in this next stage of reopening.
O'Keeffe reportedly warned that the industry is under "enormous pressure" to get things right ahead of the reopening of nightclubs and live venues "for the first time in 585 days" on Friday October 22, and that it is "extremely late" to be receiving guidelines today.
O'Keeffe reportedly said that the revised guidelines are needed "as soon as possible" as "time is really pressing."
Government officials from three departments reportedly held separate meetings with different representatives from the hospitality sector on Wednesday October 20, with officials from the departments of tourism, health and enterprise reportedly meeting vintners, hotels and restaurants regarding new guidelines that flow from the further easing of restrictions.
Meanwhile, contacts are reportedly continuing with the events and music organisations about the reopening of live venues and nightclubs reopen on Friday October 22.
Minister Martin reportedly said that engagement with the sector is continuing, but that she is "confident" of a solution to the issue of standing in music venues within the next 24 hours.
New Enforcement Measures
Separately, new enforcement measures were reportedly due to be considered at a meeting of the government's Regulatory Forum yesterday.
This reportedly involved government officials meeting with gardaí and the Health and Safety Authority as well as environment health officials.
Labour Party Leader Statements
Labour Party leader Alan Kelly reportedly said that the government's plans for reopening nightclubs and live events on Friday October 22 are both "unworkable and incomprehensible".
Kelly reportedly said while speaking in the Dáil that the government could have consulted with the entertainment industry in advance of this week's announcement but instead put "the cart before the horse".
Protecting Lives And Health Had To Inform Approach
The Taoiseach reportedly said in reply that protecting lives and people's health had to inform the government's approach above and beyond anything else, and that the central message from the government regarding the further easing of COVID-19 restrictions is that it has to be done in a "cautious" way.
The Taoiseach reportedly said that the measures proposed for live entertainment had to be "ring-fenced", and that he accepts that the industry did not get a lot of notice but that that is just the way the situation evolved.
The Taoiseach reportedly noted that there were a lot of calls for the enforcement of digital COVID certificate regulations even though the government was heavily criticised when the measure was introduced regarding perceived threats to civil liberties.
"Eleventh Hour"
The Restaurants Association of Ireland (RAI) reportedly said that it is "the eleventh hour" and there are no full guidelines yet.
RAI President Mark McGowan reportedly said while speaking on RTÉ's Morning Ireland radio programme that hospitality venues are hoping that guidelines will be given out sooner rather than later, and, "There's a lot of decisions that have to be made. We have to plan rosters, we have to plan the logistics of our table plans in the restaurant, and we may have to hire more staff as well.
"The fact that the COVID certs are here to stay - which I actually welcome - I think it is an additional labour cost, but what it does is mitigate risk and I think that's ultimately what this is all about."
Frustration In The Live Music Sector
There is reportedly also a huge amount of frustration in the live music sector with the government's partial reopening plan.
Dave Parle, who runs Hidden Agenda Promotions, reportedly said that it appears that shows in live venues this weekend, sold to full capacity, are not allowed to happen because of their earlier start time.
Parle reportedly said while speaking on Morning Ireland that he has a show that is due to open on Friday October 29 that starts at 9pm and runs until 3am in a club setting, and, "I have no idea if that's allowed within the current guidelines.
"It is really, really last minute and that is very stressful for everyone in the industry, from promoters to managers to the artists themselves who've been waiting a long time to get back out there."
Minister For Further And Higher Education Statements
Minister for Further and Higher Education Simon Harris reportedly said that the extension of some COVID-19 restrictions may encourage more people to get vaccinated.
Harris reportedly said while speaking at a pop-up vaccine clinic at Trinity College Dublin that he believes that many young people might be taking into consideration the reality that COVID-19 certificates will be in place until the spring of 2022, and, "About 850,000 people in our country are aged between 16 and 29. The last set of figures I saw showed around 695,000 of them have been fully vaccinated, that's huge, really good. But that also means, if we do our maths, around 155,000 who are not yet fully vaccinated."
When asked if he felt that there has been a lack of compliance with COVID-19 certificates on the part of business, Harris reportedly said that regulators will meet to discuss the matter and that all options are on the table to improve enforcement.
However, Harris reportedly said that he believes that better compliance with existing enforcement of measures can be achieved without introducing additional sanctions.
© 2021 Hospitality Ireland – your source for the latest industry news. Article by Dave Simpson. Click subscribe to sign up for the Hospitality Ireland print edition.