No Date Set For Return Of Live Concerts And Cultural Events Following Meeting
Published on Aug 19 2021 8:08 AM in Features tagged: Featured Post / Restaurants Association of Ireland / RAI / Electric Picnic / National Public Health Emergency Team / Nphet / Festival Republic / Music and Entertainment Association of Ireland / MEAI / Event Industry Alliance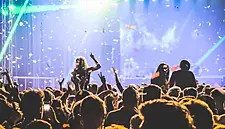 No date has been set for the return of live concerts and other cultural events following a meeting between live music sector representatives and Minister for Tourism, Culture, Arts, Gaeltacht, Sport and Media Catherine Martin.
The news follows news from yesterday (Wednesday August 18) that the Music and Entertainment Association of Ireland (MEAI) has called for the government to set a date for the return of live concerts and other cultural events, and that of members of the live music sector would meet Martin yesterday to discuss a roadmap for the return of live concerts and other cultural events in Ireland.
As reported by rte.ie, MEAI has expressed deep disappointment that no date was set for the return of live concerts and other cultural events following yesterday's virtual meeting with Martin, with lasted two hours.
The government is reportedly due to publish a roadmap for the live music sector next month, but industry representatives want a specific date to return of concerts and cultural events, and MEAI is reportedly calling for Martin to have a seat on the Cabinet Committee on COVID-19 so that the live music sector can be properly represented.
Martin reportedly told 15 groups representing the sector that she is disappointed that her plan to reopen the sector was not approved by the Cabinet COVID-19 Sub Committee and that she has requested a temporary seat on the committee.
Martin reportedly wrote to the three party leaders two weeks ago about her concern for the sector and her unhappiness with the pace of reopening and disparity between sports and music events.
A source reportedly told RTÉ News that Martin gave them a roadmap with dates to be considered at the Committee on August 6 and is disappointed that it was not approved.
Taoiseach Micheál Martin, Tánaiste Leo Varadkar and Chief Medical Officer Doctor Tony Holohan were reportedly invited to attend yesterday's meeting, but sent representatives instead.
MEAI Spokesperson Statements
Rte.ie quotes MEAI spokesperson Matt McGranaghan as saying, "The minister was unable to give that commitment and that's incredibly disappointing. The industry wants a safe and responsible and sustained reopening. Even after 18 months the industry is showing that commitment to safety.
"The minister delivered a very impassioned address to all the attendees at the very beginning and at the end. She gave a very passionate commitment to supporting the reopening of the industry. She expressed her own frustration that we have not reopened yet, not even a phased one.
"The minister has told us that she has requested us to be on the Covid Sub Committee even as a temporary member and has not been granted that seat yet. We feel that the Taoiseach needs to hear this industry and needs to give a seat on that committee to Minister Martin so she can represent her industry."
MEAI Co-Founder Statements
MEAI co-founder Jackie Conboy reportedly said on on RTÉ's Drivetime radio programme, that the sector may be looking at a road map in two weeks, but reportedly added, "We do not want a roadmap, we want a date. Give us a date, so that we can plan."
Conboy reportedly said that the sector is not one in which a switch can be thrown and work resumes, and planning is needed.
Conboy reportedly said that the sector is facing cuts to the Pandemic Unemployment Payment (PUP) in mid-September, and reportedly added, "It's incredible to think that a sector that is still closed are going to be cut. The only lifeline we have at the minute is the PUP."
Conboy reportedly said that MEAI asked Martin to fight on behalf of the sector to make sure that the PUP remains at the current rate so that individuals who are on €203 are not moved to jobseeker's allowance as "they have work, except they're restricted from doing it by the government."
Conboy reportedly said, "It's incredible that our own government can force people to be unemployed, that are employed, they have work, they can get gigs but they cannot do it because of the restrictions that are in place", and that he and other representatives of the live entertainment industry were "shocked" to find out that Martin is not on the Cabinet Committee on COVID-19, which he reportedly said is "disastrous for our industry."
Festival Republic Director Statements
The director of Festival Republic, Melvin Benn, reportedly said that the failure to allow live music events to return, including Electric Picnic, for which Laois County Council has refused to grant a licence this year, is due to a failure in political leadership and is "wrong".
Benn reportedly told RTÉ News at One that given the "incredibly high level of vaccination in Ireland" it is "unnecessary and wrong" not to permit live music events to take place.
Benn reportedly said that he wanted to Electric Picnic to be run as a test event for fully vaccinated individuals and using lateral flow tests, and "still nobody was responding at all."
Event Industry Alliance Representative Statements
Dan MacDonnell of the Event Industry Alliance reportedly said on RTÉ's Morning Ireland radio programme that they are continuing to push for the safe return of live indoor events from September 1 for fully vaccinated individuals as well as for the extension of pandemic support for the sector until June of next year.
MacDonnell reportedly said that there has been "no progress, no date and no promise of a date" for the return of live entertainment and that more engagement is now needed.
MacDonnell reportedly said that attendees at yesterday's virtual meeting with Minister Martin were "dismayed and totally disappointed" that the Taoiseach, the Tánaiste and Minister for Health Stephen Donnelly did not attend the meeting, though they had representatives present, and that while he feels sorry for the position in which Minister Martin has been left, and while she is fighting, the outcome "is not good enough."
MacDonnell reportedly said that Minister Martin should be permitted to sit on the Cabinet Committee on COVID-19 while it is discussing the reopening of the events sector, and that there are 35,000 people in full-time employment in an industry that is worth €3.5 billion to the economy and many tens of thousands more working on the sidelines.
MacDonnell reportedly said, "We need answers now...and the people who can give those answers are Taoiseach Micheál Martin, Tánaiste Leo Varadkar and Minister Stephen Donnelly."
MacDonnell reportedly said that it is imperative that the live entertainment industry has ongoing meaningful engagement with Minister Martin and that she has agreed to meet with industry representatives again next week.
However, MacDonnell reportedly said that cross-departmental involvement is needed with the Department of Enterprise, Trade and Employment and the Department of Health to "talk, engage and collaborate."
Minister Says "Clear Roadmap" Will Be Put In Place By End Of Month
Minister for Foreign Affairs Simon Coveney reportedly said on RTÉ's Today with Philip Boucher Hayes programme that the government will put in place a "clear roadmap" by the end of the month for the next phase of easing COVID-19 restrictions, including for the live music and arts sector.
Coveney reportedly said that the Government is very aware that it has been "extraordinarily stressful" for the live events, music and arts sector, and that the sector is "rightly demanding certainty and timelines...and we will be able to give them that before the end of the month."
Coveney reportedly said that no one in the government is blocking Minister Martin's efforts to try and move the issue forward, but that the government is working collectively to "chart out a course for how to we manage the COVID-19 challenges."
Coveney reportedly said the Cabinet Committee on COVID-19 will meet to get an update from the National Public Health Emergency Team (Nphet), and that the focus for now is on reopening schools and college campuses safely.
Coveney reportedly said that every minister would like to be on the committee, but that neither of the education ministers are on it, despite their departments being central to the challenge that is posed by COVID-19.
RAI CEO Says Roadmap Must Outline If And When Industry Can Return To Normal
Meanwhile, Restaurants Association of Ireland (RAI) CEO Adrian Cummins has reportedly said that the government's next reopening plan must outline if and when the restaurant industry can return to normal.
Cummins reportedly said on Morning Ireland that if the sector does not return to full capacity, the government must continue to provide businesses with financial support, otherwise they will face collapse.
Cummins reportedly said, "The government has to level with the people of Ireland, and especially the hospitality industry, and outline in their plan, when will we get back to normalisation?
"Will that be September, will it be throughout the winter or will it be next March? We need to know, we need to plan for the future."
Cummins has reportedly also called for the COVID-19 passport programme to be stood down, describing it as labour-intensive for businesses, and reportedly said that businesses in the sector hope that this is in the government's plan.
© 2021 Hospitality Ireland – your source for the latest industry news. Article by Dave Simpson. Click subscribe to sign up for the Hospitality Ireland print edition.