Non-COVID-19 Compliant Businesses 'Do Not Deserve To Remain Open', Says Minster
Published on Nov 9 2021 8:08 AM in Features tagged: Featured Post / Fáilte Ireland / IHF / Restaurants Association of Ireland / VFI / LVA / RAI / HSE / Irish hotels federation / HSA / Vintners' Federation of Ireland / Licensed Vintners Association / Health Service Executive / ERSI / Health and Safety Authority / Give Us The Night / Live Venue Collective / Economic Social and Research Institute / National GP Advisory team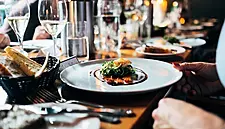 Minister for Public Expenditure and Reform Michael McGrath has said that hospitality sector businesses that do not comply with rules COVID-19 pass rules "do not deserve to remain open".
As reported by rte.ie, McGrath said that although there has been a "pretty good level of compliance…those who aren't are putting the public at risk".
McGrath's statement reportedly come as representatives of the hospitality sector will meet government officials today (Tuesday November 9) to review the risks associated with October's further easing of restrictions and how compliance measures are performing.
Meeting Details
It is reportedly understood that the meeting will be presented with the latest COVID-19 data with a view to better understanding the risks now facing the sector, and it is reportedly believed that they will also discuss the different experiences of implementing compliance measures, as well as public health messaging.
Among those invited to attend the meeting are reportedly Give Us The Night, the Irish Hotels Federation (IHF), the Licensed Vintners Association (LVA), Live Venue Collective, the Restaurants Association of Ireland (RAI) and the Vintners' Federation of Ireland (VFI).
Last week, the Taoiseach reportedly invited the hospitality sector to meet following data from the Economic Social and Research Institute (ERSI) that reportedly suggested that the number of people who did not have their COVID-19 passes checked in pubs had increased from 21% to 37%.
RAI And RAI CEO Statements
In advance of today's meeting, the RAI reportedly said that it looked forward to working with the government on the roll-out of inspections from the Health Service Executive (HSE), the Health and Safety Authority (HSA), gardaí and Fáilte Ireland over the next seven weeks.
However, it reportedly also said that it expects to hear that there will be no further introduction of restrictions, considering the level of vaccination of the general population is above 92%.
RAI chief executive Adrian Cummins reportedly said that businesses that fail to comply with COVID-19 regulations should be shut down.
Cummins reportedly acknowledged while speaking on RTÉ's Morning Ireland radio programme that 7% of the sector is non-compliant and putting every other business at risk.
Cummins reportedly said that the RAI has issued many communications to the businesses that it represents to make sure that everything is being done correctly.
Cummins reportedly also said that he is "deeply concerned" about the possibility of the reintroduction of restrictions on the hospitality industry, and reportedly told RTÉ's Katie Hannon programme that the sector needs "clarity that that is not on the cards for our industry" at a time when 93% of the population is vaccinated.
Cummins reportedly said that representatives from the National Public Health Emergency Team (Nphet) should attend today's meeting with industry stakeholders, which has been called by the Department of the Taoiseach, with representatives from the Department of Enterprise reportedly also attending.
Cummins reportedly said that "the Irish public have stepped up to the plate and we have done everything in our power to live with COVID", and reportedly called for an increase in inspections by the HSE and the HSA and for sanctions for those businesses "not doing the right thing and dragging us down".
Minister Of State In The Department Of Education Statements
Minister of State in the Department of Education Niall Collins reportedly said while also speaking RTÉ's Katie Hannon programme that the government has made it clear that it is not currently discussing the reintroduction of any COVID-19 restrictions or lockdowns, and that the government needs as much buy-in on public health measures from the public and the hospitality industry as possible.
Collins reportedly said that as many hospitality industry representatives as possible should attend today's meeting and that the message needs to go out that "we have to be mindful and adhere to guidelines we are being asked to enforce".
Collins reportedly said that while there is continued uncertainty around the pandemic and nothing can be ruled out emphatically, "the Taoiseach and Tánaiste have been clear that they have not discussed or contemplated any reversals or lockdowns".
Give Us The Night Representative Statements
Sunil Sharpe from Give Us The Night reportedly said that he is "quite positive" about the meeting and hopes that the officials will be open to "practical ideas" that will reduce the spread of COVID-19.
Sharpe reportedly said that new regulations relating to crowd management and contact tracing could be improved "a lot", and reportedly added, "A greater commitment to ventilation and pre-event testing should also be addressed."
Sharpe reportedly said, "These conversations should have started much earlier, but we welcome the opportunity to engage now and hope it can lead to a better organised and more manageable nightlife for all concerned."
National GP Advisory Team To The HSE Member Statements
Doctor Ray Walley, who is a member of the National GP Advisory team to the HSE, reportedly said that a failure to check digital COVID-19 certs in the hospitality sector risks allowing asymptomatic or symptomatic unvaccinated people into a hospitality setting and that it is very important that certs are checked.
Walley reportedly said that it is unfortunate when people try to scam the system and gain entry without a COVID-19 certificate, but reportedly commented that the majority of people are taking responsibility, and reportedly urged people to leave venues that do not check certs and IDs properly.
Walley reportedly said while speaking on RTE's Today with Claire Byrne radio programme that there is a drop in the elderly prevalance of COVID-19 and that that is mostly likely due to the roll-out of the booster vaccine.
ESRI Data
As stated above, the ESRI has reportedly found that the percentage of people reporting that their Digital COVID Cert was not checked in pubs increased from 21% last month to 37%, and the ESRI's latest Social Activity Measure (SAM) behavioural study reportedly said that indoor dining/drinking is becoming more frequent across all venues and now accounts for more than three-quarters of pub visits.
The findings reportedly also suggest that in restaurants 34% of people are not having their COVID certs checked.
Chief Medical Officer Statements
Chief Medical Officer Doctor Tony Holohan reportedly urged people to feel "empowered to leave" if they are in an environment in which they are not asked for a COVID-19 certificate, or in which hand washing facilities are not present and mask wearing is not as it should be.
Holohan reportedly said in a Twitter post that such environments are riskier than they should be.
Holohan reportedly also said, "Ireland has been tracking ahead of other Western European countries when it comes to this fourth wave of the pandemic. We are now starting to see a rise in incidence across the continent in line with our own recent experience."
Holohan reportedly urged people to adhere to public health measures and reportedly advised extra caution around individuals who may be immunocompromised or vulnerable to COVID-19.
Taoiseach Statements
Meanwhile, Taoiseach Micheál Martin reportedly said that COVID-19 case numbers are "very high" at the moment and that people need to be conscious of their behaviour over the next while.
The Taoiseach reportedly said, "We are concerned about the rising case numbers but we are in a much different position that we were last year because of the powerful impact that vaccination has had."
The Taoiseach reportedly added, "We always had a sense that this winter would be difficult."
Tánaiste Statements
Tánaiste Leo Varadkar reportedly said while speaking RTÉ's Morning Ireland radio programme that more restrictions cannot be ruled out.
The Tánaiste reportedly said, "It would be reckless to do so, but I can say that it's not our intention and we don't expect to have to reimpose restrictions before Christmas."
HSE Chief Executive Statements
Additionally, HSE chief executive Paul Reid reportedly said while speaking RTÉ's Today with Claire Byrne radio programme that anyone who is symptomatic should stay at home.
Reid has reported also said that the daily increase in levels of COVID-19 is causing significant and unrelenting pressure on the health service, and that if the numbers continue as they are, the tide needs to be turned but that neither he nor the HSE are calling for a need for further restrictions.
Reid reportedly called on businesses and enterprise to assess what they are doing on some of the basics and check that they are providing safety and security for staff, customers and clients, including hand-sanitising and ensuring that queuing is done correctly.
© 2021 Hospitality Ireland – your source for the latest industry news. Article by Dave Simpson. Click subscribe to sign up for the Hospitality Ireland print edition.