Nphet Advises Current Hospitality Sector Restrictions Should Remain In Place
Published on Oct 19 2021 8:05 AM in Features tagged: Featured Post / Drinks Ireland / National Public Health Emergency Team / Nphet / BD Festival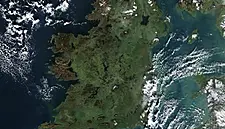 The National Public Health Emergency Team (Nphet) has advised that current hospitality sector restrictions should remain in place for several more months. The news follows news from yesterday (Mond...
The National Public Health Emergency Team (Nphet) has advised that current hospitality sector restrictions should remain in place for several more months.
The news follows news from yesterday (Monday October 18) that Nphet would meet yesterday to formulate advice for the government regarding the planned further easing of COVID-19 restrictions on Friday October 22, as well as last week's news that Taoiseach Micheál Martin said that he cannot guarantee that the further easing of COVID-19 pandemic-related planned for October 22 will proceed.
As reported by rte.ie, the Cabinet is meeting at Dublin Castle today (Tuesday October 19) to consider advice Nphet's advice, which, if adopted by the government, would see basic measures such as mask wearing, social distancing and COVID-19 certificates remain in place until around the spring of 2022.
However, Nphet's reportedly advice does provide for ways to be found to allow other venues such as nightclubs to open safely, including through the use of COVID-19 certificates.
Coalition party leaders reportedly considered Nphet's advice last night and the government reportedly must decide today if some of the outstanding COVID-19 restrictions will be altered on Friday October 22.
There were reportedly indications ahead of today's Cabinet meeting that the number of people permitted to attend religious ceremonies and weddings could increase subject to government agreement.
If this change is approved, further engagement will reportedly take place with the sectors involved around the protective measures that will be required.
The Cabinet will reportedly also consider a plan to permit full capacity at sports stadiums.
Taoiseach Statements
Taoiseach Micheál Martin reportedly said this morning that the next number of months really depend on the collective behaviour of everyone, the entirety of society.
Martin reportedly said, "We will have a challenging winter, primarily because of the transmissibility of the Delta variant, but what we do know is that vaccines do work in preventing hospitalisation, ICU, and particularly severe illness.
"It's very important that people who are not vaccinated would get vaccinated, and that people would complete their course of vaccination."
Martin reportedly added, "I think the booster vaccine will help, but vaccination on its own isn't in itself going to deal with everything, so personal behaviour and adherence to very basic guidelines is also essential along with vaccination."
Green Party Leader Statements
Green Party leader Eamon Ryan reportedly called on people to avoid crowds and for venues to be stricter on enforcing vaccine passports, and reportedly said that Nphet's advice is not to pause further reopening but to proceed with caution.
Ryan reportedly added that measures such as more extensive mask wearing, better use of COVID-19 passes and booster shots will allow the government to proceed with caution.
Scope For Further Easing Of Restrictions
Nphet's advice, which has reportedly been described as comprehensive, reportedly did offer scope for some further loosening of the rules, but it reportedly carries risks.
It is reportedly also understood that the government has identified antigen testing as playing a central role in this reopening phase.
This all reportedly means that more people might be able to attend indoor and outdoor events if the Cabinet decides so today.
Sinn Féin Health Spokesperson Statements
Sinn Féin reportedly said that it would support public health advice such as mask wearing and physical distancing, and its health spokesperson, David Cullinane, reportedly said that if COVID-19 certificates are in place, they must be enforced.
Cullinane reportedly also said while speaking on RTÉ's Morning Ireland radio programme that a vaccine booster programme for frontline healthcare staff along with antigen and PCR testing, contact tracing and infection control measures should provide the opportunity to strike a balance between reopening all sectors of society and keeping people safe.
Drinks Ireland Director Statement
Meanwhile, Drinks Ireland director Patricia Callan stated, "Hospitality venues have been sorely missed, and after a year and a half of opening and closing, have been busy welcoming customers back safely, facilitating the craic and connections they're renowned for.
"The hospitality sector and wider experience economy is gearing up for a wider reopening on Friday, and as key suppliers we believe this should be facilitated, given the huge success of Ireland's vaccination programme.
"We're all well aware of the economic importance of the hospitality sector and wider experience economy, supporting jobs, local economies and tourism. But they're also vital for the social and mental wellbeing of many, bringing vibrancy to towns and villages across the country.
"A new global survey from YouGov, conducted between May and August 2021, found that 66% of adults polled agreed the social and mental wellbeing of the general population has been negatively impacted as a direct result of the closure of hospitality venues. Since lockdowns, 57% of adults have a better appreciation for the contribution the hospitality sector brings to their own social and mental wellbeing."
Co. Wicklow's BD Festival Postponed
The above news coincides with news that, as also reported by rte.ie, the organisers of this year's sold-out BD festival, which was due to take place this coming week in Glendalough, Co. Wicklow, have decided to postpone the event due to the Taoiseach saying that the proposed lifting of restrictions on October 22 may not proceed as planned.
The festival has reportedly been rescheduled for April 16 and April 17 of 2022.
A statement by the festival's organisers reportedly said, "The postponement of this year's two-day festival is due to the risk of the continuation of COVID-19 restrictions.
"Without government reassurance that reopening will proceed as planned, we cannot provide an environment in which all our BD fans can truly re-live the unique festival experience we have all missed so much.
"Under current restrictions, venue capacity of mixed immunity status is just 50% and also subject to appropriate protective measures, including social distancing between groups and face masks.
"Whilst we have done everything in our power to ensure the festival goes ahead, the restrictions make the event unfeasible, as the safety and welfare of every single person at BD Festival is our number one priority."
The statement reportedly went on to say that all current tickets will be valid for the new dates, but that refunds are also available, and that the organisers are working hard with all artists and agents to enable them to play on the new dates, with more artists to be announced in the coming days and weeks.
The bus service has reportedly been confirmed for the new date, with less than half price priority tickets reportedly available to all existing ticket holders.
The statement reportedly also said, "We have also been working hard to curate a live stream event for existing ticket holders, accessible online on Sunday 24 October, featuring some international artists from the original line-up."
© 2021 Hospitality Ireland – your source for the latest industry news. Article by Dave Simpson. Click subscribe to sign up for the Hospitality Ireland print edition.