One Hour Advance Purchase Of Tickets Required To Enter Nightclubs
Published on Oct 27 2021 8:00 AM in Features tagged: Featured Post / HSE / Health Service Executive / Tramline / National Public Health Emergency Team / Nphet / nightclubs / Nphet Epidemiological Modelling Advisory Group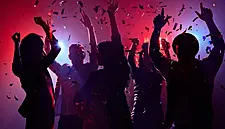 New rules for nightclubs state that individuals who want to gain access to such venues must purchase a ticket at least one in hour in advance of their arrival. The news follows news from earlier th...
New rules for nightclubs state that individuals who want to gain access to such venues must purchase a ticket at least one in hour in advance of their arrival.
The news follows news from earlier this week that government officials and industry stakeholders would meeting yesterday (Tuesday October 26) to finalise plans for how nightclubs and late night venues will operate in the coming months.
As reported by rte.ie, industry representatives have asked for a two week grace period before enforcing the new rules, which will allow them to get their electronic ticketing system and other logistical requirements in place.
The requirement for a ticket will reportedly be determined by whether dancing is taking place, rather than live music as reportedly previously envisaged.
Industry representatives were reportedly told that tickets will have to be purchased electronically at least one hour in advance and must contain details to allow for robust contact tracing.
Customers reportedly will not be permitted to congregate at doors and only ticket holders should be permitted in a queue.
The new rules reportedly are due to be signed in to law on Thursday October 28.
Department Of Tourism, Culture, Arts, Gaeltacht, Sport and Media Statement
The Department of Tourism, Culture, Arts, Gaeltacht, Sport and Media reportedly said in a statement that the government "wishes to move forward with this phase of reopening" but that COVID-19 remains "a very real threat to society", and the aim of the ticketing measures is "to balance this new reopening phase with public health considerations".
The department reportedly said that officials have listened to the concerns raised and will continue to engage with the industry, and that regulations and revised guidance for the sectors affected by the measures will be published this week.
Tánaiste Statements
Tánaiste Leo Varadkar has reportedly said that there will be "teething problems" and "implementation problems" associated with the ticketing system, and that it is important to keep the sector open, following a long period of closure.
Varadkar reportedly added that the government will continue to engage with the sector, and that this system will be kept under review.
Varadkar reportedly also said that the ticketing system and other guidelines are designed to ensure that contact tracing can be facilitated, that people are fully vaccinated and that capacity limits are maintained.
Tramline Nightclub Owner Statements
The owner of Tramline nightclub in Dublin, Ian Redmond, reportedly said that they were "quite surprised" by the proposal.
Redmond reportedly said while speaking on RTÉ News at One that they "can't understand or fathom" how the one hour window stops the virus or makes things safer, and, "If somebody's out at a bar or restaurant and they want to come to a nightclub, they can't now if this comes in.
"It just breaks the spontaneity of being out...we want that looked at, absolutely."
Redmond reportedly said that they can handle the ticketing system and that it has worked well for them over the last few nights.
Redmond reportedly said that they have been building a database of information that could be used for contact tracing, but that they "cannot understand" the one hour proposal, and that there would not be a requirement to purchase tickets one hour in advance of going to the cinema or any other similar event.
Redmond reportedly said, "I think this weekend we're very fortunate that there is demand for tickets for our venue, but there are other venues that may suffer."
Event Manager And Club Promoter Statements
Event manager and club promoter Buzz O'Neill-Maxwell reportedly said while also speaking on RTÉ News at One that last weekend was their reopening weekend, so everything was ticketed, and that that works on big nights, but may not work on all nights.
O'Neill-Maxwell reportedly said, "What we're looking at here is something that our entire industry actually begged officials in the department not to do.
"Contact tracing would be there, but why put a limit of an hour beforehand?"
O'Neill-Maxwell reportedly said that there was "incredible compliance" for the industry's opening weekend and that patrons "got on board" with the new rules and regulations, but that the one hour proposal is "another roadblock" to trading, and, "It is really, really not workable for us in the late night sector. We're completely baffled by this."
COVID-19 Situation Will Get Worse Before It Gets Better
The above news coincides with news that Minister for Health Stephen Donnelly has warned that the COVID-19 situation will get worse before it gets better as the number of COVID-19 cases over the past week is the fourth highest since the start of the pandemic.
Donnelly reportedly called for a "real national effort" by people to stick to public health measures, while speaking as he arrived for a Cabinet meeting this morning (Wednesday October 27), and reportedly said that Ireland's 14-day incidence rate is currently at approximately 500 cases per 100,000 of the population.
Donnelly reportedly said when asked about calls from the late night sector for a two week grace period before implementing the new ticketing system that talks will continue between government officials and industry representatives, but that he does feel that that the government has "gone quite far in terms of the hospitality sector".
Donnelly reportedly said that the new rules were designed to keep patrons safe and that initial reports from last weekend suggest that there was a high level of compliance among operators in the night time economy.
Meanwhile, Green Party leader Eamon Ryan reportedly said that he does not expect to see the reimposition of COVID-19 restrictions, despite growing case numbers, and that he believes that this view was shared by all present at a meeting of the Cabinet COVID Committee last night (Tuesday October 26), which was attended by Chief Medical Officer Doctor Tony Holohan.
Ryan reportedly said that personal and sectoral responsibility are important to manage COVID-19.
Holohan has reportedly said that he is "increasingly worried about the rising incidence of the disease nationwide", and, "We are seeing a continuing increase in hospitalisation and intensive care admissions - a substantial amount of whom are not fully vaccinated - placing our frontline healthcare services, including non-COVID care, under significant pressure.
"It is essential that we do everything we can to break the chains of transmission of the Delta variant in the community, in the workplace and in our homes."
Health Service Executive (HSE) National Director of Acute Hospitals Liam Woods reportedly said that increasing numbers of COVID-19 patients is resulting in growing pressure on the hospital system and staff.
Woods reportedly said while speaking on RTÉ's Morning Ireland radio programme that this will impact negatively on waiting times for other hospital services, primarily elective surgical procedures, and that he is hoping that the number of COVID-19 cases will not rise as high as predicted under worst case scenarios modelled by the chair of the National Public Health Emergency Team's (Nphet) Epidemiological Modelling Advisory Group, Professor Philip Nolan.
Woods reportedly said that approximately 1,800 healthcare staff are currently out on leave with COVID-19 related illness, and that that "is a concerning figure."
© 2021 Hospitality Ireland – your source for the latest industry news. Article by Dave Simpson. Click subscribe to sign up for the Hospitality Ireland print edition.