Pastry Maestro Searches Out the Finest Afternoon Tea in London
Published on Sep 22 2015 10:48 AM in Features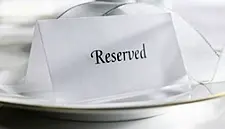 Afternoon tea is one of the most cherished treats that London has to offer. It's popular with both locals and tourists, attracted by a slice of tradition that recalls a bygone age. But where to go? I...
Afternoon tea is one of the most cherished treats that London has to offer. It's popular with both locals and tourists, attracted by a slice of tradition that recalls a bygone age.
But where to go? I tried three of the most celebrated afternoon teas in the company of Hideko Kawa, former head pastry chef at the Fat Duck and at Gordon Ramsay, each with three Michelin stars. She's the maestro other chefs go to to perfect their desserts, and well-placed to judge a perfectly crafted pastry.
Our quest for London's finest started at 10 a.m. when the Ritz opened early to accommodate her. Here's how it went.
The Ritz
The setting is the Palm Court, one of the most beautiful rooms in London. This historic salon, with its high ceilings, large mirrors and cool marbled floors is the height of luxury and yet every detail of the design is in the very best of taste.
This is the home of the most celebrated afternoon tea in London, possibly the world. Although there are five seatings – starting at 11:30 a.m. – and more than 400 guests a day, the hotel recommends booking three months in advance.
There are five types of sandwich, including Scottish smoked salmon, with lemon butter on rye bread; plain and fruit scones with Cornish clotted cream and strawberry preserve; and a selection of pastries and cakes.
"This is very beautiful and traditional," Kawa says, casting a critical eye over the food and approving of details such as the perfect shape of the scones and the thickness of the sandwiches, whose bread she describes as moist and fluffy.
"The baking is very good: Look how neat and colorful and beautiful everything looks," she says. "This is amazing. The style is classic and yet everything tastes light and fresh.
"This is something special and gorgeous. It's not reality. It's like a trip to a dream world. I'd like to bring my mother here from Japan. She would love it."
Price: £50 ($77); £66 with champagne
Score: 9/10
Fortnum & Mason
Tea is served in the Diamond Jubilee Tea Salon, which was opened by Queen Elizabeth II. It is an elegant space, the pastel shades picked out by light that floods in from large windows.
The finger sandwiches include rare-breed hen egg with chopped chive, and coronation chicken. There are plain and fruit scones with Somerset clotted cream. There are individual patisseries at the tables as well as a cake trolley from which slices are served.
"The scones are really good," Kawa says. "The cake is beautifully layered and very neat. There's a skilled pastry chef here. And I like the room: It's light and beautiful. I can imagine bringing a group of friends here to enjoy it."
She remarks again on the quality of the cakes. Where some chefs take a short cut with sugar paste that looks attractive but doesn't taste very good, here the preparation is thoughtful and things taste as good as they look.
But there are reservations. The sandwiches are under- seasoned and not big on flavor. And the jam, which does taste good, comes out of a jar. That jar is jammed into one tier of a stand in which it barely fits. So Fortnum's loses ground for its over-polite sandwiches and its freshly unscrewed jam.
Price: £40; £53 with champagne
Score: 7.5/10
Sketch
Afternoon tea is served in the Gallery, a large, high- ceilinged room, its pink walls filled with artworks by David Shrigley. The room is filled with women. It's all a big change from five years ago: then, tea was served to a few people in the much-smaller Parlour. Now, the Gallery is packed.
The tea has changed too. Before, it was fun and quite good. Now, it is strikingly attractive, and you can quickly tell how much thought has gone into the flavors, temperatures and textures of each element, including the scones, which are warm.
One of the sandwiches comes topped with a quail egg and caviar; the cucumber and ricotta one comes with the cucumber thinly sliced on top of the bread, so you can smell it before you bite into it and discover that it is perfectly crunchy. There's cherry roux; and peach-and-lemon verbena cheesecake.
"This is amazing," Kawa says. "Everything is so cute and different. It's a very original presentation. It's really special, absolutely divine. It's modern and fashionable and there's great attention to detail. Everything is delicious."
So it's a dead heat between traditional and funky. It looks like a meal known for finger sandwiches also has legs.
Score: 9/10
Price:£39; £51 with champagne
Article by Richard Vines, chief food critic for Bloomberg.