Resumption Of Indoor Hospitality Services Confirmed For July 26
Published on Jul 22 2021 8:02 AM in Features tagged: Featured Post / IHF / Restaurants Association of Ireland / VFI / LVA / RAI / Irish hotels federation / Vintners' Federation of Ireland / Licensed Vintners Association / Panti Bar / Economic and Social Research Institute / National Public Health Emergency Team / Nphet / indoor dining / indoor drinking / Sprezzatura / Irish Wedding Association / Pennylane Bar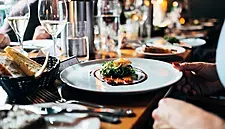 The Cabinet has agreed that indoor hospitality services can resume on Monday July 26 for individuals who are fully vaccinated against COVID-19 and individuals who have recovered from the virus. The...
The Cabinet has agreed that indoor hospitality services can resume on Monday July 26 for individuals who are fully vaccinated against COVID-19 and individuals who have recovered from the virus.
The news follows news that President Michael D. Higgins signed the legislation on the resumption of indoor hospitality services, which is called the Health Amendment Bill, into law on Wednesday July 21.
As previously reported, under the new guidelines for indoor hospitality services, there will be no time limits on indoor hospitality services, hospitality venues will be required to close at 11.30pm, the government will develop an app to allow business owners to check customers' COVID certificates at the doors of venues, and up to six people will be permitted sit at tables that must be kept one metre apart.
Additionally, as reported by rte.ie, face coverings will have to be worn by customers when moving around inside hospitality venues, digital and paper vaccine certificates will be accepted on entry, and there will be no bar service.
The guidelines are reportedly due to be published shortly.
As reported by rte.ie, Taoiseach Micheál Martin reportedly said on his way into Cabinet on Wednesday July 21 that the vaccine programme is rolling out very effectively, but that people need to be vigilant in the coming weeks, and "we have all got to adhere to the guidelines no matter how tired we are of this pandemic".
Northern Ireland's deputy first minister, Michelle O'Neill, reportedly said that she has spoken to the taoiseach about how people from Northern Ireland could have their COVID-19 vaccines recognised when the new regulations are implemented.
O'Neill reportedly said on Twitter, "I received positive assurances that a solution will be found in advance of 26 July."
A Greater Understanding Of COVID-19
Manager of Dublin's Sprezzatura restaurant Alan Grehan reportedly said that he believes that Ireland is in a very different place and that there is a greater understanding of COVID-19, which allows for better mitigation factors to prevent infection to be put in place for indoor hospitality services.
Grehan reportedly said on RTÉ's Morning Ireland radio programme that he believes that checking for COVID-19 certification will become second nature for employees of hospitality venue and stated that the hospitality sector has been very good at following procedures and guidelines, and that checking for COVID-19 certification is just something new that the sector has to add on.
Ventilation And Children
Ventilation expert Orla Hegarty reportedly said that media reports that social distancing should apply to indoor tables with children is not a protection scientifically.
Hegarty reportedly said on RTÉ's Drivetime radio programme, "If children are indoors, they're breathing the same air as everybody else. If they are two metres away from somebody who is asymptomatic or infected at another table, that's not going to be a protection."
Professor Philip Nolan of the National Public Health Emergency Team (Nphet) reportedly also warned that people might forget the basics if the emphasis is placed on ventilation.
Nolan reportedly said, "It is bad and potentially dangerous advice to suggest that physical distance, minimising direct contact and hand hygiene are not effective infection prevention and control measures, and that ventilation is somehow more effective or more important."
Nolan, who is the chair of the expert modelling advisory group to Nphet, reportedly said that they are seeing "a significant number of transmissions outdoors, when people get too close, most likely transmissions via droplets, spray or soiled hands,", and, "A little more distance, not touching or shouting, or better hygiene might have prevented these infections."
RAI Chief Executive Statement
The Restaurants Association of Ireland (RAI) has reportedly called for the immediate publication of the guidelines for the resumption of indoor hospitality services, and RAI chief executive Adrian Cummins reportedly said that 180,000 workers are depending on the new guidelines to allow for the safe and secure resumption of indoor hospitality services.
VFI Chief Executive Statement
The Irish Times quotes Vintners' Federation of Ireland (VFI) chief executive Padraig Cribben as saying, "It is important now that the regulations and guidelines are complete by Thursday evening to allow full and proper procedures to be in place for a safe opening on Monday."
LVA Statement
In a statement published on its website, the Licensed Vintners Association (LVA) said, "The Licensed Vintners Association (LVA) has described the Cabinet's decision to confirm the reopening of indoor hospitality and the president's signing of the Health (Amendment) (No. 2) Bill into law as 'positive', but cautioned businesses urgently need the updated public health guidelines to be published to finalise their preparations to open next Monday.
"The LVA has also called on all hospitality businesses and members of the public to ensure they carefully follow the regulations once they are confirmed."
LVA Chief Executive Statement
In a statement also published on the LVA's website, LVA chief executive Donall O'Keeffe said, "The Cabinet's decision and the signing of the legislation into law is a very positive step towards reopening, but businesses will not be in a position to make their final preparations until the guidelines are published. We are aware that Fáilte Ireland and the relevant government departments are working hard to finalise these guidelines against an extremely tight timetable. We acknowledge their commitment but it is obviously critical for a successful indoor reopening that the guidelines are available as soon as possible.
"We know everyone in hospitality will still have a lot of questions as to what they will be required to do to facilitate indoor service. Many of those won't be clarified until the guidelines are formally published by the government and Fáilte Ireland.
"We remain concerned flashpoints may occur at the entry to indoor hospitality. We hope this will be carefully monitored and should any trouble arise the authorities will be available to assist the hospitality business in question. We are also calling on all hospitality businesses and members of the public to ensure they carefully follow the new system. This is the only means that indoor hospitality will be permitted so it is up to everyone involved to do everything they can to make it work.
"We would also like to see an active and visible inspection regime implemented across all hospitality businesses from Monday. Any business that flouts the law and does not limit indoor service to vaccinated customers must face harsh sanctions immediately. This is too important, the health of the public and the future of the entire hospitality sector is dependent on everyone making this work so anyone who does not comply needs to face severe consequences."
IHF Statement
The Irish Hotels Federation (IHF) stated that it welcomes the signing of legislation into law that will facilitate the resumption of indoor hospitality.
Limits On Weddings
As reported by rte.ie, despite the resumption of indoor hospitality services, the number of people permitted to attend weddings is unlikely to increase to 100 next month.
President of the Irish Wedding Association Tara Fay reportedly said on Morning Ireland that the wedding industry has not been given any update, and that it would be better if the government would say that "this is not happening", rather than leaving couples unable to make plans with certainty.
Fay reportedly said that while restaurants will be able to host more than 50 people at one time from July 26, numbers for weddings remain unchanged, and that most couples, and those attending weddings, are vaccinated, but that this has not been taken into account.
Limits On Crowds
As reported by The Irish Times, limits on crowds at performances and matches are also unlikely to increase soon, and indoor leisure facilities are staying closed for now as the government seeks to consolidate the progress that has been made so far.
Increasing COVID-19 Case Numbers
The latest easing of restrictions for hospitality sectors comes amid new warnings of increasing COVID-19 case numbers in Ireland.
As reported by rte.ie, Tánaiste Leo Varadkar has reportedly said that cases could peak at 3,000 or 4,000 a day before easing back, and the Department of Health was notified yesterday (Wednesday July 21) of 1,378 new cases of COVID-19.
Ireland's deputy chief medical officer, Doctor Ronan Glynn, reportedly said that the latest estimate of growth rate of new COVID-19 cases is approximately 6% to 7% per day.
Health Service Executive (HSE) CEO Paul Reid reportedly warned in a Twitter post that although 66% of adults are fully vaccinated and 80% are partially vaccinated, the Delta variant poses a "huge risk to this progress."
Anxious Due To Reports Of High COVID-19 Case Numbers
Professor Pete Lunn from the Economic and Social Research Institute reportedly predicted on RTÉ's Today with Claire Byrne radio programme that people will remain anxious due to reports of high COVID-19 case numbers, and that he does "not expect a stampede" of people to avail of indoor hospitality services next week.
Lunn reportedly said that data shows that "it can take quite a while" for people's behaviour to change when restrictions are lifted.
The owner of Dublin's Panti Bar and Pennylane Bar, Rory O'Neill, reportedly said on the same programme that it is "the best decision" for his business to wait a few more weeks before resuming indoor services to allow younger employees to get vaccinated for COVID-19, and that he will continue to operate as an outdoor-only business until then and is lucky to be able to avail of outdoor space at the weekends on the newly pedestrianised Capel Street.
O'Neill reportedly said that none of his pub staff, who are mostly aged in their twenties, have raised concerns about COVID-19, but that he feels that he has a responsibility to take the decision for now, and that some businesses have been closed for 18 months and are "pulling their hair out" and have different decisions to make.
© 2021 Hospitality Ireland – your source for the latest industry news. Article by Dave Simpson. Click subscribe to sign up for the Hospitality Ireland print edition.