Rock 'n' Roll Restaurateur Puts London's Poshest Burgers to the Test
Published on Sep 1 2015 11:04 AM in Restaurant tagged: Burger King / London / burgers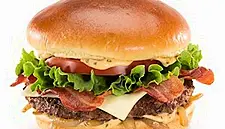 Scott Collins is a rock 'n roll restaurateur. His arms are covered in tattoos; his restaurants rattle with loud music as young diners get messy washing down Dead Hippie burgers with Picklebacks and Me...
Scott Collins is a rock 'n roll restaurateur. His arms are covered in tattoos; his restaurants rattle with loud music as young diners get messy washing down Dead Hippie burgers with Picklebacks and Mexican Dibdabs.
"No reservations" refers to the style of Collins and his business partner Yianni Papoutsis as much as to the bookings policy at MeatLiquor, their London-based burger chain, whose current expansion plans include a second outlet in Singapore.
So what will Collins make of London's poshest burgers, costing as much as £38 pounds, plus an extra six pounds for fries? Collins, who describes himself as an unrest-aurateur, agreed to brave the daylight, tuck in fine linen napkins and even consider using a knife and fork to put three of them to the test.
Here's how he ranked them.
Third place: Sackville's
This Mayfair restaurant's flagship is The Sackville: Heart of wagyu rib-eye, seared foie gras and truffle mayo on foie-gras buttered brioche. Throw in a serving of fries (with "truffle dust") and you are looking at £44.
That compares with a total of £13 for one of my London favourites, the Bleecker Black at Bleecker St.The meat in The Sackville comes sliced rather than as a patty, which surprises Collins, though he's less disapproving than I expect. "It's not technically a burger: It's an uptown roast beef sandwich," he says. "But I'm all for surprises. I'm not precious.
"It's not the easiest to eat but it's fine meat and I'm a fan of foie gras. The bun's not holding up terribly well. It's a two-napkin job. It's a great piece of wagyu. It would be a crime to have to eat a burger with a knife and fork. This has quite an unusual structure. The fries are rubbish.
"It loses points for billing itself as a burger when it's not, and the price is prohibitive."
Price: £38
Score: 6.5/10
Second Place: CUT at 45 Park Lane
Australian wagyu/Black Angus beef burger, Ogleshield Cheddar, shallot-jalapeno marmalade, garlic aioli.
Chef David McIntyre has put so much thought into this burger, you could almost write a book on it: The way the meat is cut, how the patty is made, the seasoning, the bun. I spent two mornings in the kitchen watching him do it and would go back for a third if I got a burger at the end of it.
McIntyre uses a quarter-inch cutter for the meat and then makes the patties by hand. The patty is seasoned with sea salt, black pepper, onion, garlic, paprika and a little bit of cayenne. The marmalade contains slow-roasted shallots with brown sugar, Worcestershire sauce, olive oil and fresh jalapeno for a spicy-sour combination that adds to the layers of flavor.
"It's one thing looking at a burger and another how it holds: The texture, how it bites," Collins says, examining the burger approvingly. "This tastes great. I'm just into the meat now. The onions and tomatoes are such good quality, they kick in first. And as it goes on, the meat comes through. The meat on its own would probably be too rich, which is why they've balanced it well. The chips are a great accompaniment. Hear that crunch."
Price: £26
Score: 8.5/10
Winner: Bar Boulud
The BB is a beef patty with foie gras, short ribs, horseradish mayo and confit tomatoes. It contains 7 ounces (200 grams) of ground chuck from the UK; the mayo features freshly grated horseradish. For the topping, short-rib is braised in red wine; the meat is removed and the sauce reduced, with diced vegetables and black truffle. A slice of foie torchon (which has its own, separate, 48-hour process to make), goes on top and both sides of the home-made brioche bun with black poppy seeds get the horseradish mayo.
"It's holding together brilliantly," Collins says. "The short ribs just smack you in the mouth in a brilliant way, then the horseradish kicks in, the sweetness of the confit tomato. It's layered nicely. The bun is still holding together; knives and forks are not necessary. It's just tomato, horseradish and a couple of different types of beef but it's done with aplomb.
"I've eaten burgers from the gutter up to Michelin star. What I particularly like about this, which gives it the edge over CUT, is the horseradish. They've Anglicized it quite nicely and they need it to cut through the short rib. It's nicely thought out. The tomato confit is a good idea. Instead of tomato sliding out when you bite it you get a little with every mouthful. This is the best of the day, but only by a whisker."
Price: £24
Score: 9/10
News by Richard Vines, chief food critic for Bloomberg. Edited by ESM