Some Festivals Could Take Place In Coming Weeks, Says Minister
Published on Sep 3 2021 8:07 AM in Features tagged: Featured Post / Electric Picnic / LGFA / GAA / Cork City Council / Croke Park / Live Nation / Ladies Gaelic Football Association / Cork Event Centre / Cork Venue Enterprises Ltd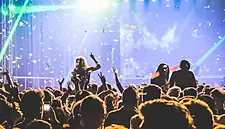 Minister for Tourism, Culture, Arts, Gaeltacht, Sport and Media Catherine Martin has said that the further easing of COVID-19 pandemic-related restrictions raises the possibility that some festivals could take place in the coming weeks.
The government unveiled a new plan for reopening society earlier this week that includes the return of organised indoor events and mass gatherings, with specific guidelines in place, from Monday September 6.
As reported by rte.ie, Minister Martin said that live entertainment events have different requirements to sports, and events with more than 5,000 people in an audience require a licence from a local authority to take place, which is why a roadmap was so essential.
Minister Martin reportedly said on RTÉ's Today with Claire Byrne radio programme it is a "massive step in the right direction", and that while the reopening of nightclubs included has been planned for the end of October in the new roadmap, a pilot event will happen before then and details will be announced in the coming days.
Electric Picnic Not Going Ahead
Minister Martin's statement came as the organisers of the Electric Picnic music festival said that they have "now run out of time" and officially cancelled this year's edition of the festival.
The news follows news from Friday August 27 that Minister for Tourism, Culture, Arts, Gaeltacht, Sport and Media Catherine Martin said that she was examining all options to facilitate Electric Picnic, including the possibility of designating the music festival as a pilot event, as well news from Thursday August 26 that Laois County Council has said that it cannot revisit its refusal to grant a licence for the Electric Picnic music festival this year, which followed news from Wednesday August 25 that the operator of the Electric Picnic music festival and the managing director of event management company MCD Productions had called on the government and Laois County Council to reverse the decision to cancel the festival this year and permit it to take place for individuals who are fully vaccinated against COVID-19.
The Electric Picnic team reportedly said in a statement, "As many of you are aware, we asked Laois County Council to reverse the decision on EP being cancelled this year.
"Unfortunately, they have not done so and we have now run out of time.
"Regrettably, we have no other choice but to cancel this year's edition."
The Electric Picnic organisers reportedly also said in their statement that they "would not be able to do the festival justice this close to show day", that the festival will not be going ahead, and that all ticket holders will have the options of a full refund or to use their ticket for Electric Picnic 2022, which is planned to take place from September 2 until September 4 next year.
Minister Martin reportedly said that she wrote to the Electric Picnic organisers and said that she believed that the decision to cancel the festival was due to the planning requirements.
However, she reportedly said that there are now other possibilities available to venues, which means that the possibility exists of festivals taking place in the coming weeks.
All-Ireland Senior Final Capacity
Additionally, Minister Martin reportedly said regarding the issue of capacity at this year's All-Ireland senior football final in Croke Park that it will be difficult at this point to ensure that all ticket holders are fully vaccinated against COVID-19 and therefore increase capacity to 75%.
At present 41,150 supporters will reportedly be permitted into the stadium to watch the game between Tyrone and Mayo, with no requirement for a vaccine passport for entry.
From September 6, attendances of 75% venue capacity will be permitted at outdoor events for individuals who are fully vaccinated against COVID-19, and this had reportedly given hope to supporters of both counties that just over 61,000 people could be permitted to attend the match on September 11.
However, Croke Park reportedly said that there will be an additional 1,150 tickets only for the September 11 match.
GAA president Larry McCarthy reportedly said that the association decided against increasing the capacity for the upcoming All-Ireland football final due to a lack of "expertise".
Explaining why the GAA decided not to permit more people to attend the September 11 match on RTÉ's Morning Ireland radio programme, McCarthy reportedly said, "It was a logistical issue - we have not trialled being able to check vaccine passports or vaccine documentation.
"So it was too onerous to get 60,000 into Croke Park in a condensed time. We didn't think we had the expertise to do it so we decided we would stick with the current amount.
"You're not only checking a vaccine passport but you're checking a photo ID and you're checking a ticket. That could take up to three minutes. If we were super competent at it we might be able to reduce that but the time frame was much too onerous for us to get it done efficiently.
"All tickets have been allocated at this stage, and about 50% had been allocated by the time we got word from the government that there was a possibility of going to 61,000.
"We would have liked to do it, no doubt. But we decided with all caution that we should stay with the current figure."
When asked whether having to check vaccine passports for the players and management teams
McCarthy reportedly acknowledged that the finalists are receiving a smaller allocation of tickets than in previous years, but reportedly added that the GAA is doing its best during an unusual time in its history.
McCarthy reportedly said, "In 2019, each county participating in the final got 13,500 tickets. This year Mayo and Tyrone are getting 11,450. They're getting much more stand tickets this time because we're not using the terraces.
"The cuts have come for the non-participating counties."
LGFA Match Capacity
Meanwhile, the Ladies Gaelic Football Association (LGFA) reportedly said that ticket sales are heading for 30,000 ahead of Sunday September 5's All-Ireland football finals day at Croke Park.
The capacity for the game is reportedly set at 40,000.
Cork Event Centre Progress
The above news about events coincides with news that the company that will run the currently-in-development €80 million 6,000-seater Cork Event Centre, events promoter and venue operator Live Nation, is on the verge of appointing a design team for the project.
A source reportedly told The Irish Examiner that the team is "more or less selected" and that all that is needed is a final sign-off from corporate headquarters in Los Angeles.
Additionally, a company called Cork Venue Enterprises Ltd, the principal activity is reportedly stated as being "renting and operating of own or leased real estate", has reportedly been established by directors of Live Nation.
The directors of Cork Venue Enterprises Ltd reportedly include Live Nation Ireland CEO Mike Adamson and music promoter Denis Desmond, who is also a director of Live Nation Gaiety Ireland Holdings Ltd.
Meanwhile, a spokesperson for Cork City Council, which is overseeing the event centre development process, reportedly said that discussions with developers BAM and operators Live Nation have been intensive over the last few months and that legal agreements to reflect the funding arrangements "have now been agreed in principle".
The spokesperson reportedly also said, "Live Nation is finalising internal approval to mobilise a design team."
It is reportedly not clear how soon construction on the planned event centre, which be located on Cork's South Main Street, could start If Live Nation bosses in Los Angeles give the green light to mobilise a design team for the planed venue, but recent estimates reportedly suggest that it could be 2023.
© 2021 Hospitality Ireland – your source for the latest industry news. Article by Dave Simpson. Click subscribe to sign up for the Hospitality Ireland print edition.