Three-Michelin-Star French Chef Loves East London Chicken Shack
Published on Sep 8 2015 10:21 AM in Restaurant tagged: London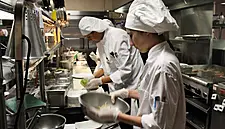 Giant vases bursting with colorful flowers fill Koffmann's restaurant in the luxurious Berkeley hotel in London's Mayfair.
Diners sit at tables draped with starched tablecloths where uniformed waiters serve dishes such as roasted organic Laverstoke Park Farm chicken with parsley croutons, which costs £56 pounds for two.
This is the home of French chef Pierre Koffmann, who held three Michelin stars at La Tante Claire before retiring in 2003. He mentored a generation of British chefs, including Marco Pierre White and Gordon Ramsay. When Koffmann was first tempted back to the stove in 2009, thousands of diners tried to book a table.
Restaurants in the edgy Haggerston area of East London are rather different from those in the West End. They are filled with young people who are happy to queue for inexpensive meals in rooms where the main design statements are the diners' tattoos and the closest thing to a carpet is the fuzz that covers male faces.
So what does veteran chef Koffmann make of somewhere like Chick 'n' Sours, a local fried-chicken shop with loud music, rickety tables and a kitchen the size a walk-in fridge?
"I really like it," he says, sitting on a stool at the counter,  tucking into a plate of drumstick and thigh, with General Tso's glaze, chili, spring onion, sesame seeds, and pickled green beans, costing 10 pounds.
"These guys are good.  They use good ingredients. A lot of people would use the cheapest chicken you can buy. Here, it is top quality. The coating is perfect and the cooking is very precise. Everything is perfect. And they are such nice people. I'd come back here, especially with my kids. They will love it. "
Chick 'n' Sours is the new restaurant of Carl Clarke, who is astonished to find that he's cooking for Koffmann.
"There are only two types of food: good food or bad food"
"He's a legend," Clarke says, while calling out orders. "So having him walking in was surreal. It's awesome. We are a little chicken shack.  It's sick." ("Sick" is good in East London.)
Koffmann says he admires what Clarke is doing, alongside nearby restaurants Tonkotsu East and Berber & Q, which he also visits during what turn out to be three visits to Haggerston.
"This is the way you've got to start if you are a young chef," he says. "You find a space where the rent is quite cheap and you do what you've got to: Simple tables, simple chairs. The china is from a second-hand shop. It's impossible to start on your own and spend money on the furniture, on the decor. That would never work. If you want to work on your own, to prove you are a good chef, you come here open a little place and do what you can do best.
"If you want to move to the West End, you will never be your own chef. You will be working for someone else."
Still, some people might be surprised to find enthusiasm for such simple food from a master of gastronomy, known for dishes such as pig's trotter stuffed with sweetbreads and morels, and pistachio souffle with pistachio ice cream.
"There are only two types of food: good food or bad food," says Koffmann, who was born in Tarbes, southwest France. "You can have terrible French food. Not everything is good because it is French or Italian. I've had terrible food in Italy, for example.
"Here, the cooking is precise and everything tastes good. The same thing at Berber and Tonkotsu. It's nice to move out from the center. The best thing is that you see young people starting their own business on a small budget. That is the way it should be."
Article by Richard Vines, chief food critic for Bloomberg