Tourism Sector Will Require Ongoing Support, Says Tourism Minister
Published on Sep 22 2021 8:06 AM in Features tagged: Featured Post / Fáilte Ireland / 9% VAT Rate / Employment Wage Subsidy Scheme / COVID Restrictions Support Scheme / CRSS / EWSS / National Economic Recovery Plan / Tourism Recovery Oversight Group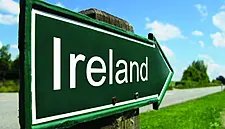 The tourism sector will continue to need support as recovery continues, Minister for Tourism, Culture, Arts, Gaeltacht, Sport and Media Catherine Martin has said.
Fáilte Ireland Conference
As reported by rte.ie, Martin made the above statement at a Fáilte Ireland conference that took place on Tuesday September 21.
In a statement about the conference published on its website, Fáilte Ireland said, "Fáilte Ireland will today (Tuesday 21st September) host the first in-person business conference since the easing of restrictions to announce Ireland is open for business meetings, conferences and events. Minister for Tourism Catherine Martin TD will officially open the in-person industry event in The Convention Centre Dublin at 2pm today. She will be joined by Fáilte Ireland CEO Paul Kelly who will provide details on Fáilte Ireland's plans to support recovery of the business tourism industry.
"Prior to COVID-19, business tourism had been one of the fastest growing segments of the Irish tourism industry, contributing more than €716 million annually to the economy and supporting up to 20,000 jobs.  This sector is highly specialised, lucrative and high yielding for Ireland because each business tourism visitor generates almost three times the tourism revenue than that of a leisure tourist.
"Minister for Tourism, Arts, Culture, Sport, Gaeltacht and Media, Catherine Martin TD, said, 'I am very pleased to give the opening address at today's first in-person business conference and declare Ireland as officially open again for business tourism. We know there is huge pent-up demand to return to face to face engagement. We have a great business tourism product in Ireland and I look forward to working with Fáilte Ireland to develop a strong pipeline of future business and ensure the infrastructure is in place to drive a speedy recovery of the sector.'
"Paul Kelly, Fáilte Ireland CEO, said, 'For a small country, Ireland has always punched above its weight in wining business events and recognising the importance and high value of the business tourism sector, Fáilte Ireland has committed to continued investment, development and focus in this area to ensure recovery. Despite the unprecedented trading environment, the Fáilte Ireland team have identified a pipeline of qualified, tracked and nurtured business tourism leads which are worth €1 billion and represent business that has the potential to be hosted in Ireland up to 2033.'"
Additional Tourism Minister Statements
As reported by rte.ie, Martin said that the tourism sector will not be "healed overnight" and will continue to need support as recovery continues, and that the National Economic Recovery Plan name-checked the tourism sector as one that will require ongoing support, with challenges including staff shortages.
Martin reportedly said that investment will be needed in areas such as marketing and recruitment.
Martin has reportedly said that supports such as the Employment Wage Subsidy Scheme (EWSS), the COVID Restrictions Support Scheme (CRSS), the business continuity schemes and reducing VAT to 9% are "front and centre of her mind" in this stage of the Budget 2022 negotiations and that the Tourism Recovery Oversight Group is providing guidance.
Martin reportedly also said that yesterday's news from the United States regarding the lifting of a ban on EU passengers is good news, even though it relates to Irish people going to the US rather than tourists coming to Ireland, and that ending the ban will help and encourage connectivity between the two countries.
Additionally, as reported by The Irish Times, Martin revealed that 285 international business conferences from before the COVID-19 pandemic worth approximately €207 million have been retained and rescheduled for Ireland, and reportedly said that she has just received the third report from the Tourism Recovery Oversight Group, which she reportedly intends to bring to Cabinet "in coming weeks", and that she is in talks with the departments of Finance and Public Expenditure and Reform for a package for the tourism sector in the upcoming Budget 2022.
Additional Fáilte Ireland CEO Statements
As reported by rte.ie, Fáilte Ireland CEO Paul Kelly reportedly told Business on RTÉ's Morning Ireland radio programme that yesterday's conference was sending a signal that "Ireland and Dublin are open for business", and that the reopening of US flights should allow for greater connectivity and is really important for both tourism and business, with US visitors bringing a huge revenue boost to the economy.
Kelly reportedly said that day-to-day corporate travel is expected to be less as many continue business online, but that there is a real appetite among many to get back to face to face engagement.
Kelly reportedly said that getting larger conferences and events back into Ireland will be even more important in the absence of daily corporate travel.
Kelly reportedly also said that Fáilte Ireland is working with industry to address concerns about staff shortages and to promote tourism careers, and that having tourism and hospitality properly staffed is "a big challenge for us, we haven't got all the answers yet."
Additionally, as reported by The Irish Times, Kelly said that attracting business tourists back to Ireland will be crucial to renewing city centres that have been hit by declining footfall, as staff work more from home, that Dublin's large crop of foreign multinationals should help to drive business tourists to the city, and that state tourism officials are making a major play to attract to Ireland a lot of incentive travel - effectively working holidays for sales people given by their employers as rewards for hitting targets.
Kelly reportedly said, "You can't Zoom incentive travel,", that a major conference of incentive travel bookers is among those retained for Dublin, for January of 2022, and that approximately 40% of conference wins go outside the capital.
Working On Attracting Events
According to The Irish Times, Fáilte Ireland, in conjunction with the industry through Irish events bureaux that bid to bring global conferences here, said that it is currently working on attracting €929 million of events over coming years, the bulk of which would take place before 2025. This reportedly includes €254 million of confirmed events, with bids pending on approximately €330 million worth.
If all are won for Ireland, the events would reportedly bring in approximately 634,000 delegates to Ireland in coming years. The sector is reportedly seen as lucrative, as business tourists reportedly spend an average of more than €1,600 each, three times the average tourist, and the conversion rate of Irish bids to conference wins was reportedly approximately 85% before the pandemic, according to figures discussed at the conference.
Conference Attendance
According to The Irish Times, approximately 450 delegates from the travel industry attended yesterday's conference to discuss how to rebuild business tourism.
© 2021 Hospitality Ireland – your source for the latest industry news. Article by Dave Simpson. Click subscribe to sign up for the Hospitality Ireland print edition.