BSE Scare 'Very Worrying' For Restaurants, says Thornton
Published on Jun 16 2015 5:34 PM in Food tagged: Kevin Thornton / BSE / Irish beef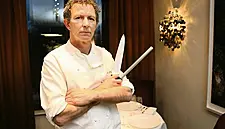 Kevin Thornton, one of Ireland's top chefs, has described the threat of another BSE episode in Ireland as "worrying" for the food trade in the country.
Thornton, who owns the Michelin-starred Thornton's Restaurant in Dublin, admitted that he and other restaurateurs are concerned about the suspected case of the disease found in a cow in Co. Louth, and what it could mean to the reputation of Irish food.
Speaking to the Irish Independent, Thornton sad he hoped the case is just a "one-off incident" and that the food sector won't be damaged by it.
"We're all concerned because we want to produce the best produce possible," he said.
The Department of Agriculture is expected to confirm a case of BSE in a test of a five-year old milking cow that died on a farm in Co. Louth last week.
A new outbreak of BSE in Ireland could downgrade Ireland's status from the World Organisation for Animal Health as producing quality beef from 'negligible risk' to 'controlled risk', in what could potentially be a devastating blow to the export trade and consumer confidence.