Irish Nutrition Company Glanbia Reports 'Strong' Third Quarter
Published on Nov 16 2021 9:31 AM in Food tagged: Trending Posts / Glanbia / Glanbia Nutritionals / Glanbia Ireland / Glanbia Co-op / Glanbia Performance Nutrition / GPN / GN / GN Nutritional Solutions / NS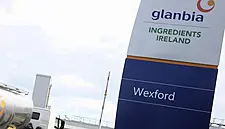 Irish nutrition company Glanbia has reported a "strong" third quarter on the back of good demand across its portfolio, while it increased its prices in response to inflation.
As reported by The Irish Independent, the global nutrition group said that it continues to navigate the impacts of the COVID-19 pandemic "well", delivering strong volume growth in the third quarter with its plants operating to plan, according to a trading update.
The group reportedly added that it has implemented price increases in response to cost inflation.
The company reportedly said that next year both Glanbia Performance Nutrition (GPN) and Glanbia Nutritionals (GN) are expected to mitigate inflation by further price increases, volume growth and the realisation of benefits from the GPN transformation programme.
The Kilkenny-based group reportedly now expects its adjusted earnings per share growth for this year to be in the upper end of 17% to 22%.
The company's quarter three year-to-date wholly-owned revenues are reportedly up 15.7% on a constant currency basis (up 9.7% reported) versus the previous year due to good demand across both Glanbia Performance Nutrition (GPN) and Glanbia Nutritionals (GN).
GPN reportedly delivered revenue growth in the period of 23.2% on a constant currency basis with like-for-like branded revenue growth of 25.2%. This was reportedly driven by a "strong performance" in nutrition consumption trends across the Americas and internationally, which reportedly continued in the third quarter.
GN Nutritional Solutions (NS) reportedly delivered volume growth in the period of 15.7% on a constant currency basis driven by "strong" ongoing customer demand for micro-nutrients and healthy snacks.
The company reportedly had net debt at the end of its third quarter of €589 million, which was reportedly a decrease of €39.1 million compared to the net debt position in the previous year.
Glanbia Managing Director Siobhán Talbot reportedly said, "In the first nine months of 2021 Glanbia grew its wholly-owned revenue by 15.7% on a constant currency basis."
Talbot reportedly added, "This was driven by strong demand across our portfolio as GPN grew like-for-like branded revenue by 25.2% and NS grew like-for-like volume by 15.7%. We continue to make progress on our strategic initiatives."
The company reportedly said that it remains vigilant to the continued volatile and disruptive potential of the COVID-19 pandemic, nonetheless, its plants across the group have reportedly operated well throughout the year responding swiftly to the strong demand across both GPN and GN.
Glanbia Announces Plans To Sells Its Remaining Stake In Glanbia Ireland
As reported by The Irish Times, Glanbia has announced plans to sell its remaining 40% stake in Glanbia Ireland, which is the state's largest dairy business, responsible for brands such as Avonmore, Kilmeaden and Premier.
The move, if it goes ahead, will reportedly effectively end the Kilkenny-based food company's involvement in dairy processing in Ireland, the core business originally, and cement its focus on food ingredients and sports nutrition.
Glanbia reportedly plans to sell its interest in Glanbia Ireland to Glanbia Co-op, which is reportedly owned by farmers who supply it, for €307 million. There reportedly had been reports that it could be sold for as much as €500 million.
The sale will reportedly allow Glanbia to focus on its two growth platforms - Glanbia Performance Nutrition (GPN) and Glanbia Nutritionals (GN) - which reportedly drive the bulk of its annual revenue: €3.8 billion last year.
50% of the proceeds will reportedly be returned to shareholders via a share buyback with the remainder reportedly used to fund further growth and acquisitions.
Glanbia Co-op, which reportedly owns 60% of the dairy processor, will reportedly part fund the transaction through the placement of plc shares.
Managing Director Siobhán Talbot reportedly said that "the time was right to sell" and the deal reportedly marked the culmination of a process that began with the spinning out of Glanbia's processing business into a joint venture with the co-op in 2017.
"From the co-op perspective, Glanbia Ireland is a strong business and really well invested...from our perspective it allows further focus on the growth strategy [which is centred around nutrition and ingredients]," Talbot reportedly said, reportedly noting the announcement represents the next stage of the company's transformation. "If approved, the proposed transaction will continue the alignment of our portfolio to our strategy, which is focused on driving growth through our market leading positions as a brand owner and ingredient solutions provider, playing into strong underlying consumer health and wellness trends."
As well as returning capital to investors, Talbot reportedly said that the company will deploy the capital received from the transaction in investment to drive further growth.
Glanbia Ireland is the state's largest dairy business, operating 11 processing plants and employing more than 2,000 staff. It reportedly generated €1.9 billion in revenue in 2020.
Glanbia Co-op is reportedly proposing to transfer, via a share spin out, 12 million Glanbia plc shares to all existing members. Based on Glanbia plc's closing share price of €13.98 on November 9, this would reportedly be worth approximately €168 million, or €11,028 for a member with an average shareholding.
This reportedly follows the spin out of a total of 36.5 million Glanbia plc shares worth more than €510 million by the co-op in 2013, 2015 and 2017. Glanbia Co-op is reportedly the largest individual shareholder in Glanbia plc, reportedly holding 93.3 million shares, or 32.4% of the issued share capital of the company.
Separately, Glanbia reportedly said that group revenue over the first nine months of 2021 rose almost 10% year-on-year as the company experienced good demand across its businesses.
GPN reportedly saw revenue growth of 18%, with like-for-like branded revenue growth of 25.2% on strong performance nutrition consumption trends across Glanbia's American and international regions.
GN nutritional solutions reportedly saw revenue rise 15% and volume growth of almost 16% as consumers' demand for healthier snacks and micro-nutrients remained strong.
During the period, the company reportedly completed the $52 million (€45 million) acquisition of US food ingredient solutions business PacMoore Process Technologies.
Talbot reportedly said, "The group continues to navigate the various impacts of the COVID-19 pandemic well, delivering strong volume growth in the third quarter with our plants operating to plan and price increases implemented in response to cost inflation. We are focussed on progressing our ESG agenda, working towards emissions reductions and implementing our diversity and inclusion strategy.
"As we exit 2021 we will maintain our focus on driving top line growth and are planning further pricing actions for early in 2022 in response to the continued inflationary environment."
Talbot Hoping Perennial Dieters Will Be On The Scales By January
As also reported by The Irish Times, Talbot is reportedly hoping, for the sake of her SlimFast brand, that perennial dieters who have taken it easy during the COVID-19 pandemic will be back on the scales by January.
"The diet category has no doubt been impacted by COVID," Talbot reportedly told analysts on a call last week as SlimFast stood out as a rare weak spot in Glanbia's otherwise solid quarterly results. "However, as we emerge from COVID, consumer research points to an acknowledgement by a significant number of consumers that they have gained some weight and indeed a desire to lose weight. We believe that, for the category, it really is a question of the timing of that trigger event, which currently we would expect to be the normal diet season in the early part of next year."
SlimFast was reportedly bought by Glanbia three years ago to help diversify its global performance nutrition unit from flogging protein shakes and bars to athletes and gym-goers towards more lifestyle consumers.
Its resurgence as a brand under Glanbia reportedly cushioned the wider performance nutrition unit as its revenues were reportedly hit in 2019 by a number of issues, reportedly including geopolitical tension and supply chain issues in the Middle East and economic weakness in Latin America. However, SlimFast's sales were reportedly off almost 9% in the key US market for the 12 weeks to early October.
The performance nutrition unit's key Optimum Nutrition brand's sales, on the other hand, reportedly jumped 19%, reportedly continuing a rebound from COVID-19 pandemic-related lockdowns.
Still, the general turnaround in performance nutrition, together with an ongoing strength - right through COVID - of the group's nutrition solutions business, reportedly prompted the group last week to raise its full-year earnings guidance.
Nutrition solutions reportedly houses Glanbia's US cheddar cheese business and supplies dairy-based and, increasingly, plant-based proteins to food companies.
A boost from SlimFast, however, reportedly may have to wait until the next year.
Talbot reportedly told Waterford-based WLR FM's popular Farmview programme last week that Ireland will remain Glanbia's base.
But with the Kilkenny-based company reportedly having recorded almost 85% of its sales in North America last year, there is an argument, at least, for it to consider reporting in dollars. It is reportedly on track to take a 4% earnings hit this year as a result of the dollar trading at a lower average rate against the euro.
Glanbia reportedly may also find itself fielding pitches - if it has not already - from overseas investment banks to move its listing to New York, with the promise that its stock will attract a higher valuation on the other side of the Atlantic.
Iseq heavyweight CRH has reportedly faced calls from quarters on occasion for a partial or full New York listing of its key US division, while Goldman Sachs reportedly sought to convince Kerry Group to ditch the Irish market for Wall Street as it advised the food group on its failed $25 billion-plus (€21.9 billion) bid two years ago for US chemicals group DuPont's nutrition business.
But the Carl McCann-led fresh produce group Total Produce reportedly offers a cautionary tale to any company thinking that a New York listing is a red-carpeted path to stock market greatness.
In merging with US rival Dole Foods in July to form Dole PLC, the Irish company reportedly abandoned Euronext Dublin for the New York Stock Exchange. After floating in the US at a bottom-of-the-range price of $16 a share, Dole's stock has reportedly since fallen 13%. The wider US market, meanwhile, is reportedly up more than 5%.
Glanbia Ireland Chairman Says Company Will Ringfence €170m
Additionally, as reported by The Business Post, the days of expanding milk production in Ireland are over and processors must now look to value-added investments such as plant-based foods for future growth, the head of Ireland's largest dairy co-op has said.
John Murphy, chairman of Glanbia Ireland, reportedly said that the farmer co-op will ringfence a €170 million war chest, which it reportedly plans to deploy in value-added investments such as plant-based foods over the coming years.
"The days of expansion for Irish dairy farmers are over and the next phase will be about adding value," Murphy reportedly told The Business Post.
"We're establishing a €170 million investment fund and our plan is to transform Glanbia Ireland into a leading European dairy-food company. We're looking at potential acquisitions in the US and Europe that will add-value to the business.
"The plant-based food space is quite interesting at the moment. We recently opened a new R&D centre in Ballyragget in Kilkenny after a €15 million investment and we're already doing a lot of research on plant-based foods, particularly using oats. So there might be something in that whole plant-based area that will work for us," Murphy reportedly said.
Glanbia Ireland is the largest dairy company in Ireland and owns a number of household food brands, including Kilmeaden, Premier milk and Wexford cheese. It also owns the Avonmore brand, which is reportedly by far the largest liquid milk brand in Ireland.
However, liquid milk sales have reportedly been increasingly under pressure from the growth in popularity of soya, almond and oat alternatives to traditional milk.
The company reportedly may be looking at developing its own range of plant-based alternatives to traditional milk as a means to reduce its exposure to disruption from these products, which is reportedly a strategy employed by global dairy giants such as Danone and Nestlé.
Murphy reportedly said, "Outside of plant-based, we'll probably look to invest in areas quite close to dairy that we think we can add something to. And we're not beyond looking at an investment that has nothing to do with dairy at all. We're going to be very open-minded about future acquisitions."
Murphy reportedly said that Glanbia Ireland is on course to record full year sales of €2.3 billion for 2021 and earnings (EBITDA) of €135 million.
© 2021 Hospitality Ireland – your source for the latest industry news. Article by Dave Simpson. Click subscribe to sign up for the Hospitality Ireland print edition.