70% Of Hospitality Businesses That Took Part In BWG Foodservice Survey Say They Intend To Reopen In June; 58% Say They Expect To Make Loss Or Break Even
Published on May 25 2021 2:30 PM in General Industry tagged: Trending Posts / BWG / pubs / restaurants / Restaurants Association of Ireland / RAI / cafes / BWG Foods / BWG Foodservice / Chambers Ireland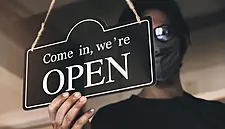 70% of hospitality businesses that took part in a new survey carried out by BWG Foodservice said that they intend to reopen in June when reopening is permitted, despite 58% saying that they expect to make a loss or break even.
The survey was conducted between May 7 and May 17, and participants included restaurants, cafés and pubs.
According to BWG Foodservice, 21% of participants said that they will remain closed until indoor hospitality services are permitted to resume.
Feelings About Current Reopening Plans
61% of participants said they believe that the current reopening plans are fair based on the current environment, while 32% of participants said that they believe that the current reopening plans are too cautious and slow paced, and 7% said that they believe that it is too much too soon.
Performance Expectations
Under the current plans, 31% of hospitality businesses that took part in the survey said that, under the current plans, they expect to perform well upon reopening, while 36% said that expect to break even and a further 22% said that they expect to make a loss.
Challenges
According to BWG, participants said that the biggest immediate challenge facing hospitality businesses will be recruiting and reappointing staff ahead of reopening, and 60% of participants said that they expect to experience difficulty in filling roles.
As reported by The Business Post, a straw poll by the Restaurants Association of Ireland (RAI) of its members this month found that many business have lost 25% of their employees due to workers leaving the industry or returning to their home countries, and some reported that half of their kitchen staff are no longer available to work.
RAI chief executive Adrian Cummins has reportedly called on the government to launch an overseas recruitment drive, and said that many restaurants may only be able to open four or five days a week due to low staff levels, while Chambers Ireland has reportedly warned of an "entrenched industry crisis" if the government does not address the staff shortage in the sector.
The Business Post quotes a spokesperson for Chambers Ireland as saying, "The issue of staff shortages across the hospitality industry has been raised by several of our member chambers in recent weeks. However, it is too early to be certain about how extensive and widespread this issue is across the country. Our members have reported that there is growing competition for talent and difficulty in recruiting staff in several parts of the country…If we are to avoid a more entrenched industry crisis following the wider reopening, government must look towards a long-term strategy for the sector. Staff and skills shortages in hospitality have been a concern for several years and have been greatly exacerbated by the COVID-19 crisis.
"Such a national strategy will need to include not only medium-term financial supports for tourism and hospitality, but also a skills and training strategy. This should be targeted at school-leavers and those already working in the sector to ensure that sustainable careers can be provided and further skills gaps do not emerge."
The BWG Foodservice survey's participants said that they expect the second biggest challenge to be operating successfully with reduced dining/sitting space. Other challenges that participants said that they expect to face included maintaining social distancing among customers and reconfiguring their premises in time for reopening.
According to BWG, 24% of participants said that they expect the earlier reopening of the Northern Irish hospitality sector to pose a further challenge to their businesses.
Facilitating Government Guidelines And Government Supports
According to BWG, since the start of the COVID-19 pandemic, the survey's participants have invested an average of €40,000 in facilities to facilitate government guidelines regarding hygiene and social distancing, and 19% of participants have applied for a grant under the Outdoor Dining Enhancement Scheme, and a further 43% of participants are planning to do so in the near future.
91% of participants said that they believe that government supports have been key to their survival since the start of the pandemic.
Regarding future additional government initiatives that could support the hospitality industry going forward, 36% of participants said that they would like to see reduced VAT applied to hospitality offerings, 34% of participants said that would prefer to see salary subsidies introduced, 21% of participants said that they would prefer additional grant supports and 5% of participants said that they would prefer incentives to encourage people back into the hospitality workforce.
Feelings About The Future
30% of participants said that they are very optimistic about the future of their businesses, 55% said that they are somewhat optimistic and 8% said that they are not optimistic at all.
BWG Foods Foodservice Director Statement
BWG Foods foodservice director Ricky O'Brien stated, "When faced with the ultimate challenge, Ireland's hospitality industry has proven itself to be highly adaptable, innovative and resilient. Sadly, there will be a number of casualties from an industry perspective, however, businesses that could adapted their models to focus on takeaway options and the majority of those that couldn't have spent months optimising their businesses, at significant expense, in preparation for a new world when they reopen.
"While there is excitement throughout the industry ahead of the phased reopening, there are many challenges ahead, even if Ireland's COVID-19 situation continues to improve, and it's absolutely critical that the government continues to find new ways to support the industry as it reshapes itself. The new reality is that consumer behaviour has drastically altered and hospitality businesses will need a host of supports, financial and other, to ensure they can adapt to a very new environment, preserving and futureproofing employment for hundreds of thousands of people up and down the country."
© 2021 Hospitality Ireland – your source for the latest industry news. Article by Dave Simpson. Click subscribe to sign up for the Hospitality Ireland print edition.