Aer Lingus Records Operating Loss For First Half Of 2021; Announces Resumption Of Flights Between Dublin And Bristol
Published on Jul 30 2021 2:00 PM in General Industry tagged: Trending Posts / Aer Lingus / IAG / Dublin Airport / International Airlines Group / Bristol Airport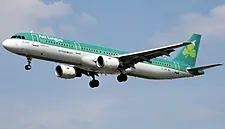 Aer Lingus has recorded an operating loss of €192 million for the first half of 2021.
As reported by rte.ie, the €192 million loss is on par with the loss of €189 million that was recorded for the same six-month period in 2020.
Aer Lingus passenger revenue for the six month period that ended on June 30 reportedly amounted to €33 million, while cargo revenue reportedly amounted to €31 million.
According to The Irish Times, the above passengers and cargo revenue figures were down year-on-year from €315 million and €60 million.
As reported by rte.ie, Aer Lingus chief executive Lynne Embleton said as the airline reported the loss that Aer Lingus has "good intent" with its plans to grow its routes at Irish airports, but that a firm commitment will require more certainty around the COVID-19 pandemic situation as well as restrictions due to the pandemic.
Embleton reportedly said that she wants to get Aer Lingus back to growth, but that there are a lot of impediments.
Embleton reportedly said that there has been an increase in bookings since international travel from Ireland resumed on July 19, but that Aer Lingus is still only flying at a fraction of the capacity that it flow in 2019.
Embleton reportedly said that Aer Lingus's traffic for the third quarter of 2021 is less than 40% of what it was for the same period in 2019, that a large amount of damage has been done to the airline and its balance sheet by the COVID-19 pandemic as well as by restrictions to air travel in Ireland, and that Aer Lingus has asked for support from the government to help rebuild its route network, such as a rebate on airport charges.
Speaking about Aer Lingus's regional service, which was operated by Stobart Air until it ceased trading, Embleton reportedly said that Aer Lingus has been reacting to get the regional routes covered, but that the ultimate intent is to build up a partnership with Emerald Airlines to operate Aer Lingus Regional services.
Embleton reportedly said that discussions with Emerald are progressing well and are nearing a conclusion.
Embleton reportedly said that Aer Lingus is "significantly smaller" than it was before the COVID-19 pandemic, with approximately 1,200 fewer employees, with some employees availing of voluntary redundancy while some fixed-term contractors were let go.
Embleton reportedly said that future staffing will be dependent on government policies.
Aer Lingus has reportedly been in contract discussions with pilots for some time, and Embelton reportedly said that progress has been made this week with pilots to improve efficiencies.
Embleton reportedly said that the talks are reportedly aimed at helping Aer Lingus through the COVID-19 crisis in a way that protects pilot jobs, and reportedly added that the reduced schedule being flown is reflected in pilots' pay, "which allows us to keep them on the payroll".
Pilots have reportedly been on reduced pay, understood to be half of their normal pay, for some time.
Aer Lingus is part of International Airlines Group (IAG), which reportedly recorded a narrowing of its first-half loss to €2 billion.
Resumption Of Flights Between Dublin And Bristol
The above news came as Aer Lingus announced that it will resume flights between Dublin and Bristol to Dublin Sunday August 1.
Aer Lingus stated on it website, "Previously operated by Aer Lingus Regional, the route will operate five days a week, on Monday, Tuesday, Thursday, Friday and Sunday, with fares starting from £39.99 each way, including all taxes and charges.
"Ireland reopened its doors for travel earlier this month and is the first country in Europe where fully vaccinated British citizens can visit without the need for any COVID-19 tests into or out of the country. There will also be no requirement to self-isolate if fully vaccinated."
In a statement published on Aer Lingus's website, Aer Lingus chief operations officer Peter O'Neill said, "We are delighted to recommence flights from Bristol and welcome back our British customers on board now that travel restrictions have been relaxed, reconnecting friends and families that have been kept apart for too long.
"We are looking forward to serving our customers once again and providing them with a warm Aer Lingus welcome from airports across the UK.
"We are delighted to once again be able to do what we do best for more customers - deliver safe international travel."
In a statement also published on Aer Lingus's website, Bristol Airport CEO Dave Lees said, "We are delighted Aer Lingus is resuming services between Dublin and Bristol.  We have a long and established relationship with Aer Lingus since the first flight from Baldonnel, Dublin to Bristol Airport on 27 May 1936.
"The scheduled service will operate using an Airbus A320 aircraft, seating 174 customers which is a long way from the aircraft on the original flight back in 1936 which carried just five passengers on a six-seater De Havilland 84 Dragon, affectionately named Iolar (meaning eagle).
"Aircraft design has advanced, and this is a real demonstration of how far aircraft design and technology has moved forward and will continue to do so in the future.
"It is particularly exciting as the timing of the flight opens up the opportunity on Aer Lingus's North American long haul connections to Boston, Chicago, New York (JFK) and Washington, with the added benefit of customers being able to pre-clear US Immigration and Customs in Dublin before stepping on board their transatlantic flight.
"This means they can arrive as domestic customers on arrival in America, saving time and frustration as all the necessary processes have already been completed.
"This is another demonstration of confidence in the region and the opening up of long-haul international travel when the time is right.  We look forward to working with Aer Lingus on future opportunities."
© 2021 Hospitality Ireland – your source for the latest industry news. Article by Dave Simpson. Click subscribe to sign up for the Hospitality Ireland print edition.