Aer Lingus Threatens To Unilaterally Implement Range Of Tough Measures After Cabin Crew Vote Against Proposed Deal
Published on Sep 17 2021 1:00 PM in General Industry tagged: Trending Posts / Aer Lingus / Adams & Butler Ltd / Retain in Motion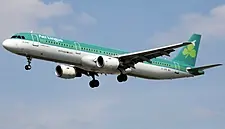 Aer Lingus is threatening to unilaterally implement a range of tough measures after cabin crew voted overwhelmingly to reject a proposed deal this week.
The news follows news from earlier this week that Aer Lingus cabin crew had been warned by their trade union that the potential for compulsory redundancies would remain even if they vote in favour of a proposed structural change agreement as well as news from last week that up to 700 Aer Lingus jobs at Dublin, Cork and Shannon airports are in danger of being outsourced if staff fail to agree to changes to work practices and conditions at a ballot this week.
As reported by The Irish Times, on Tuesday September 14, a ballot closed on the package proposed by Aer Lingus, which would have seen cabin crew accept new work practices and lower pay scales for new entrants. The crew's union, Fórsa, reportedly made no recommendation on the proposal and staff reportedly subsequently voted approximately 82% against it.
Aer Lingus's director of inflight services, Mary Montgomery reportedly wrote to the union and staff in a three page letter on Thursday September 16 and staff threatening to forge ahead anyway with a slew of cuts, and reportedly said, "The seriousness of the situation has not been understood."
Aer Lingus reportedly lost €563 million last year amid the COVID-19 pandemic.
Aer Lingus reportedly said that it is closing a voluntary redundancy scheme, and Montgomery reportedly said that there are too many cabin service managers (CSMs) working for the airline, so it had decided that they will now remain on reduced-due-the-adverse-impact-of-the-pandemic 60% pay and hours "for the foreseeable future", despite the airline reportedly previously saying that they would go back up to 80% before Christmas.
Aer Lingus reportedly said that there is an "imminent requirement" to lay off CSMs "well into 2022", and reportedly also threatened to lay off other cabin crew grades early next year, and reportedly said that there will be no pay increases until 2025 "at the earliest", and that it will also change how lieu days are allocated and the method for calculating commissions paid to cabin crew who make inflight sales of food and duty free.
Aer Lingus reportedly said that it will also conduct a review of all cabin crew terms and conditions, and reportedly suggested that it will examine "the use of alternative bases".
Fórsa reportedly said the result of the ballot was "not a great surprise" as it will lead to "further erosion" of conditions, and reportedly acknowledged the impact of the pandemic, but reportedly said that there is a "general feeling that management is not listening to cabin crew's concerns", and reportedly urged Aer Lingus to "work with staff, not against them".
It is reportedly expected that union officials will meet in the coming days before deciding how to respond to the Aer Lingus's threat.
Dublin-Based Travel Firm Adams & Bulter Ltd Record Losses For Last Year
In other Irish travel-related news, as reported by The Irish Independent, Dublin-based travel firm Adams & Butler Ltd has recorded losses of €551,021 for last year.
New accounts for Adams & Butler Ltd reportedly show that the losses for 2020 follow a post-tax profit of €73,447 in 2019; the company paid out a dividend last year of €567,031 and the dividend pay-out along with the losses resulted in the company having an accumulated loss of €45,630 at the end of last year after having accumulated profits of €1 million at the end of 2019; the company maintained all of its staff last year and received €97,005 in Temporary Wage Subsidy Scheme (TWSS) payments; and the company received other state grants of €59,118 that included the Employment Wage Subsidy Scheme (EWSS) and a COVID-19 Rent Rebate scheme.
Adams & Butler Ltd owner Siobhan Byrne Learat reportedly said, "I am very positive - I know we lost a lot of money last year."
Byrne Learat reportedly said in an interview, "We kept all our staff. We lost over €550,000 and they were reserves. I am the owner of the company so basically it was my money."
A note attached to the accounts reportedly states that Byrne Learat "is confident that the company will return to profit in 2021 as restrictions ease and people resume travel".
Byrne Learat reportedly said the Irish market has rebounded since August and that Adams & Butler recently organised a holiday here for a four-strong American group who spent €220,000 in one week.
Byrne Learat said that the group travelled by helicopter during their time here and stayed at the likes of Ashford Castle in Co. Mayo "and had a lot of private experiences".
Byrne Learat reportedly said, "These clients are cash rich and time poor.
"I think 2022 will be an amazing year. I think people will spend a hell of a lot more than they have before.
"We are very positive about next year and 2023 as we have lots of future bookings coming in."
Byrne Learat reportedly said that all staff are back on full pay "and we have promoted some people and have three new managers", and, "As soon as COVID hit, we decided that we wouldn't be like other people and hide under a stone and lick our wounds. We were going to actively manage it. We raised the awareness of our brand and our reputation."
Dublin-Based Airline Retail Solution Company Retail In Motion Records Loss For Last Year
The above two news stories coincide with news that, as also reported by The Irish Independent, newly-filed accounts for Dublin-based Lufthansa subsidiary Retail in Motion, which provides a suite of retail solutions to commercial airlines, have revealed that the company has recorded an €11 million loss for last year and that its turnover decreased €26.2 million in 2020 from €98.1 million a year earlier.
The loss made by Retail in Motion last year reportedly followed a €1.4 million profit in 2019.
Retail in Motion reportedly noted in the newly-filed accounts that it has benefited this year from a number of "very large" hardware orders as airlines upgrade or replace older point of sale and packing devices, and, "The company started to provide technology services to Lufthansa, Swiss Airlines, Austrian Airlines, and Eurowings Discover in the first half of 2011," the latter three of which are part of the Lufthansa Group.
Retail in Motion reportedly confirmed that it has also started implementation work with Denver-based Frontier Airlines and US start-up airline Breeze, as well as with Greek carrier Aegean and other airlines.
Retail in Motion reportedly said that it is continuing to invest in its business and has just received a €4 million loan from its immediate parent, Lufthansa Service Holding, to support that investment.
The company's directors reportedly noted that it has been "significantly impacted" by the COVID-19 pandemic, and, "The company currently expects that 2021 revenues will be 50% higher than 2020 revenues, with stronger recovery starting from summer 2021 as vaccination programmes gain traction globally and our clients return more fully to operations."
Revenues this year will reportedly be half of those generated in 2019 and the company reportedly expects to make a loss of approximately €3 million this year, but is reportedly anticipating that revenue will exceed €100 million in 2022, and reportedly also expects to make a small after-tax loss in 2022 as it invests in its ability to capitalise on new opportunities.
Retail in Motion reportedly said that it is encouraged by the increase in demand that it has seen.
© 2021 Hospitality Ireland – your source for the latest industry news. Article by Dave Simpson. Click subscribe to sign up for the Hospitality Ireland print edition.