Belfast City Airport Experienced Operating Loss In 2020; £4.5m Scheme To Support NI's Air Connectivity With GB Announced
Published on Jun 28 2021 10:17 AM in General Industry tagged: Trending Posts / Belfast International Airport / Belfast City Airport / City of Derry Airport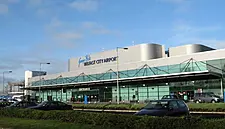 New accounts have revealed that Belfast City Airport experienced a £6 million operating loss during the year that ended on December 31, 2020, which followed a £3 million operating profit the previous year.
As reported by The Irish News, the accounts reveal that Belfast City Airport's revenue decreased by 72% last year to £6.3 million, and the number of people that passed through Belfast City Airport decreased by 78% last year to 543,000 passengers, with passengers numbers decreasing by 77% in March of 2020 and just 2,503 people passing through the airport in April of 2020 following the collapse of Flybe and the beginning of the COVID-19 pandemic in March of 2020.
Belfast City Airport Chief Executive Statement
The Belfast Telegraph quotes Belfast City Airport chief executive Brian Ambrose, who will retire next month, as saying, "The accounts for this period reflect the demise of Flybe, our biggest airline partner, in March 2020, and the lockdown measures in response to COVID-19 that saw all but non-essential travel cancelled for most of the year.
"Airports have high fixed costs, many of which remain the same regardless of the number of flights or passengers.
"It can therefore be expected that the cost of operating just one flight per day, as Belfast City Airport did throughout the pandemic, will have significant implications on the financial performance of the business."
Stobart Air Collapse And New Services
Ambrose, who be succeeded as CEO by London City Airport chief commercial officer Matthew Hall on August 1, reportedly said that Belfast City Airport, which is owned by a fund managed by 3i, has replaced all of the routes that were operated by Flybe, however, the airport's recovery has been impacted by the recent collapse of Stobart Air, which operated Aer Lingus Regional services out of the airport. However, Aer Lingus and British Airways have covered most of routes that were operated by Stobart Air, and Ryanair, EasyJet and Vueling have all announced new services out of the airport.
The Irish News quotes Ambrose as saying that securing new airlines was "a significant achievement in the current challenging climate", and, "We will continue to work closely with all our airline partners to build capacity as travel restrictions are relaxed and demand returns."
Scheme To Support NI's Air Connectivity With GB
Stormont announced a support package for Belfast City and City of Derry airports in May of 2020, which was followed by a £7.8 million support package in December of 2020 for Northern Ireland's three main airports, which included £2.7 million in rates relief.
The news of Belfast City Airport's 2020 operating came as £4.5 million scheme to support Northern Ireland's air connectivity with Great Britain was announced.
An announcement about the new scheme published on economy-ni.gov.uk stated, "Economy Minister Paul Frew today announced a £4.5 million initiative to support air connectivity between Northern Ireland and Great Britain.
"As part of the minister's Economic Recovery Action Plan (ERAP) the NI Domestic Aviation Kickstart Scheme (NIDAKS) will support airlines to help kickstart NI's economic recovery from COVID by maintaining and enhancing NI's domestic air connectivity between the three local airports and GB."
Frew Statement
In a statement published on economy-ni.gov.uk, Frew said, "Air connectivity between Northern Ireland and the rest of the UK is critical for our economy and never more so than now, as we focus on recovery.
"I am pleased to announce NIDAKS, which has three elements - maintaining a minimum route frequency on a core network of domestic routes, incentivising enhanced frequency on those routes above the minimum, and encouraging new routes which are economically important to NI.
"This improved connectivity will stimulate inbound tourism, as well as both inward and outward business travel. In turn we hope to see a positive impact on local hotels, restaurants and other hospitality and tourism businesses, as the sector here continues to get back on its feet.
"Furthermore, enhancing our links with Great Britain can only help make Northern Ireland even more attractive as a place to invest."
Frew added, "I am in no doubt that we still face significant challenges as we emerge from the pandemic, but I have confidence in what Northern Ireland has to offer in terms of both leisure and business and that we can start to attract visitors from the GB market to the extent we were in 2019."
Belfast International Airport Managing Director Statement
In a statement also published on economy-ni.gov.uk, Belfast International Airport managing director Graham Keddie said, "This initiative is to be warmly welcomed by all in the aviation sector as it will provide much needed support to our airlines that have been devastated by the impact of COVID.
"We have been working with the minister, his predecessor and the Department for many months in the development of the NIDAKS scheme, along with the airlines, and we know it will have a positive impact in rebuilding our airlines and connectivity to the rest of the world.
"This announcement demonstrates the value of having a local Executive in place that listens to and engages with the business community. NIDAKS will help keep us connected, it will help families and businesses keep connected and it will help rebuild our economy."
City Of Derry Airport Managing Director Statement
In another statement published on economy-ni.gov.uk, City of Derry Airport managing director Steve Frazer said, "I am pleased that NI Executive ministers have provided a further catalyst for the recovery of NI's economy in the form of the NIDAKS. We look forward to positive outcomes from the support and will continue to engage with the economy minister and his department regarding connectivity to the north-west."
Ambrose Statement
In an additional statement published on economy-ni.gov.uk, Ambrose said, "Throughout the pandemic, the Northern Ireland Executive recognised the importance of our airports as key infrastructure and provided welcome financial support so we could hit the ground running when the time was right.
"Today's announcement provides much needed assistance to our partner airlines in establishing and maintaining key routes that are vital to the wellbeing of our economy."
Administered By Invest Northern Ireland
The announcement published on economy-ni.gov.uk added, "The NIDAKS will be administered by Invest Northern Ireland on behalf of the Department for the Economy. The financial assistance is time bound between 1 June and 31 October 2021."
© 2021 Hospitality Ireland – your source for the latest industry news. Article by Dave Simpson. Click subscribe to sign up for the Hospitality Ireland print edition.