Belfast Street To Become Outdoor Hospitality And Performance Space
Published on May 10 2021 12:01 PM in General Industry tagged: Featured Post / Belfast / Belfast City Council / Linen Quarter Business Improvement District / Linen Quarter BID / Brunswick Social Hub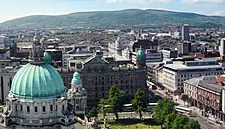 Belfast City Council has approved plans to transform a Belfast street into an outdoor hospitality and public performance space.
As reported by BelfastLive.co.uk, at a meeting of Belfast City Council's planning committee, elected representatives unanimously agreed to approve plans to pedestrianise Belfast's Brunswick Street between the James Street South and Franklin Street junctions, behind city hall and in front of a Travelodge venue, for the purpose of creating an outdoor hospitality and public performance space, which will be in place until the spring of 2023.
The planned hospitality and performance space, which is being developed by the Linen Quarter Business Improvement District (BID) and will be called Brunswick Social Hub, will include café/bar storage container and canopy areas, outdoor seating, a performance stage, and associated works.
Belfast City Council reportedly did not receive any objections from local residents, businesses or statutory bodies to the plans for Brunswick Social Hub, and the council's planning committee reportedly approved the plans without submissions or discussion.
Planning Report
According to BelfastLive.co.uk, the planning report states, "The proposed change of use will not adversely impact the character and appearance of the surrounding area. The temporary use of the site for entertainment and food and drink consumption will add variety to an area that is dominated by the same use type."
The report reportedly adds, "The proposal results in minimal changes to the surrounding character, exhibiting features of a temporary nature that will result in no permanent change. The use of the development is solely for entertainment within an area that already has established entertainment venues. It is the opinion of officers that the proposal will not result in any permanent detriment to the surrounding character."
Linen Quarter BID Managing Director Statement
BelfastLive.co.uk quotes Linen Quarter BID managing director Chris McCracken as saying, "One of our major aims is to inspire change in the public realm so that it is focussed on health and well-being, increased social spaces, and sustainability.
"Brunswick Social Hub is one of the finest examples we have in terms of how the city will be transformed this year. It will be a major new area for the city centre that will facilitate outdoor entertainment and extended hospitality, as well as a new outdoor seating area for people to congregate and enjoy the city.
"A lot of our work over recent months has been focussed on designing the installation to ensure it is an inclusive shared place that not only transforms how the Linen Quarter looks, but also responds to the needs of businesses and the public.
"We are delighted that Belfast City Council has approved our plans, and we look forward to bringing them to life over the coming months ahead of our planned opening at the end of the summer. I would like to thank our partners the Department for Communities, Department for Infrastructure and Belfast City Council, and look forward to our continued collaboration."
Belfast City Council Planning Committee Deputy Chair Statement
Additionally, BelfastLive.co.uk quotes Belfast City Council planning committee deputy chair Councillor Gary McKeown as saying, "This is a fantastic project that will draw people into Belfast City Centre to spend time in an outdoor space, safely, while supporting local businesses. It also repurposes the street, taking the car out and creating leisure space. Initiatives like this have the capacity to be transformative for our city centre and how we enjoy it.
"The city centre has taken a real hit during the pandemic, coming on the back of the Primark fire, so creating spaces which are safe for people to meet up, have food and drink, and enjoy entertainment outdoors will breathe new life into the area as we seek to build back better and make the city less car-focussed and more person-centred.
"Taking spaces like this and turning them into areas where people can meet up and socialise with friends and family in the open air while having fun and enjoying hospitality are exactly what our city centre needs, giving people a great reason to come into town and providing the room to do this.
"The new social hub at Blackstaff Square and Brunswick Street will include a 43 x 9m decked social space with stage, games area and outdoor hospitality, and will give the area a real boost just as we move out of lockdown.
"Well done to Linen Quarter BID, Belfast City Council, the Department for Infrastructure and other partners for leading the way on this project, which is one of a number in the pipeline."
Permission Expiration Date
The permission for Brunswick Social Hub to operate will reportedly expire on April 19, 2023.
© 2021 Hospitality Ireland – your source for the latest industry news. Article by Dave Simpson. Click subscribe to sign up for the Hospitality Ireland print edition.