DAA Appoints New Group Head Of Communications
Published on Oct 20 2021 9:17 AM in General Industry tagged: Trending Posts / Dublin Airport / Cork Airport / DAA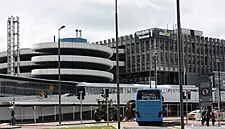 Dublin Airport and Cork Airport operator DAA has appointed Kevin Cullinane as its group head of communications. As reported by The Irish Times, before taking on this role, Cullinane was head of com...
Dublin Airport and Cork Airport operator DAA has appointed Kevin Cullinane as its group head of communications.
As reported by The Irish Times, before taking on this role, Cullinane was head of communications for Cork Airport for seven years, having previously been its head of aviation marketing, and he is currently the chairman of the Airport Council International (ACI) Europe communications forum, to which he was elected in February of 2020.
Additionally, Cullinane reportedly sits on the regional executive committee of employer's lobby group Ibec, has been a member of Cork Chamber's transport, infrastructure and public affairs committee, has served as a director of regional tourism body Visit Cork, served as the world president of worldwide organisation of young business managers and entrepreneurs Junior Chamber International in 2005, and is a University of Limerick honours business studies graduate.
DAA Row Over Outstanding Pay Increments For Airport Staff
The above news coincides with news that, according to The Irish Independent, an "emotive" row over outstanding pay increments for airport staff at Dublin Airport and Cork Airport has been referred to the Workplace Relations Commission.
Trade unions reportedly referred the row over the non-payment of increments and pay progression during 2020 after they failed to secure a meeting with DAA management to discuss the matter, according to correspondence.
But increments that were reportedly frozen as part of the airport authority's response to the COVID-19 crisis have reportedly not been restored for workers yet.
Increments at the company had reportedly previously been frozen for five years as part of a 2014 deal to save the pensions of DAA and Aer Lingus workers, and they had reportedly only just been restored before COVID-19 cutbacks saw them frozen once again.
Most DAA workers have reportedly nevertheless fared better than many of their airline colleagues, and have reportedly seen their wages restored by CEO Dalton Philips from 80% back to 100%, apart from craft workers who have reportedly continued to hold out against work practice changes.
1,000 DAA employees reportedly also availed of a generous severance package and the company has reportedly since advertised for new security staff to meet the demand from increasing passenger numbers.
But the row over increments has reportedly created tension between unions and management.
Siptu aviation sector organiser Niall Phillips reportedly claimed in an e-mail to the head of employee relations at DAA, Brendan O'Hanlon, that he had e-mailed him on September 21 to request a meeting to discuss the issue, following the cancellation of two previous meetings.
Phillips reportedly wrote, "A follow up e-mail was sent to you on the 27/9/21 where the undersigned emphasised the importance of scheduling an immediate meeting with the group of unions to deal with this outstanding and emotive issue,", and reportedly said that in a subsequent "lengthy phone call" that he had been assured that a date would be set for a meeting by close of business the following day.
Phillips reportedly wrote, "Unfortunately, you have not provided us with a date and as such we wish to inform you that this matter is referred into the WRC Conciliation Services by ICTU."
A company spokesperson reportedly said that "DAA is fully aware of ICTU's referral to the WRC and we remain committed to engaging with our trade union partners in relation to this matter".
"Unsustainable" Charges
The above news also coincides with news that, as reported by The Irish Independent, DAA chairman designate Basil Geoghegan will tell an Oireachtas Committee today (Wednesday October 20) that Dublin Airport is dealing with a "grossly unsustainable position" as a result of passenger charges that are based on 2019 traffic levels.
Passenger charges at Dublin Airport are reportedly regulated by the Commission for Aviation Regulation (CAR).
Geoghegan, who has reportedly been nominated for a second terms as DAA chairman, will reportedly tell the committee, "Given the scale and severity of the crisis, it was clear from the earliest stages that the Commission for Aviation Regulation's 2019 Price Determination for Dublin Airport - which set the airport's pricing out to 2024 based on record levels of traffic and had stipulated a significant 18.5% reduction in airport charges for 2020 - had effectively been rendered void."
CAR's economic and consumer protection roles are reportedly being merged with the aviation safety and security regulation functions of the Irish Aviation Authority to form a new entity.
The Commission has reportedly been headed by Cathy Mannion for the past number of years, and she is reportedly leaving at the end of October to take up a new role as a member of the performance review body that helps the European Commission and national supervisory authorities implement the performance scheme for air navigation services.
Geoghegan will reportedly say, "As a result, Dublin Airport found itself facing into the crisis with a fundamentally flawed pricing structure, resulting in airport charges that were disproportionally low when compared with its European peers,", and will reportedly point out that DAA returned €125 million in dividends to the Exchequer between 2016 and 2019.
Geoghegan will reportedly say, "We are keen to ensure that we can continue to pay our own way.
"To achieve this, Dublin Airport, as the group's largest revenue engine, urgently requires a regulatory decision that properly reflects the reality of our present circumstances.
"What started pre-COVID as an unfortunate mis-pricing, transferring value from the Irish taxpayer to airlines, has, in light of the devastation caused by the pandemic, become a fundamental issue for the future provision of critical airport infrastructure."
As reported by The Irish Times, Geoghegan will warn politicians that Dublin Airport cannot face a third year of enforced below-cost passenger charges and that COVID-19 has voided passenger charges set for Dublin by regulators in 2019.
Geoghegan will reportedly say, "Our business simply cannot countenance a third year of enforced below-cost prices and regulatory inaction."
Geoghegan will reportedly say that as soon as a planned shake-up of air travel regulation is complete, the newly constituted Irish Aviation Authority (IAA) should immediately set a price cap for 2022 that reflects current market conditions.
The Commission for Aviation Regulation reportedly ruled in 2019 that DAA should cut passenger levies on airlines by 18% to €7.87 a head over the five years to 2024, and DAA reportedly appealed this, reportedly arguing that the decision endangered plans for a €2 billion investment needed to prepare Dublin Airport for growth through this decade.
Geoghegan's opening statement to the committee will reportedly maintain the commission's 2019 decision is a fundamental issue for the future provision of airport infrastructure and those depending on it.
Geoghegan will reportedly describe as incomprehensible that Dublin Airport's charges are still tied to forecasts from 2019, when the airport handled 32.9 million passengers, despite a historically high plunge in air travel, and will reportedly say, "Despite repeated requests, the now departing regulator has not taken any decisive action whatsoever to address the situation."
Geoghegan will reportedly point out that airports and airlines responded speedily to the COVID-19 pandemic-induced crisis in air travel, and say, "Yet almost 20 months after this crisis began there has been no change to charges that were predicated on five times the passenger volumes delivered to date this year."
Geoghegan will reportedly state that COVID-19 has shrunk DAA's thriving global business back to levels last seen 30 years ago, costing €284 million in losses last year, and that after a long period of restrictions, DAA is focussed on catching up with other countries.
Geoghegan will reportedly say, "We are working with the airlines and tourism authorities to reconnect Ireland to the world,", and add that the company welcomed the government's €90 million aviation aid package that was announced in Budget 2022.
© 2021 Hospitality Ireland – your source for the latest industry news. Article by Dave Simpson. Click subscribe to sign up for the Hospitality Ireland print edition.