DAA CEO Says Up to 32,000 Travellers A Day Have Been Passing Through Dublin Airport Since International Travel Resumed
Published on Jul 30 2021 1:00 PM in General Industry tagged: Trending Posts / Dublin Airport / DAA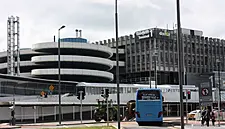 DAA chief executive Dalton Philips has said that up to 32,000 travellers a day have been passing through Dublin Airport since international travel from Ireland resumed on July 19, with load factors on aircraft climbing to 57%.
As reported by The Irish Times, speaking to The Irish Times' Inside Business podcast, Philips said this is still only approximately a quarter of the level on equivalent days in 2019, but that it offers encouragement for a rebound in the crisis hit airline sector.
Philips reportedly said, "It's way off the 100,000-plus that we would have every single day of the year [before the COVID-19 pandemic]...but there were days last year when we were in the low hundreds. So it's a huge improvement."
Philips reportedly said that Dublin Airport's shops have been operating at approximately 45% of pre-COVID-19 pandemic levels, with duty free on routes to the UK proving popular.
Just one million people will reportedly have passed through Dublin Airport this year by the end of July. A record 33 million reportedly passed through Dublin Airport in 2019.
Philips reportedly said, "There could be eight to nine million passengers this year with a fair wind."
Philips reportedly said the busiest routes out of Dublin Airport at the present are to London, Amsterdam and Chicago (to and from where 6,300 people have either taken off or arrived on flights in the past seven days).
Philips reportedly said, "There is huge pent-up demand from the [US] diaspora who weren't able to get back," he said, adding that load factors on some transatlantic flights have been as high as 70% in recent days, compared with 10% to 15% during lockdowns.
Dublin Airport reportedly served 25 cities in North America before the COVID-19 pandemic began, but this was reportedly been stripped back to just New York, Boston and Chicago during lockdown. A service to Philadelphia has reportedly since been added to Dublin Airport's list of transatlantic services by American Airlines.
Approximately 20% of Dublin Airport's traffic was reportedly based around business fares, and Philips reportedly expressed concern about the future of this segment of the travel market.
Philips reportedly said, "Business is clearly going to step back quite significantly, although it's not clear where it will end up. The real issue about business travel is that it has a disproportionate impact on the overall route economics. As we know, passengers who turn left when they get on an aircraft are paying significantly more and it supports those passengers turning right [to economy] on the aircraft.
"That would be a concern to me because some routes may not be viable because they have lost the business component. We need to see how that flows through."
New Runway Issues
Philips also reportedly said on The Irish Times' Inside Business podcast that he said expects the result of an appeal to Fingal County Council about conditions for a currently under construction new runway at Dublin Airport, which is due to become operational in August of 2022, to be appealed to An Bord Pleanála, and that it could be mid 2023 "or later" before there is a definitive ruling on the issue.
In December of 2020, DAA submitted an application to Fingal County Council for permission to amend two planning conditions that are due to apply to the operation of the new north runway and the overall runway system at Dublin Airport when the new north runway begins operations.
It was subsequently reported in March of this year that Fingal County Council was seeking additional information from DAA about its planning application for Dublin Airport's new €320 million runway, and earlier this month, a report by consulting company InterVistas stated that the Irish economy will lose out on 5,170 jobs and a positive economic impact of €392 million by the end of 2023 if planning restrictions on the new runway are not removed.
Maintenance Jobs Dispute
In other DAA news, according to The Irish Times, DAA could meet trade union Connect next week for talks on a dispute over the the Dublin and Cork airport operator's plans to outsource maintenance jobs in Dublin Airport.
DAA reportedly said that it will outsource maintenance work in Dublin Airport after more than 100 craftspeople at the airport rejected work practice changes.
Connect, which is one of the workers' unions, reportedly said on Thursday July 29 that it wants to meet DAA management to "relay its complete opposition" to the plan, and DAA reportedly subsequently confirmed that it wrote to the union on Thursday July 29 seeking to meet with its officials on August 5.
It is reportedly understood that Unite, which is the craft workers' other union, has yet to respond directly to DAA's outsourcing plans announcement, although official Willie Quigley reportedly issued a statement condemning the move.
Connect regional secretary Sean Heading reportedly said that suggestions that DAA will outsource the work has angered members.
Heading reportedly said, "We strongly oppose the outsourcing of these roles as it damages the operation of services and undermines the conditions of employment of all the workers involved."
Heading reportedly added that Connect representatives are available to engage with DAA management to seek an agreed solution to the dispute.
Most DAA workers reportedly agreed to work practice changes last year as the company was impacted by the COVID-19 pandemic, which reportedly caused it a €284 million loss in 2020.
Approximately 1,000 workers have reportedly left DAA via a voluntary severance programme.
A DAA spokesperson reportedly said that the company has "engaged extensively" with Connect and Unite on new work practices without reaching agreement.
The DAA spokesperson reportedly said, "Multiple proposals have been referred to the Workplace Relations Commission and Labour Court, with no agreement reached, despite the Labour Court's most recent recommendation that new ways of working should be accepted."
The DAA spokesperson reportedly noted that DAA told the affected workers that it will engage with their unions on the next steps to implement the changes needed to revive the business following the pandemic's impact, and reportedly said, "This will be arranged presently."   
Changes proposed by DAA reportedly included working across both of Dublin Airport's terminals - craft workers reportedly operate in one or the other – technology enablement and roster alterations.
© 2021 Hospitality Ireland – your source for the latest industry news. Article by Dave Simpson. Click subscribe to sign up for the Hospitality Ireland print edition.